Education
1. Graduate School of Design, Kyushu University Master's Program (entrance examination for international students) Request for Admissions Test-related Documents 1. Documents distributed
Kyushu University|Faculty of Design Graduate School of Design School of Design|Admissions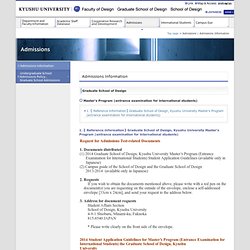 Emerging Design and Informatics Course|Interfaculty Initiative in Information Studies/Graduate School of Interdisciplinary Information Studies, The University of Tokyo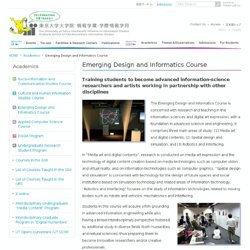 The Emerging Design and Informatics Course is concerned with research and teaching in the information sciences and digital art expression, with a foundation in advanced science and engineering. It comprises three main areas of study: (1) Media art and digital contents, (2) Spatial design and simulation, and (3) Robotics and interfacing. In "Media art and digital contents", research is conducted on media art expression and the technology of digital content creation based on media technologies such as computer vision and virtual reality, and on information technologies such as computer graphics.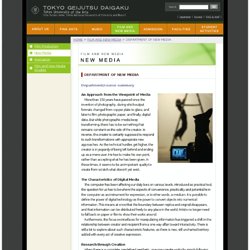 TOKYO GEIJUTSU DAIGAKU | FILM AND NEW MEDIA | DEPARTMENT OF NEW MEDIA
Department/course summary An Approach from the Viewpoint of Media More than 150 years have passed since the invention of photography, during which output formats changed from copper plate to glass, and later to film, photographic paper, and finally, digital data. But while photographic media keep transforming, there has to be something that remains constant on the side of the creator. In reverse, the creator is certainly supposed to respond to such transformations with appropriate new approaches. As the technical hurdles get higher, the creator is in jeopardy of being left behind and ending up as a mere user. He has to make his own point, rather than accepting what he has been given.
Search for a study destination | JAPAN STUDY SUPPORT
Masters in User Experience | Department of Psychology of Development and Socialization Processes
Il Dipartimento di Psicologia dei Processi di Sviluppo e Socializzazione istituisce il Master di secondo livello "UX – User Experience" per promuovere un approccio al design di ICT (Information and Communication Technology) centrato sulla conoscenza degli utenti reali.
Oops! Sorry but we couldn't find the page you were looking for. The reason could be:
CSM Home – MA Innovation Management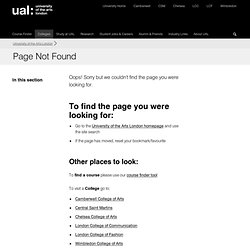 Communication Planning and Information Design > School of Design > Carnegie Mellon University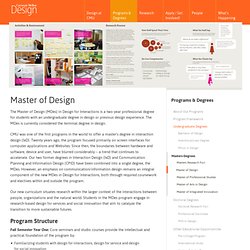 The Master of Design in Communication Planning and Information Design (CPID) is a two-year professional degree program for students who want to explore: • Communication design and strategy • Communication planning related to contemporary social and political issues • Information design • The creative potential of the interplay between words and images in traditional and innovative media. The School of Design and the Department of English offer this unique program jointly. New technologies are revolutionizing the communication environment.
Course Director: Paul Luna This course builds a base of knowledge, experience and skills for the reflective practice of design. You learn to observe, evaluate and analyse to support your creative practice. Projects range from dealing with complex texts, to design support for wayfinding, to instruction and procedural explanations. Course structure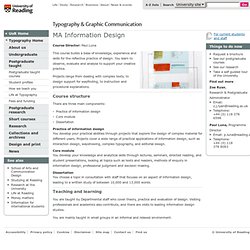 MA Information Design at the Department of Typography
Programa de Posgrado Online en Artes Mediales | Secretaría de Posgrado – FFyH – UNC
Introduction The Information Design program seeks to create design that is easy to use and understand by everyone from children to senior citizens. Courses are given in such fields as interactive design, tangible graphics, ubiquitous computing, and physical computing, among others, and students learn how to design information devices, web systems, games, digital contents, exhibitions, information systems, and so on. In the Information Design program, students learn about better concepts and methods that will help them to make all products, information systems, media, etc., to be more enjoyable and easier to use, and to acquire the skills that they will need as designers and instructors. The education program is characterized by a holistic approach to design education which includes interdisciplinary linkages with the environmental and architectural fields and products from related fields.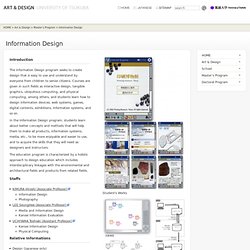 Information Design : Art & Design, Univertisy of Tsukuba
Visual Communication Design : Art & Design, Univertisy of Tsukuba
Introduction The visual Design program involves the use of media-related design to aesthetically and effectively images through visual and formative means. In other words, illustrations, typography, diagrams, printing, photographs, videos, etc., are used to design printed and published materials, all types of graphic products, advertising in various types of media, signs and colors in the environment, and web sites, among other things. Research is also conducted on product promotion, creating brands, editing design, and book design, as well as on picture and comic books. The basic objectives of the Visual Design program are to fuse theory with practical application, respect experimental and research approaches, and establish linkages with related fields. A problem statement is established based on a specific phenomenon which is then approached theoretically and analytically and considered and reconsidered flexibly from a broad perspective to derive acreative solution.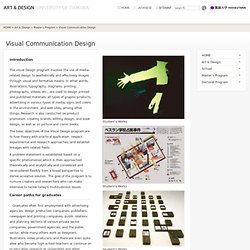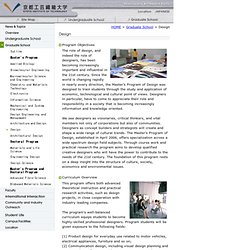 This program offers both advanced theoretical instruction and practical research activities, such as design projects, in close cooperation with industry leading companies. The program's well-balanced curriculum equips students to become highly-skilled professional designers. Program students will be given exposure to the following fields:
KYOTO INSTITUTE OF TECHNOLOGY > Graduate School > Design
For faculty and research | Department of Design, Kyushu University Graduate School of Design
Kyushu University|Faculty of Design Graduate School of Design School of Design|Department and Faculty Information
This course emphasizes the promotion of creative and imaginative abilities stemming from the basic abilities acquired from various fields of study, and cultivating theoretical and practical creative abilities for art and culture. Students with knowledge about digital content design and creative design can expand their creative potential. To support this, the curriculum conducts research from a comprehensive approach and contributes to fields of creative design by playing a leading role in design in Japan as well as internationally. Graduates in this course can expect to find employment in newly created industries, universities, or other related fields. Some examples of potential fields are: information device design, the automotive industry, the digital contents industry, the broadcasting industry, and the fields of arts and culture.
The course exposes students to an original viewpoint of design engineering with the core goal of improving communication through the use of technology to enhance our life. In order to accomplish this goal, communication tools, instruments, and skills are coordinated with the ultimate objective of enhancing "mind-to-mind" and "heart-to-heart" communication. The curriculum is based on the following three concentrations as a means to reach this goal: Audio-visual Integration, Acoustic Communication, and Visual Image Communication. This course fosters professionals who understand the contents of audiovisual communication, are well versed on the characteristic of media and communication environments, and have the ability to design all aspects of audiovisual information communication.
Kyushu University|Faculty of Design Graduate School of Design School of Design|Department and Faculty Information
+++ Japan Student Services Organization +++