Tools
Easy to use and powerful photo catalog software for Windows. Edit descriptions, assign categories, ratings and labels to your cataloged images, browse your entire photo collection or search for individual images. Download your FREE trial version now.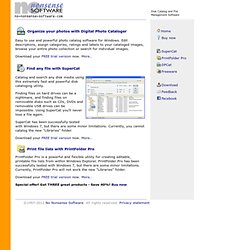 Disk Catalog and File Management Software - No Nonsense Software
Download free trial version - Buy now - Live flash demonstration Organize all your files and disks Finding files on hard drives can be a nightmare, and finding files on removable hard drives and and other storage media can be impossible. SuperCat lets you catalog all your disks, so you'll never lose a file again.
Disk Catalog and File Search Software - SuperCat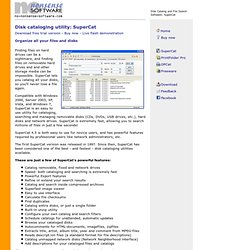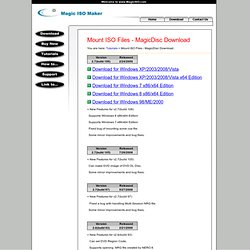 Mount ISO Files - Freeware MagicDisc Download
Mount ISO Files - MagicDisc Download You are here: Tutorials > Mount ISO Files - MagicDisc Download . Download for Windows XP/2003/2008/Vista Download for Windows XP/2003/2008/Vista x64 Edition Download for Windows 7 x86/x64 Edition Download for Windows 8 x86/x64 Edition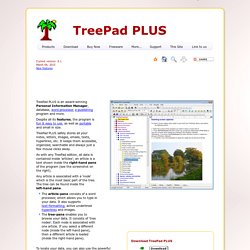 To locate your data, you can also use the powerful internal search engine. Ease of use TreePad PLUS is very easy to use. Quite a number of people will be able to start off without consulting any type of documentation. You might find the Quick Start Guide and/or video tutorials useful though.
PLUS: Organizer, Database, Personal Information manager, PIM, Wo
Free software at IRNIS.NET
Password Recovery Software - ZIP RAR ACE Password Recovery, Aste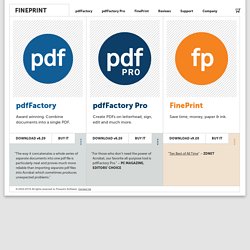 FinePrint Software
DOWNLOAD v5.05BUY IT vvv "pdfFactory does a very nice job of creating pdf files, quite often creating files that are substantially smaller in size than similar ones created by Adobe Acrobat." – Kickstart News DOWNLOAD v5.05BUY IT
Advanced Find and Replace - Main Page
Beyond Compare - The file compare, folder compare and remote dir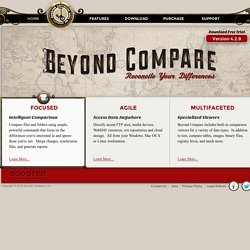 Beyond Compare 3 is the ideal tool for comparing files and folders on your Windows or Linux system. Visualize changes in your code and carefully reconcile them. BC3 means 3-way merge. Merge your changes with someone else's using a common ancestor as a basis. Interfaces with popular version control systems.
Easy Duplicate File Finder - Remove Duplicate Files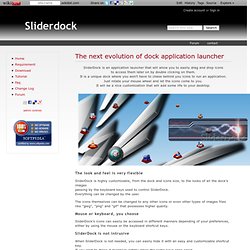 SliderDock is an application launcher that will allow you to easily drag and drop icons to access them later on by double clicking on them. It is a unique dock where you won't have to chase behind you icons to run an application. Just rotate your mouse wheel and let the icons come to you.
Sliderdock: The next evolution of dock application launcher