Learning to Program
Any helpful links to learn programming by language or general principal. Apr 10
If you've been looking to learn how to code, we can help you get started. Here are 4.5 lessons on the basics and extra resources to keep you going. Variables and Basic Data Types In our first lesson we're going to be taking a look at how to store different kinds of variables Working With Variables Now that you know a thing or two about basic variables and data types, we're going to play around with them and see how they work. Arrays and Logic Statements In this lesson we're going to start with arrays, which are a more complex type of variable, and then move on to for loops and if statements, which let you add conditional logic to your code.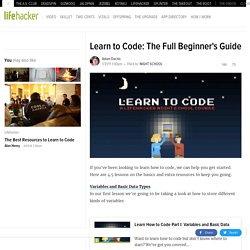 zifty.d9 99.10.08 WAY OUT OF THE BOX Theodor Holm Nelson Keio University and University of Southampton ============================================ Computer people don't understand computers. Oh, they understand the technicalities all right, but they don't understand the possibilities. Most of all, they don't understand that the computer world is entirely built out of artificial, arbitrary constructs. Word processing, spreadsheet, database aren't fundamental, they're just different ideas that different guys have whomped up, ideas that could be totally different in their structure. But these ideas have a plausible air that has set like concrete into a seeming reality.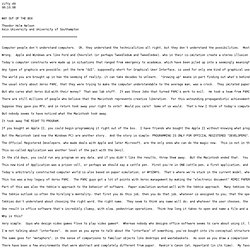 WAY OUT OF THE BOX
YouTube has been very good platform for learning any thing.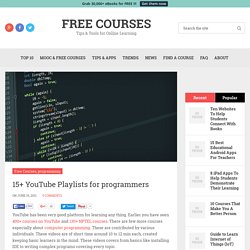 MIT Course on Computation