#edtech
How To Easily Make Your Own Textbook
One of the latest buzz words in social media is curation. Some media analysts ponder whether the content curator might be the next big social media job of the future. In a review of Steven Rosenbaum's Curation Nation, Frank Paynter wrote that: 'The job of curator has spread across the digital media world and may already have replaced "editor" and "publisher" in the minds of marketers and social media mavens'.
50 Web 2.0 Ways to Tell a Story ( return )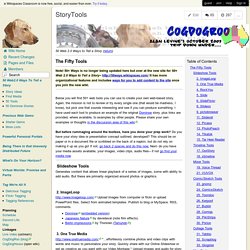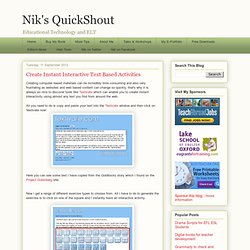 Create Instant Interactive Text Based Activities
Creating computer based materials can be incredibly time consuming and also very frustrating as websites and web based content can change so quickly, that's why it is always so nice to discover tools like Textivate which can enable you to create instant interactivity using almost any text you find from around the web. All you need to do is copy and paste your text into the Textivate window and then click on 'textivate now'. Here you can see some text I have copied from the Goldilocks story which I found on the Project Gutenberg site. Now I get a range of different exercise types to choose from.
The Social MEDia Course - Education in the Social Media Era
Districts Require E-Courses for Graduation
Schools seek to prepare students for e-courses in college and online training in jobs This school year, incoming freshmen in the Kenosha Unified School District have another requirement to fulfill as they look ahead to graduation: online learning. "We had very little resistance to it," said Daniel M. Tenuta, the assistant superintendent for secondary schools for the 23,000-student Wisconsin district.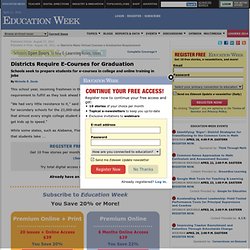 Benefits and drawbacks seen in replacing lectures with on-demand video A growing number of educators are working to turn learning on its head by replacing traditional classroom lectures with video tutorials , an approach popularly called the "flipped classroom." Interest in that teaching method was in full view this summer at the International Society for Technology in Education annual conference in San Diego, where almost every session on the topic was filled to capacity. The movement was inspired partly by the work of Salman Khan, who created a library of free online tutoring videos spanning a variety of academic subjects, known as the Khan Academy , which many view as a touchstone of the flipped-classroom technique.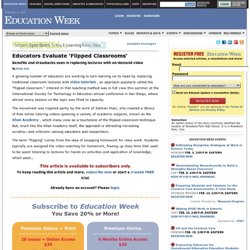 Educators Evaluate 'Flipped Classrooms'
Spotlight on Implementing Online Learning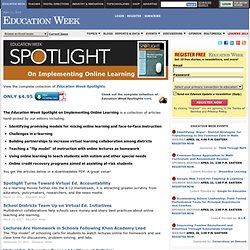 Educators are identifying promising models for mixing online learning and face-to-face instruction that emphasize a more personalized approach to education. March 12, 2012 - Education Week As e-learning moves further into the K-12 mainstream, it is attracting greater scrutiny from educators, policymakers, researchers, and the news media. Multidistrict collaborations help schools save money and share best practices about online teaching and learning.
LiveBinders - Exceptional Binders for Educators
The Innosight Institute this week released a new white paper in which it takes the previous six categories it created to differentiate blended learning models and, well, blends them. The 22-page document called "Classifying K-12 Blended Learning" simplifies the work of a previous paper from the institute and emerges with four new models of blended learning: the rotation, flex, self-blend, and enriched-virtual models. That's two down from a previous document released in January of 2011, indicative of a purposeful effort to create a less rigid taxonomy that might not account for the diversity of some blended models. This new document also includes a new definition of blended learning that makes the stipulation that face-to-face instruction in any blended model must occur outside of a student's residence.
New Paper Refines Blended Learning Classifications - Digital Education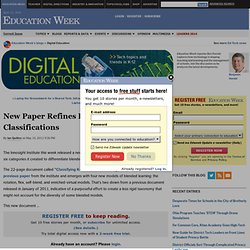 Keyware, Inc. recently announced the launch of its social collaboration tool, SafeShare, which allows gamers, students and even business professionals get together digitally and do what they do best – collaborate and help. The SafeShare application allows for up to 20 users share a computer screen, offering up a real time close-up of what their friends are seeing, whether it's a game view, tutoring session, or meeting proposal, by clicking on thumbnail views displayed on the side of the screen. The application's launch is rather timely as we gear up for back to school. SafeShare allows students who can't meet in person to collaborate online for group assignments, tutoring projects or homework. There's no worry of tying up phone lines, either, as SafeShare relies on VoIP technology.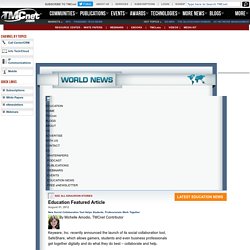 New Social Collaboration Tool Helps Students, Professionals Work Together
iPad iOS and Android | MediaSpark
MediaSpark's GoVenture® apps are unique because of three reasons: Expert educational design Elegant simplicity Competitive and cooperative game modes for friends and families to play and learn together. Free and paid versions are available on the App Store and Google Android Marketplace.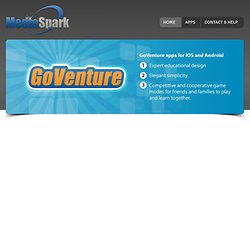 Yesterday, I published a review of MapFab which is a fabulous, free, and simple tool for creating maps online. Writing that post got me thinking about all of the other free map creation tools that I've reviewed over the years. Google Maps and Google Earth are my favorite tools for creating maps, but not every school allows teachers and students to download it. And creating Google Maps does require you to have a Google account which is an obstacle to use in some schools too. In the list below you will find some map creation tools that don't require registration.
21 Map Creation Tools for Students and Teachers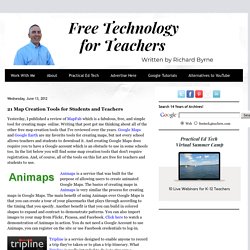 as iGoogle Alternative | Symbaloo EDU
Why Symbaloo is an excellent iGoogle alternative.
Were you using iGoogle mainly to keep track of the latest headlines? Then you are going to LOVE Symbaloo as iGoogle alternative! Symbaloo is a visual way for you to link to your favorite online news sources and sites and therefore the best iGoogle alternative.
You Need to Use Technology the Wrong Way
I don't think I've ever known anyone else who uses a spreadsheet as a calendar. For me, it works, though. I have the date, the day, the task or event, the type of task and the location. For recurring events, I simply write "every week" or "every day." Then, I use the sort function to see what I need to do each day or to see the timeline of a particular project (sorting by category). I like being able to ask, "When is Galileo testing?"
10 Interactive Lessons By Google On Digital Citizenship Added by Jeff Dunn on 2012-07-22 YouTube has a firm place in the current classroom. From Khan Academy's videos to YouTube EDU and beyond, there's a reason all these videos are finding a home in schools. In an effort to help keep the ball rolling, Google just launched a set of 10 interactive lessons designed to support teachers in educating students on digital citizenship.
Gamification, digital storytelling, virtual classrooms…it's not easy to keep track of all of the new buzzwords in the booming edtech sector. At Boundless, we're confronted with these terms and technologies every day, and we do our best to keep all of the lingo straight. We put together a little cheat sheet to help you master some of the most important words to know in edtech. Brush up on your terms to make sure you're not scratching your head at the next conference, meetup or debate about the future of education!
EdTech Cheat Sheet Infographic - Boundless
A Tale of Two Students
Edutechification
Top 12 Ways Technology Changed Learning
The History 2.0 Classroom: Back to School App-pack | Edutechification
Building and sharing life and event timelines with the iPad, no Facebook required | iGo With My iPad | Edutechification
101 Web 2.0 Tools for Teachers You Should Know About | Edutechification
New Tool to Provide Tech Inventory for Common Core - Education Week News | Edutechification
AR SPOT: An Augmented-Reality Programming Environment for Children | Augmented Environments Lab | Edutechification
40 Ways Education Technology Will Be Used In The Future | Edutechification
Could This Be Your Classroom Of The Future? | Edutechification
10 Real-World Tips For Using iPads In Education | Edutechification
Tech vs Text: New Study Unveils What Students Are Actually Using To Learn | Edutechification
Top 10 Web 2.0 Tools for Teachers and Education | Edutechification
50 Best Sources of Free STEM Education Online
edtechfuture
What Teachers Make | Taylor Mali
Use Twitter in PowerPoint
Free Digital Footprint eBook - giveitaway.net
What Students Think Of Mobile Learning And What Makes A Great App
Scholr.ly Search Engine Takes An Innovative Approach To Research
Danielle Klaus on Listorious
Add More to Your Images with Thinglink
Add More to Your Images with Thinglink
Edutechification / 100 Powerful Search Engines You May Not Know About | Edudemic #edchat #edtech #elearning #tlchat
Edutechification / 6 Types of Blended Learning [Infographic] | #edtech #edchat
Edutechification / 16 Ways Educators Use Pinterest - via Mashable #edtech #tlchat #edchat
Add Colorful Pins to ThingLink Interactive Images
Edutechification / The Teacher's iPad Spectrum - 25 ways to use iPads in the classroom | Edudemic #edchat #edtech #mlearning
Edutechification / The Teacher's iPad Spectrum | Edudemic #edchat #edtech #mlearning
How to Create Interactive Images Using Thinglink
How Twitter can be used as a powerful educational tool
Voting 2012
Learning and Growing: Keynote, Socrative, Simple Circuit App, BrainPop