Crochet
Crochet. How to Crochet a Bath Puff: 7 steps (with pictures) Cotton Yarn Experiment. By Rachel Choi – 37 Comments I'm no expert, so I figured I'll do some experimenting of my own to see what's so great about cotton yarn and what's not.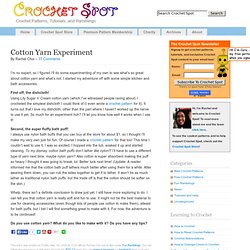 I started my adventure off with some simple kitchen and bath accessories. Spa Scrubbie and Tropical Bath Tea Soak! If you're just arriving at our Blog Spa, make sure you check out:My tutorial for a Spa Headband and an Oatmeal FacialFantastic Tutorial and Tips at Twelve Crafts for a soothing Hot/Cold Eye Mask Does it feel like you don't ever have any "Me" time?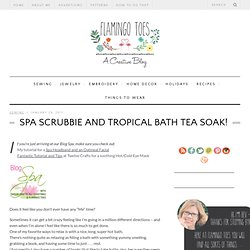 Sometimes it can get a bit crazy feeling like I'm going in a million different directions – and even when I'm alone I feel like there is so much to get done. One of my favorite ways to relax is with a nice, long, super hot bath. There's nothing quite as relaxing as filling a bath with something yummy smelling, grabbing a book, and having some time to just . . . . rest. (Apparently I also have a number of books that like to take baths also, because they seem to just jump right in the water. Bath Pouf and Heart Facial Scrubbie Crochet Pattern PDF by jewlzs. NOTE: Once you have purchased pattern NO REFUNDS are given since you are sent a link to download the pattern I can NOT Cancel the transaction, so be Very sure you want this pattern.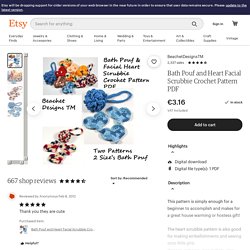 ~~~~~~~~~~New Pattern~~~~~~~~~~ From Beachet Designs TM This pattern is simply enough for a beginner to accomplish and makes for a great house warming or hostess gift!
---