Dkennelly
DIY LED lamp. How to make your own LED light bulb for standard 120 volt sockets.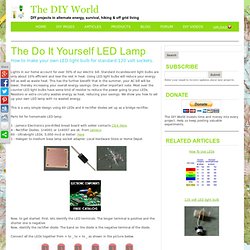 Lights in our home account for over 30% of our electric bill. Standard incandescent light bulbs are only about 10% efficient and lose the rest in heat. Using LED light bulbs will reduce your energy bill as well as waste heat. This has the further benefit that in the summer, your AC bill will be lower, thereby increasing your overall energy savings. Elance | Outsource to freelance professionals, experts, and consultants - Get work done on Elance.
American Whitewater - AW Homepage.
Pearltrees videos
Getting started.
---