Fluoride
CDC and ADA Now Advise to Avoid Using Fluoride. By Dr.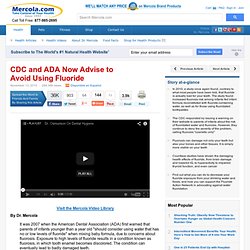 Mercola It was 2007 when the American Dental Association (ADA) first warned that parents of infants younger than a year old "should consider using water that has no or low levels of fluoride" when mixing baby formula, due to concerns about fluorosis. Exposure to high levels of fluoride results in a condition known as fluorosis, in which tooth enamel becomes discolored. The condition can eventually lead to badly damaged teeth. Then, in 2010, the Journal of the American Dental Association published a study1 that once again found, contrary to what most people have been told: fluoride is actually bad for your teeth. Is Fluoride bad for you? San Diego Natural Dentist. Fluoride Warnings for Infants.
Prove To Anyone That Fluoride Is BAD & Dumbing Society Down! So what exactly is Fluoride?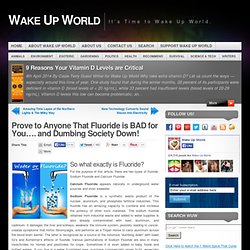 For the purpose of this article, there are two types of fluoride: Sodium Fluoride and Calcium Fluoride Calcium Fluoride appears naturally in underground water sources and even seawater. Sodium Fluoride is a synthetic waste product of the nuclear, aluminium, and phosphate fertilizer industries. Fluoride is Bad For You, Cure, Tooth, Decay, Curing Cavities in teeth, Reversing Tooth Decay, Curing Cavities - Cure Tooth Decay. The chemicals - fluorosilicic acid, sodium silicofluoride, and sodium fluoride - used to fluoridate drinking water are industrial waste products from the phosphate fertilizer industry.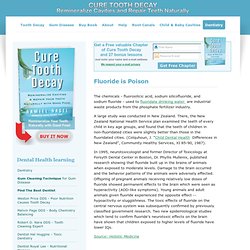 A large study was conducted in New Zealand. There, the New Zealand National Health Service plan examined the teeth of every child in key age groups, and found that the teeth of children in non-fluoridated cities were slightly better than those in the fluoridated cities. (Colquhoun, J. "Child Dental Health Differences in New Zealand", Community Healthy Services, XI 85-90, 1987). Dangers of Fluoride in Water and Toothpaste. Health Sciences Institute e-Alert July 15, 2002 Dear Reader, It was right there in front of me and I still couldn't believe it.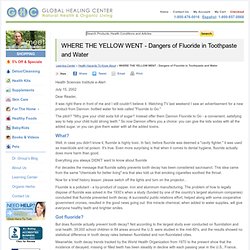 Watching TV last weekend I saw an advertisement for a new product from Dannon: bottled water for kids called "Fluoride to Go. " The pitch? Why is Fluoride Bad for You? Four major studies involving 480,000 children (US, 39,000; Japan, 22,000; India, 400,000; Tucson, 29,000) comparing fluoridated and non-fluoridated areas showed no significant difference in decay rates.
Proven is that a higher intake of fluoride will actually cause MORE cavities, especially for children with low dietary calcium intake. Those little white spots visible on the teeth of many children are called dental fluorosis, a conditionwhich not only predisposes them to decay, but also provides a sign that systemic fluoride poisoning is taking place. Dental fluorosis appears to serve as a red flag for future bone fractures as well. In 1990 fluoride was found to be an equivocal carcinogen by the National Cancer Institute Toxicology Program. (Maurer, et. al. Fluoride is Bad. The Bizarre History Of Fluoride (FULL VERSION)
---