Funk SOul Jazz
The popular appraisal of Lesley Gore is that she sang teen soap opera songs that never pulled their substance much above puppy love, and while a cursory listen to songs like 'It's My Party' and 'Judy's Turn to Cry' would appear to support that view, there's more going on beneath the surface than meets the ear. For starters, Gore had a jazz background, and her vocal phrasing, even in her most generic releases, was always sharp and clear. Add to that the production of Quincy Jones, who worked with Gore during her peak Mercury years, and the end result is a series of recordings that continue to sound fresh and effective even into the 21st century. In retrospect, it would appear Gore's theme was always the struggle for personal identity (which also happens to be a pretty good definition of what goes on during the teen years), culminating in the powerful 'You Don't Own Me,' a feminist anthem a decade before the term even began to take hold.
Soulful Divas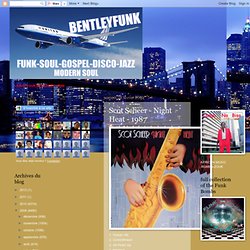 Forget the "funk" in this album -- because the best bits are the mellow ones! Crème D'Cocoa are one of those groups pushing slick bass-heavy funk when they should stick to the mellower cuts -- which they do nicely on this album, in a smooth male/female harmony style that has a bit of a quiet storm feel to it. The funkier cuts are really just uptempo club numbers, not really that strong, but pleasant enough in kind of a shouting catchy chorus sort of way.
février 2009
HEAVY DUTY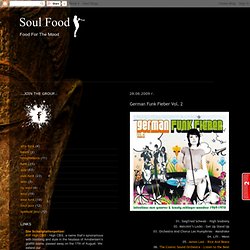 01. Siegfried Schwab - High Snobiety 02. Malcolm's Locks - Get Up Stand Up 03. Orchestra And Chorus Les Humphries – Mandrake
German Funk Fieber Vol. 2
T La Rock & Jazzy Jay – It's Yours 12" Single Repress (Partytime 2005) - Free Mp3 Download
Donald Byrd
I ended up taking the weekend off, so I guess this isn't going to be a daily log of 45s......Anyway, tonight I have some 45s I recently found for 50 cents each. There's still some good 45s to find for cheap, and I have three that I specifically bought to resell, but it now seems they're staying with me. First is Mongo Santamaria's "Cold Sweat" on Columbia. I have many Mongo 45s, and I thought I was done buying his stuff, save for "Crazy Lady" on Vaya (anyone have a spare?), but then I put this one on the turntable to grade and I got hooked.
March 2005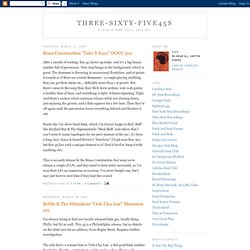 "Ode" from Music and Moonlight by Arthur O'Shaughnessy - We are the music-makers, And we are the dreamers of dreams, Wandering by lone sea-breakers, And sitting by desolate streams;- World-losers and world-forsakers, On whom the pale moon gleams: Yet we are the movers and shakers Of the world for ever, it seems. A Summer Night, 1890, Winslow Homer Vaudeville Musicians, 1917, Charles Demuth
music « museworthy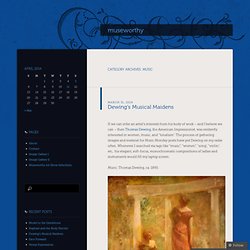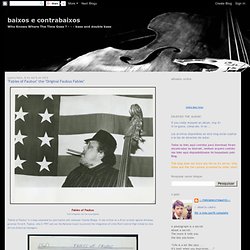 "Fables of Faubus" the "Original Faubus Fables"
Fables of FaubusFrom Wikipedia, the free encyclopedia "Fables of Faubus" is a song composed by jazz bassist and composer Charles Mingus. It was written as a direct protest against Arkansas governor Orval E. Faubus, who in 1957 sent out the National Guard to prevent the integration of Little Rock Central High School by nine African American teenagers. The song was first recorded for Mingus' 1959 album, Mingus Ah Um.
Emergency ! : "Loveman plays psychedelic swing"
Blow Up A Go-Go!
Black Soul - Black Soul Music (Pat Les Stache Edit) (pat_les_stache-black_soul_disco
March 2008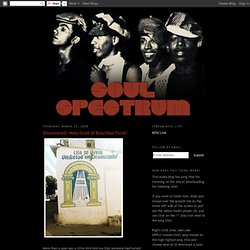 More than a year ago a little bird told me that someone had turned up some lost tapes of Tim Maia during his "Racional" phase. Now, if you don't read Portuguese it's difficult to find any information about Tim's "Racional" phase aside from how its really lauded as his best work, his most funky, etc. As a Tim Maia fanatic, I can agree with all of that, so the recent confirmation of some unreleased "Racional" tapes is indeed a revelation. To give you an idea of the context of this discovery, I've pasted the text from an article I wrote for Fader magazine a few years back. The photos here are courtesy of Paulinho Guitarra, guitarist for Tim Maia for most of his classic albums. Paulinho can be seen in the band pictures - he's the skinny white dude next to Tim when they're holding up the book and the one playing guitar in the band photo.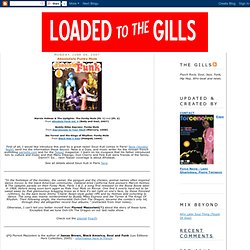 Absolutely Funky Mule
Marvin Holmes & The Uptights: The Funky Mule (Pt. 1) and (Pt. 2)From Absolute Funk Vol. 4 (Body and Soul, 2007)Buddy Miles Express: Funky MuleFrom Expressway to Your Skull (Mercury, 1968)Ike Turner and the Kings of Rhythm: Funky MuleFrom Black Man's Soul (Pompeii, 1969) First of all, I would like introduce this post by a great news! Seun Kuti comes in Paris! Ness (Voodoo Night) send me the information these dayzzz. Ness is a Djay, and music writer for the renown french audioblog parisdjs.com and for the Teaser magazine. I learn on his myspace that his father introduced him to culture and music and that Manu Dibango, Don Cherry and Fela Kuti were friends of the family.
Funk and Soul
From Nick: The Pets -I Say Yeah (Carnival)George Clinton was involved in making this track. I think he evenplayed the keyboard solo too.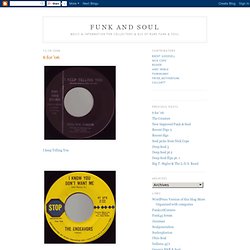 " Betty Davis' debut was an outstanding funk record, driven by her aggressive, no-nonsense songs and a set of howling performances from a crack band. Listeners wouldn't know it from the song's title, but for the opener, "If I'm in Luck I Might Get Picked Up," Davis certainly doesn't play the wallflower; she's a woman on the prowl, positively luring the men in and, best of all, explaining exactly how she does it: "I said I'm wigglin' my fanny, I'm raunchy dancing, I'm-a-doing it doing it/This is my night out." "Game Is My Middle Name" begins at a midtempo lope, but really breaks through on the chorus, with the Pointer Sisters and Sylvester backing up each of her assertions. As overwhelming as Davis' performances are, it's as much the backing group as Davis herself that makes her material so powerful (and believable).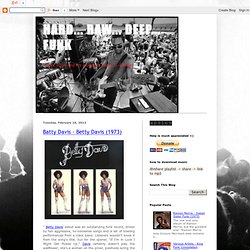 HARD... RAW... DEEP... FUNK
Gabor Szabo -Dreams -1968 -SkyeThis is no an ordinary Jazz album. Through the seven pieces here, the guitar is naturally at the forefront, yet the backing group is anything but secondary. Here, Gabor Szabo's guitar genius, set to magnificent arrangements by Gary McFarland pairs his outstanding quintet (featuring Jimmy Stewart) with Gary McFarland's subtle string and horn arrangements in a collection of originals, pop covers, and classical reinterpretations. This is one of the most sophisticated albums Szabo ever cut, and the result is a sort of accessible third-stream music. The album has a slow-building style that steps off of his Impulse years with a deeper, broader vision of music. Szabo has many fine moments, and provides nice spaces for the beautiful guitar solos of Jimmy Stewart.by Douglas Payne.
Gabor Szabo
Shades of Soul, EP 1.7 – 1.8: The Best of 2013 by Oliver Wang on Mixcloud My last Shades of Soul show covered my favorite recordings of 2013 and the second hour, beginning right around the 1:00 mark, focuses on the older songs I discovered this year. I won't go into every song on there but I did want to highlight my absolute favorites. 1:02:30 Brenton Wood: Oogum Boogum Song From 7″ (Double Shot, 1967).