Cleaning/Remedies
Get flash to fully experience Pearltrees
Posted on November 01, 2011 in Bed, Bath & Kitchen , Decor & Furniture , Organise & Personalise by Simone Via: amy-newnostalgia.blogspot.com Why didn't I think of that?! We guarantee you'll be uttering those words more than once at these ingenious little tips, tricks and ideas that solve everyday problems … some you never knew you had! (Above: hull strawberries easily using a straw). . Via: apartmenttherapy.com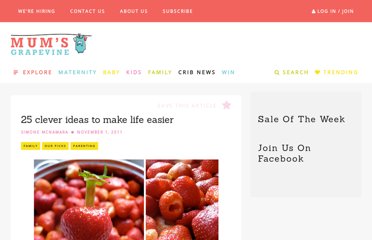 Hello U-Create readers! I am so excited to be guest posting here today. It just so happens to be my first guest post and I'm still a little shocked that it's here at Ucreate, one of my favorite blogs! A little bit about me..
Let us be clear: Baking soda is not going to permanently cure your acne or turn back the cruel hand of time.
Photo Credit It's that taxing in-between time of the semester again – spring break is over, papers and projects are coming due, and finals are looming ahead. It's clear that college students are stressed right now, and with that stress comes the need for relaxation.
Summer is here! Kids are out of school (us college kids, too, thank God) and the season of family, friends and fun can officially begin! To help make the summer more enjoyable for you no matter what you plan to do, I have gathered a few helpful tips to save you time, make things simpler, a little more fun, and you a little less worrisome. Whether you are traveling, throwing parties, sprucing up the house or just living your life as normal, you'll be sure find something here that you can use. 1.) Instead of buying expensive dog shampoo at the pet store, just wash your pup in Dawn dish soap.
Making your own cleaning products is a good way to save money and control the use of chemicals in your home. Most of the following recipes are made from non-toxic ingredients, but there are some chemicals as well. If you store any of these, be sure to label them so you know what is in the container —and keep these and any household cleaners out of the reach of children and pets! Here are some simple recipes for the most common household chores. Window Cleaner
From Wired How-To Wiki Dumping your entire music collection onto an iPod is a simple, one-click process. But what about getting your music off an iPod?
Sometimes the solutions to your problems are as close as your pantry shelf. For counter-top stains caused by coffee, tea, or juice spills, for instance, just grab that box of baking soda you usually reserve for your favorite cookie recipes. Then mix three parts baking soda with one part water to create a paste. Apply onto a damp sponge, making sure to scrub the stain vigorously. Allow to sit for 30 minutes and wipe clean.