Android Apps
Smart Tools - Android Apps on Google Play
Smart Tools is a complete package of 5 app sets. It includes 5 Pro sets for a total of 15 tools. In a word, All-in-One. Set 1: Length, Angle, Slope, Level, Thread - Smart Ruler Pro Set 2: Distance, Height, Width, Area - Smart Measure Pro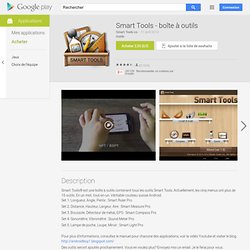 Autodesk SketchBook Mobile is a professional-grade paint and drawing application designed for android devices with screen sizes of 7" and under. SketchBook® Mobile offers a full set of sketching tools and delivers them through a streamlined and intuitive user interface. Use it to digitally capture your ideas as napkin sketches or produce artwork on-the-go. With the same paint engine as the renowned SketchBook® Pro software, SketchBook® Mobile delivers sophisticated brushes and pencils. Features: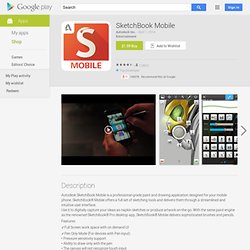 SketchBook Mobile - Android Apps on Google Play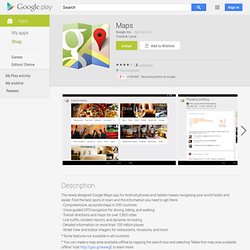 Download the latest release of Google Maps, and never carry a paper map again. Google Maps for Android with Navigation (Beta) has: * Detailed maps with 3D buildings * Voice guided turn-by-turn GPS navigation * Driving, public transit, biking, and walking directions * Live traffic information to avoid congestion * Local search and business reviews * Google Maps Street View * Indoor maps for select airports, hotels, retail stores, and more
Maps - Android Apps on Google Play
Get the Currently hot Music & Audio apps on AppBrain
Netflix est le plus important service d'abonnement au monde permettant la diffusion d'épisodes télé et de films sur votre téléphone. Cette application mobile Netflix est conçue pour vous offrir la meilleure expérience n'importe où, n'importe quand. Obtenez l'app gratuite dans le cadre de votre abonnement à Netflix et vous pourrez visionner instantanément des milliers d'épisodes télé et de films sur votre téléphone. Si vous n'êtes pas membre de Netflix, inscrivez-vous à Netflix et commencez à en profiter immédiatement sur votre téléphone grâce à notre essai gratuit d'un mois.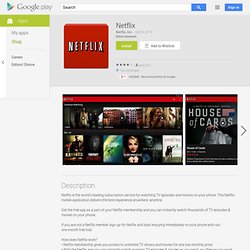 Netflix - Android Apps on Google Play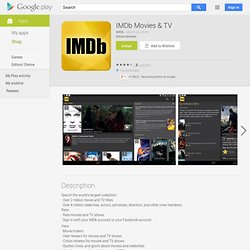 IMDb Movies & TV - Android Apps on Google Play
Search the world's largest collection: · Over 2 million movie and TV titles · Over 4 million celebrities, actors, actresses, directors and other crew members Rate: · Rate movies and TV shows · Sign in with your IMDb account or your Facebook account View: · Movie trailers · User reviews for movies and TV shows · Critics reviews for movies and TV shows · Quotes, trivia and goofs about movies and celebrities · Your browse and search history on IMDb Look up: · Movie showtimes at local theaters near you · TV listings for your local time zone · Recaps of TV shows from previous night · Upcoming movies · Latest entertainment news from hundreds of media outlets Notifications: · Choose "notify me" on titles and names you're interested in to be notified of trailers, photos, showtimes, and news.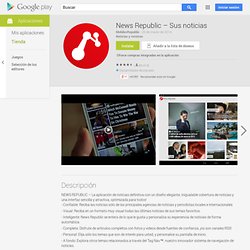 News Republic - Android Apps on Google Play
"La solution à l'infobésité" - CNET "Un concentré survitaminé de news dans la poche" - Presse-Citron.net _ _ _ _ _ _ _ _ _ _ _ ★ Vous rêvez d'une application qui ne vous propose que les sujets qui vous intéressent ? Une application qui filtrerait l'ensemble des sources pour ne vous proposer que les actualités que vous voulez suivre ? Une application qui rendrait l'actualité plus personnelle? News Republic est cette application !