Privacy
This Creepy App Isn't Just Stalking Women Without Their Knowledge, It's A Wake-Up Call About Facebook Privacy [Update. This app is meant to all be in good fun, but it's potentially a weapon in the hands of stalkers.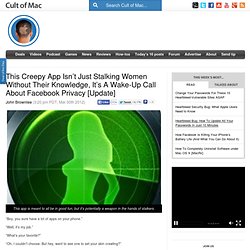 "Boy, you sure have a lot of apps on your phone." "Well, it's my job." "What's your favorite?" "Oh, I couldn't choose. But hey, want to see one to set your skin crawling?" Why Foursquare Really Killed Creepy Stalking App 'Girls Around Me' Foursquare doesn't ever want you thinking about not doing this.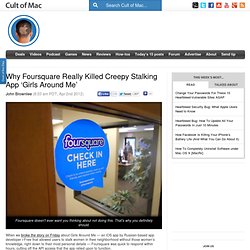 That's why you definitely should. When we broke the story on Friday about Girls Around Me — an iOS app by Russian-based app developer i-Free that allowed users to stalk women in thee neighborhood without those women's knowledge, right down to their most personal details — Foursquare was quick to respond within hours, cutting off the API access that the app relied upon to function. Foursquare's swift response to the issue effectively killed Girls Around Me, and i-Free quickly yanked the app from the App Store in the aftermath until they could figure out a way to restore service. And for a lot of people, the story ended there. 'Girls Around Me' Dev: Our App's Not For Stalking Women, It's For Avoiding The Ugly Ones [Exclusive Interview. Cult of Mac interviews Girls Around Me developer i-Free about the controversy surrounding their app.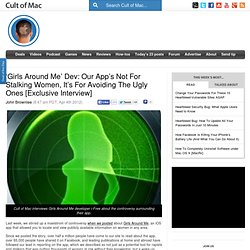 Last week, we stirred up a maelstrom of controversy when we posted about Girls Around Me, an iOS app that allowed you to locate and view publicly available information on women in any area. Since we posted the story, over half a million people have come to our site to read about the app, over 65,000 people have shared it on Facebook, and leading publications at home and abroad have followed our lead in reporting on the app, which we described as not just as a potential tool for rapists and stalkers that was putting thousands of women at risk without their knowledge, but a wake-up called about privacy.
Girls Around Me has since been pulled from the iTunes App Store, but considering we were the ones who stirred up so much trouble for the app's Russian-based developer, i-Free, I thought we would reach out and give them the opportunity to set the record straight. Girls Around Me Dev: We Didn't Do Anything Wrong [Statement. Girls Around Me dev i-Free says the app isn't meant to allow creeps to stalk girls.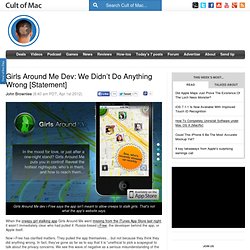 That's not what the app's website says. When the creepy girl stalking app Girls Around Me went missing from the iTunes App Store last night, it wasn't immediately clear who had pulled it: Russia-based i-Free, the developer behind the app, or Apple itself. Now i-Free has clarified matters. They pulled the app themselves… but not because they think they did anything wrong.
In fact, they've gone as far as to say that it is "unethical to pick a scapegoat to talk about the privacy concerns. This Creepy App Isn't Just Stalking Women Without Their Knowledge, It's A Wake-Up Call About Facebook Privacy [Update.
---