Djleffler18
dj
Going Mobile: Debating and Using Cellphones in School. George Osodi/Associated PressAt an electronics market in Lagos, Nigeria, cellphones appear in great profusion, as they do throughout poorer lands.Go to related article » Overview | Can cellphones serve as effective instructional tools in the classroom?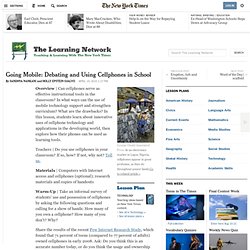 In what ways can the use of mobile technology support and strengthen curriculum? What are the drawbacks? In this lesson, students learn about innovative uses of cellphone technology and applications in the developing world, then explore how their phones can be used as learning tools. The Evolution of Classroom Technology - Interactive Feature. Google. Learning to Write on the iPad. Lots of people have been asking about using the iPad as a way of teaching young students to write.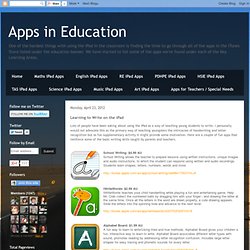 I personally would not advocate this as the primary way of teaching youngsters the intricacies of handwriting and letter recognition but as fun supplementary activity it might provide some motivation. Here are a couple of fun apps that reinforce some of the basic writing skills taught by parents and teachers. School Writing: $4.99 AU School Writing allows the teacher to prepare lessons using written instructions, unique images and audio instructions, to which the student can respond using written and audio recordings. Students learn shapes, letters, numbers, words and more. eJMT - Aims & Scope. Evolving technological developments have prompted mathematical researchers, educators, as well as practitioners of mathematics to use experimental approaches in their respective investigations.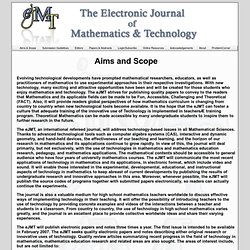 With new technology, many exciting and attractive opportunities have been and will be created for those students who enjoy mathematics and technology. The eJMT strives for publishing quality papers to convey to the readers that Mathematics and its applicable fields can be made to be Fun, Accessible, Challenging and Theoretical (FACT). Learning and Teaching with iPads. ADHD/ADD. Remote desktop software with high performance video & audio. Maths Apps. Granting access to your Gmail account. Posted by Hari Nidumolu, Software Engineer I use two Gmail accounts: one is my personal account and the other I share with my family (we use it to subscribe to groups like my children's classroom mailing list).
Checking these two different accounts used to mean I had to sign out and back in to Gmail all the time. Not anymore. Instead, I can grant my personal account access to my shared family account and view, organize and send mail on behalf of our shared account. Top 15 iPad Book Apps – The Best Extras for Summer Fun. A year ago, we presented our first 'best extras' list, featuring 10 apps with wonderful games that take learning AND playing to a whole new level (compared to the average book app).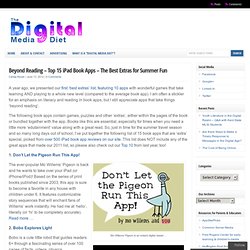 I am often a stickler for an emphasis on literacy and reading in book apps, but I still appreciate apps that take things 'beyond reading'. The following book apps contain games, puzzles and other 'extras', either within the pages of the book or bundled together with the app. Books like this are essential, especially for times when you need a little more 'edutainment' value along with a great read. So, just in time for the summer travel season and so many long days out of school, I've put together the following list of 15 book apps that are 'extra' special, picked from over 500 iPad book app reviews on our site. This list does NOT include any of the great apps that made our 2011 list, so please also check out our Top 10 from last year, too!
Twitter for Professional Development. 25 Awesome Library Apps For Your iPad. (Good) Free App of the Day: Art Maker (play, narrate, and record!) The awesome free apps just keep coming!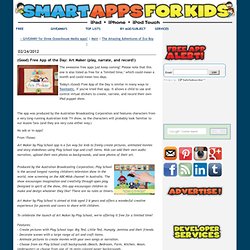 Please note that this one is also listed as free for a "limited time," which could mean a month and could mean two days. Today's (Good) Free App of the Day is similar in many ways to Toontastic, if you've tried that app. Reading and Grammar Apps for Early Learners. There are some great apps available for little ones who are learning their alphabet or are actually learning to read and write.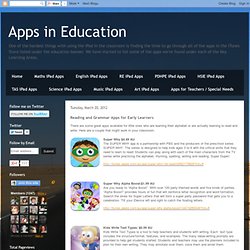 Here are a couple that might work in your classroom. Super Why $4.49 AU The SUPER WHY app is a partnership with PBS and the producers of the preschool series SUPER WHY. The series is designed to help kids ages 3 to 6 with the critical skills that they need to learn to read! Bullying/Cyberbullying. LYNAS. Philip Rosedale on Second Life. Issues in Math. Hypothesis Testing (Diff of Two Means) Coaching Students with Executive Skills Deficits. "Dawson and Guare are to be congratulated for writing such a readable yet scientifically rigorous manual that will be invaluable to teachers, counselors, and school psychologists who work with students with executive skills deficits.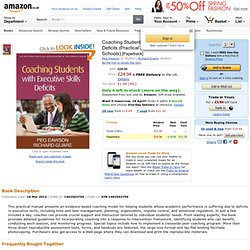 The book is illustrated with fascinating case examples that will be all too familiar to teachers who have struggled to find ways of helping students to reach their potential. It provides constructive, step-by-step guidance on what it means to have an executive skills deficit and how to implement an effective coaching program. " - Peter Farrell, University of Manchester, UK "This is a unique and marvelous book that presents a useful coaching model for students with executive skills deficits, including those who have ADHD. It is the most informative, practical guide available on the topic. Windows: The Cadillac Of Operating Systems. It wasn't that long ago, as far as history goes, that the ideal car was a hulk of convenience, a bench-seated, chrome-plated, three-ton luxury missile.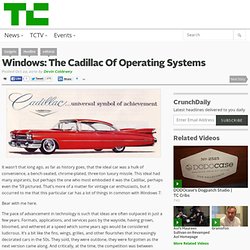 This ideal had many aspirants, but perhaps the one who most embodied it was the Cadillac, perhaps even the '59 pictured. That's more of a matter for vintage car enthusiasts, but it occurred to me that this particular car has a lot of things in common with Windows 7. Bear with me here. The pace of advancement in technology is such that ideas are often outpaced in just a few years. iPad Curriculum. Touch and Go.
Will Hotmail Get Offline Storage Before Gmail? Microsoft is working on an HTML5-enabled version of its Hotmail Web application, according to a new report from ZDNet.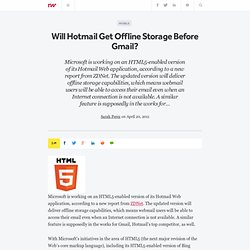 The updated version will deliver offline storage capabilities, which means webmail users will be able to access their email even when an Internet connection is not available. A similar feature is supposedly in the works for Gmail, Hotmail's top competitor, as well. With Microsoft's initiatives in the area of HTML5 (the next major revision of the Web's core markup language), including its HTML5-enabled version of Bing search, and updates to Microsoft's Internet Explorer 9 Web browser, it wouldn't be surprising to hear that Microsoft is indeed working on an HTML5-enabled Hotmail Web application, too. Great Reference Apps: iPad/iPhone Apps AppList. More App Info description & screenshots $2.99 Wikibot — A Wikipedia Articles Reader by Avocado Hills, Inc. Wikibot - A Wikipedia Articles Reader is a beautiful app that makes researching a truly pleasurable experience.
It has bookmarking features, the ability to look up highlighted words for more details on whatever subject you're interested in, and more. Wikibot will sync with iCloud, and you can change the font to your liking or put an image in gallery mode to see a larger view. Gestural Interfaces. Controlling computers with our bodies Determining depth: PrimeSense's sensor determines depth by combining a number of techniques, including structured light, where an infrared pattern (red lines) is projected onto objects. How the pattern is distorted gives information about distances. Paper Port App – Dragon Dictation App on Steroids! Are you impressed with the Dragon Dictation App? Well, you will love Nuances new PaperPort app that has Dragon Dictation tools in it! PaperPort App - This is Nuances new free digital note taking for your iPad (only iPad) that captures hand written notes, typed text, images, web content and audio.
PaperPort Notes even allows you to take advantage of the Dragon Dictates voice recognition software to produce your ideas and notes simply by speaking. Wi-Fi connectivity is needed for the voice recognition and transferring documents to function. Paper Port provides many options to transfer your note to make it retrieveable in other applications such as Google Docs, Dropbox, email or their own document management app called PaperPort Anywhere (also free).
Marc Andreessen On Skype Deal: "Microsoft Is Buying Something With A Real Head Of Steam" Microsoft may have overpaid for Skype with its $8.5 billion all-cash offer, but it was bidding against a sure IPO. While $8.5 billion may look expensive now, it is a pre-emptive strike to take Skyoe off the table before an IPO. Microsoft's bid had to be high enough to convince the company and its investors they were better off taking the Microsoft offer now. From what I can gather, there were nibbles by other suitors such as Google, but no other serious offers. Microsoft was bidding against the IPO. The investors, which include Silver Lake Partners and Andreessen Horowitz, and Joltid, look like geniuses now. Microsoft Pri0 | Microsoft to offer credit to those affected by Office 365 cloud outage this week.
I'm out of the office today but in the meantime, here's a follow-up on the outage that affected some users of Microsoft cloud services Wednesday. The outage affected some Office 365 and SkyDrive users for several hours. Steven Gerri, general manager of Global Foundation Services at Microsoft had issued a statement Wednesday saying that: "At approximately 11:30am PDT, Microsoft became aware of a networking issue affecting customers of some Microsoft services hosted out of one of our North American data centers. Notetaking Apps - a comparison of some popular ones. Technology in the Classroom. iPad in the Classroom | Classroom Ideas for Teachers. 6 Awesome Free Reading Apps for iPad. Maths iPad Apps. Using the Technology of Today, in the Classroom Today - Powered by Google Docs.
Comics. Top 10 Most Educational iPad Books. Windows 7 SP1 RTM will be released in Q1 of 2011. Making sense of Microsoft's subscription Office plan | Beyond Binary. Aspergers Women. CEP 416 Resources. Great Book Apps for Kids – Guest Post. NFC Scandal. Best Free Stuff on the Web! 5 Fun Free iPad Math Game Apps. Studying with ADHD.
College Confidence with ADD: The Ultimate Success Manual. Learning outside the Lines: Amazon.co.uk: Jonathan Mooney. Making the Grade with ADD: A Student's Guide to Succeeding in College with Attention Deficit Disorder: Amazon.co.uk: Stephanie Sarkis. Gamification and Games. Succeeding in College with Attention Deficit Disorders. High School Smartboard Lesson. ADD and the College Student: A Guide for High School and College Students with Attention Deficit Disorder: Amazon.co.uk: Patricia O. Quinn.
Youtube. Educators weigh pros, cons of teacher-student online interaction. Siblings fo special needs children. ScreenCastle | One Click Screencasting. Apps For Teachers: iPad/iPhone Apps AppList. With So Many Alternatives, Why Does Microsoft Office Still Reign? Literacy apps.
Digital Storytelling with the iPad. SMART Education Solutions: Interactive Education Solutions. Math Games - 10 Great iPhone/iPad Apps. Amsika. 5 Reasons Why Skype Will Be an Office Hit. Google Docs.
SMART Boards Why are they so easy to use? 65+ iPad Apps Perfect For Elementary School | Education Technology and Teacher Tools – Edudemic. Noteshelf vs. Remarks vs. Notability: iPad handwriting app shootout! Malaysians most fascinated with Angry Birds, says Google @ Wed Dec 07 2011. What's Cooking in your iClassroom? Mathematics. Twitter. Microsoft Announces Kinect SDK: Why This is the Future of Windows. iF Poems – The First Great Poetry App for the iPad I've Seen. Office 365 phone support for small businesses? No promises, Microsoft says. Microsoft to show off true iPad competitors at CES? Portfolio Manual.
Will Hotmail Get Offline Storage Before Gmail? 8 Free iPad Reading Apps for Young Learners. Technology in Education. Creating Books on the iPad.
---