Instructional Design
Online Training Software: Create Online Course & Training. The eLearning Coach - Instructional Design and eLearning: The eLearning Coach. Four Easy Tactics to Engage Your Passive Learners. E-Learning Feeds is ranking and scoring hundreds of Top e-Learning blogs, while helping e-Learning oriented readers to answer the question "What's happening in the e-Learning industry" on a daily basis based on the Top e-Learning Blogs.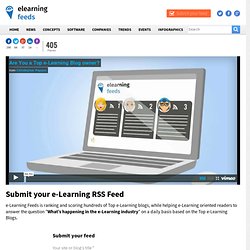 Would you like to share your Top e-Learning Blog Posts with a thriving community of more than 100,000 e-learning readers? Well... then Submit your e-Learning blog's RSS feed at e-Learning Feeds. MLDP-Report. Exploring #GoogleGlass: The Device and it's Functionality. Last week I was able to get early access to Google Glass, one of the most intriguing pieces of technology ever developed.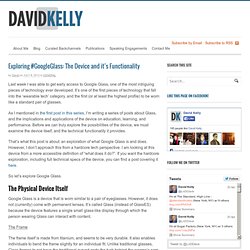 It's one of the first pieces of technology that fall into the 'wearable tech' category, and the first (or at least the highest profile) to be worn like a standard pair of glasses. As I mentioned in the first post in this series, I'm writing a series of posts about Glass, and the implications and applications of the device on education, learning, and performance. ELC 006: Creating Virtual Classrooms And Webinars. Sharebar Podcast: Play in new window | Download Are you wondering how to transform in-person training to a virtual classroom?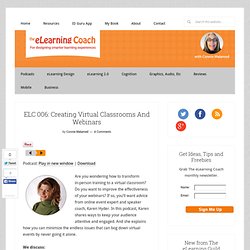 Do you want to improve the effectiveness of your webinars? If so, you'll want advice from online event expert and speaker coach, Karen Hyder. How To Write Better Analogies For Learning. Sharebar Analogies are a key component of human thinking and understanding.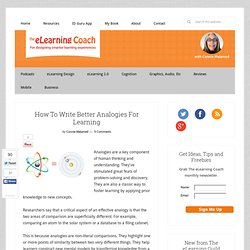 They've stimulated great feats of problem-solving and discovery. They are also a classic way to foster learning by applying prior knowledge to new concepts. Researchers say that a critical aspect of an effective analogy is that the two areas of comparison are superficially different. For example, comparing an atom to the solar system or a database to a filing cabinet. 21 Ways To Get Visual Ideas. Sharebar When you're stuck, in a rut or brain drained, it's hard to be creative on demand.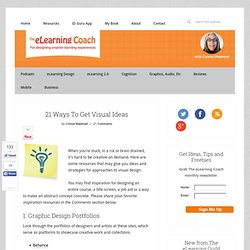 Here are some resources that may give you ideas and strategies for approaches to visual design. Trainers and Instructional Design. A few months ago, I got an opportunity to interact with learning professionals from behavioral and technical domains in a reputed company.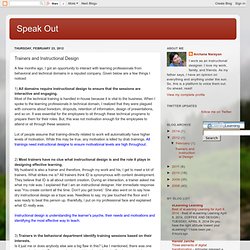 Given below are a few things I noticed: 1) All domains require instructional design to ensure that the sessions are interactive and engaging. Most of the technical training is handled in-house because it is vital to the business. When I spoke to the learning professionals in technical domain, I realized that they were plagued with concerns about boredom, dropouts, retention of information, design of presentations, and so on. Virtual Call Centers and Home Based Call Center Services | Alpine Access. 5 Great eLearning Boredom Busters. 5 Great eLearning Boredom Busters A common refrain heard by eLearning program developers is that using eLearning software is boring.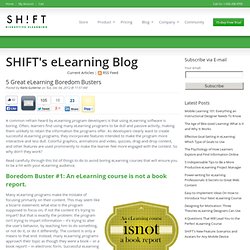 Often, learners find using many eLearning programs to be dull and passive activity, making them unlikely to retain the information the programs offer. As developers clearly want to create successful eLearning programs, they incorporate features intended to make the program more interactive and less dull. Colorful graphics, animations and video, quizzes, drag-and-drop content, and other features are used prominently to make the learner feel more engaged with the content. So why don't they work? The Pyramid Is the Tipping Point. Imagine you walk into a classroom to take a course and find the desks scattered all over the place, student manuals strewn all over the room, the instructor making no effort to facilitate the course effectively, the LCD projector pointing at the wall not the whiteboard, your fellow students wandering in and out sporadically throughout the period, and the course beginning randomly in chapter 5 for no apparent reason.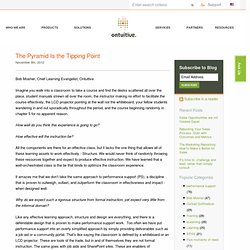 How well do you think this experience is going to go? How effective will the instruction be? All the components are there for an effective class, but it lacks the one thing that allows all of these learning assets to work effectively - Structure. 20 Things To Remember About Forgetting: The eLearning Coach. Sharebar Even though it's used all day and night, we are usually not aware of our memory's processes until they fail.
Yet remembering and forgetting are crucial phenomena underlying learning. Here are some key facts about the forgetting process that relate to learning and instruction. The Basics Forgetting is the inability to recall or recognize information that we think should reside in long-term memory. Trainers and Instructional Design. The Ultimate eLearning Design and Development Checklist. I have combed the web and compiled several e-learning, instructional design and web design checklists to create this ultimate e-learning checklist.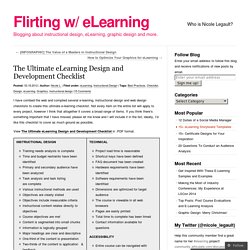 Not every item on the entire list will apply to every project, however I think that altogether it covers a broad range of items. If you think there's something important that I have missed, please let me know and I will include it in the list; ideally, I'd like this checklist to cover as much ground as possible. View The Ultimate eLearning Design and Development Checklist in .PDF format.
100+ Video Sites Every Educator Should Bookmark (Updated for 2012) August 8th, 2012 By: Alvina Lopez Bringing multimedia into the classroom is a great way to engage students in learning. Supplementing lessons, opening up new interests, and offering inspiration, online videos make for an incredible teaching tool.
In 2010, we covered our favorite 100 video sites for educators, and we've now updated our list for 2012 with more than 100 resources and more than 25 brand new entries. A List of Interesting Mobile Learning Links. Game Based Learning - Why Does it Work? The information in this post is covered in a brand new infographic from The Knowledge Guru (learn about The Knowledge Guru in the video below). Click Here to see the infographic! A Learning Brief by Sharon Boller. Tin Can: A New and Better Way to Track eLearning : Online Events Archive. Online Forums 2012 - October 12, 2012 Nikolaus Hruska Technical Team ADL Andy Johnson Tech Team Software Engineer ADL. HTML5 and eLearning: What Managers and Practitioners Must Know : Research Library. October 18, 2012 The increasing use of tablets and mobile devices and the move away from Flash development is bringing HTML5 to the forefront of eLearning.
Many major authoring tool companies are actively working on delivering HTML5 output. Even if you aren't currently developing content for the most popular tablet, the iPad, you need an alternate to Adobe's Flash Mobile. This means that if you're developing for tablets, you're looking for a non-Flash way to build learning content. The eLearning Guild: A community of practice for eLearning designers, developers, and managers. Stock Photography: Download Free Stock Photos & Royalty Free Images. Isdmap.jpg (JPEG Image, 718 × 457 pixels) Become a partner or supplier. Welcome to My Resource Cloud. YouTube, Sal Khan, Now Searching For The 10 Best Online Educators. YouTube is taking to, well, itself, to find some of the world's best online educators. The video site is partnering with Khan Academy to identify the ' Next EDU Gurus ' and they plan to reward them handsomely.
What YouTube Is Looking For. What Is Interactive Learning? A Quick Guide For Everyone. Students Who Challenge Us:Eight Things Skilled Teachers Think, Say, and Do. Share My Lesson - Free K-12 Resources By Teachers, For Teachers. YouTube, Sal Khan, Now Searching For The 10 Best Online Educators. MOOCs, Online Learning and Educating Abraham Lincoln. Storyboard That - A Good Storyboarding Tool. Action Learning is extremely popular, yet so widely misunderstood. 5 Tips to Help Leaders Use Empathy in Interactions. If you were planning to adapt your e-learning courses for multiple languages, what would be the first steps you would take? eLearning Art - training photos, training images, e-learning images, characters, and templates.
How Your Workplace Can Support Learning Transfer. Students Who Challenge Us:Eight Things Skilled Teachers Think, Say, and Do. Story Map - An Interactive Story Planner. Defining Competence, Proficiency, Expertise, and Mastery. User Research: Look & Listen. The Place For Nonprofits And Libraries.
Pricing | Adobe ExportPDF. Rapid Instructional Design. Does Performance Support Always Have to Be a Post-Training Solution? Senior Instructional Designer Jobs. Social Learning: Answers to Eight Crucial Questions by News Editor. Learning Solutions Magazine: Home. Online learning provides students with valuable skills. MOOCs, Online Learning and Educating Abraham Lincoln. Two Can Do It: Learning by Mentoring or Being Mentored.
Storyboard That - A Good Storyboarding Tool. Performance Improvement Without Assessments. Understanding ROI in 60 Minutes: Part I. Fundamental Considerations For Designing M-Learning Solutions (Part 1) What Is Interactive Learning? A Quick Guide For Everyone.
---