Sites
Jawset Visual Computing
Think Particle
Valkaari | Plugins – Cinema4D – Zbrush
cinema 4d
Artillery Design Ltd |
IDAPICTURES
Three Post - home
RayFire | Home
SVEN DREESBACH
Slice
Welcome !
Digital Chalet - Website
Ginger4 - Agence Primée de Création 3D & Digitale
Bienvenue chez NewBBDO
Chez Eddy 3D/2D SFX
Cineversity
BLACKLENS [studio]
ParisFX
spy films - spying on spy
Facerocker.com | movies, games, tech, and other things that rock
Agence Octopus
SEHSUCHT?
Lamborghini Aventador on Vimeo
design produit retail design product desing 2d artwork
Ronen Bekerman – 3D Architectural Visualization Rendering Blog
Axis Animation - Axis Animation
Procedural Inc. - 3D Modeling Software for Urban Environments
Welcome to Digital-Tutors
www.3DVF.com, Le Magazine Online de la 3d Francophone
TDT3D - Independent Computer Graphics community 2D and 3D : portfolio, gallery, e-learning, tutorials and forums 3D
Cgtuts+ | CG and 3D tutorials from beginner to advanced.
Aetuts+
VIDEO COPILOT | After Effects Tutorials, Plug-ins and Stock Footage for Post Production Professionals
Mattrunks - Tutoriaux Vid?os sur After Effects, Photoshop et Mocha pour le motion design, les vfx et la cr?ation vid?o num?rique
After Effects Scripts + After Effects Plugins
After Effects and Cinema 4D Training
Home - Side Effects Software Inc.
Side Effects Software Inc.
The Foundry
Autodesk Softimage
Maya 3D Animation, Visual Effects, and Compositing Software
3ds Max - 3D Modeling, Animation, and Rendering Software
3D Total - The cg artists home page - 2D and 3D graphics resource site //
maltaannon.com | Free Adobe After Effects and Production Studio Video Tutorials
NewTek Europe (english)
3Dconnexion : Start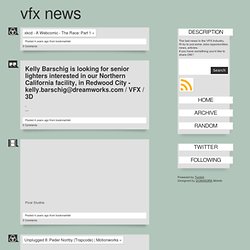 Kelly Barschig is looking for senior lighters interested in our Northern California facility, in Redwood City - kelly.barschig@dreamworks.com / VFX / 3D RT @davidstripinis PhotoSketch: Internet Image Montage on Vimeo (via Vimeo) Mid level Rigging TD and FX TD needed at nWave Digital : contact Lynn Cohen #VFX Digital Domain is looking for a Texture supervisor : for immediate consideration, please send your resume and reel to digitalhiring@d2.com . Coca-Cola Zero Happy Kingdom (via estrenoZERO) #vfx #3D
vfx news
VisualFXtuts.com | VFX, Motion Graphics, HDSLR News and Tutorials
VFX Soupe