Sites
Jawset Visual Computing
TurbulenceFD's simulation pipeline implements a voxel-based solver based on the incompressible Navier Stokes equations. That means it uses a voxel grid to describe the volumetric clouds of smoke and fire and solves the equations that describe the motion of fluid on that grid. For each voxel TurbulenceFD calculates the velocity of the fluid as well as several channels to describe properties like temperature, smoke density, amount of fuel, etc. This simulation process produces a voxel grid for each frame, which is cached on disk for use by the Volumetric Renderer. To setup a fluid simulation, the artist uses any type of geometric object or particle system to paint the sources of smoke, heat, fuel, etc. in space. The flow then carries along these emissions in a physically plausbile way that creates the realistic look of fire, explosions, vapor, clouds, dust and much more.
Think Particle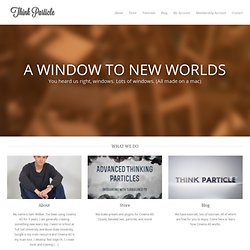 About My name is Sam Welker. I've been using Cinema 4D for 3 years. I am generally creating something new every day. I went to school at Full Sail University and Boise State University. Google is my main resource and Cinema 4D is my main tool.
I've created a facebook's page (yeaaaaa welcome to 2013). What an awsome news You can follow me there or twitter. Hot4D is now available in version 0.3.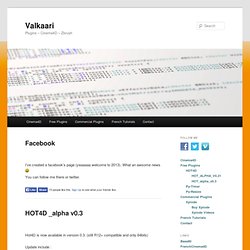 Valkaari | Plugins – Cinema4D – Zbrush
cinema 4d
Artillery Design Ltd |
IDAPICTURES
Three Post - home
RayFire | Home
SVEN DREESBACH
Slice
DWs Slice Equipped with one of the most advanced texture generating algorythms Slice is here to save you time and energy. Making seamless textures has never been such a joy!
Welcome !
Digital Chalet - Website
Ginger4 - Agence Primée de Création 3D & Digitale
Bienvenue chez NewBBDO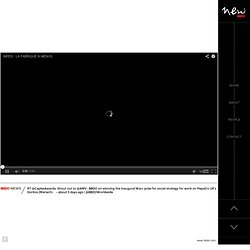 Où que l'on soit, les histoires nous accompagnent, et nous invitons toujours plus de récits captivants à entrer dans nos vies. Les messages martelés, eux, tendent à rester derrière la porte... Notre rôle est désormais de dépasser les paramètres anciens de notre métier et de mobiliser les outils qui nous permettront de nous frayer à nouveau un chemin vers chacun. Nous pensons que c'est uniquement par la création inédite, dont la qualité propre soit un événement, que nous pourrons bâtir une relation durable entre les marques et leurs publics. Une relation plus sensuelle, rythmée de rendez-vous choisis et projetée vers l'avenir.
Chez Eddy 3D/2D SFX
Cineversity
BLACKLENS [studio]
Parisfx 7th edition will take place on December 4 and 5, 2013, at the Centre des arts in Enghien les bains, only 15 minutes from Gare du Nord. Main event dedicated to digital creation, Parisfx finally found THE site which corresponds to its identity: The Centre des arts, created in 2002 on the initiative of Enghien-les-Bains, is a place of artistic diffusion and production which develops, above all, its expertise on digital writing and hybrid forms of creation.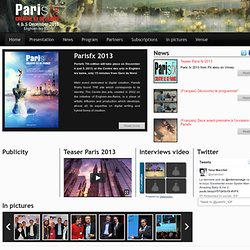 ParisFX
spy films - spying on spy
Facerocker.com | movies, games, tech, and other things that rock
Agence Octopus
SEHSUCHT?
Lamborghini Aventador on Vimeo
Graphiste créatif depuis 1994 pour plusieurs agences parisiennes ( DDB, Landor, Euro rscg , carré noir... ), j'ai pris un virage résolument 3d après une formation à l'école des gobelins en 2002. Sans pour autant délaisser mes anciennes compétences créatives 2d, mes activités actuelles sont plus centrées vers le design produit, l'aménagement intérieur et les applications 3d qui en découlent afin de fournir à mes clients une aide à la décision pertinente en amont de leurs plannings et de la chaine de production. Creative graphic designer since 1994 in Paris for several agencies (DDB, Landor, Euro RSCG, carré noir...) I took a turn decidedly 3d after training at the Ecole des Gobelins in 2002. Without abandoning my old creative 2d skills, my current activities are focused more towards product design, interior design and applications arising from 3d to provide my clients an help-decision ahead of their schedules and their production chain.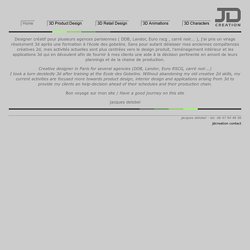 design produit retail design product desing 2d artwork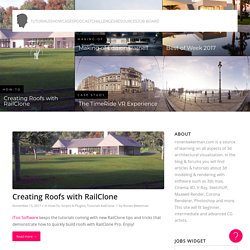 Ronen Bekerman – 3D Architectural Visualization Rendering Blog
Following up on the 52 Weekly Best Visualizations posted two days ago, I'm proud to present now the selected 12 BEST of MONTH visualizations of 2013! It was far from easy to make this selection of the 12… but for each month – There can be only one! Each will get a 100 Euro Voucher, to spend on great looking 3D furniture models by Designconnected. the BEST OF YEAR is coming next! Read More You have seen these during the year on the newsletter (signup), but here they all are – The 52 Best Visualizations of 2013, selected each week from the works posted on the forums Finished Work Section.
Axis Animation - Axis Animation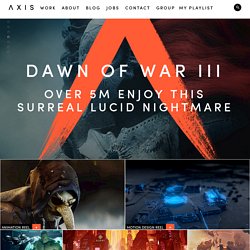 Axis is a multi-talented and international team of producers, directors, designers, artists and animators. The studio creates stunning animation for some of the world's leading names in Commercials, Games, Broadcast and Film. Entertaining, crafted, compelling; Axis' work has won numerous industry accolades - most recently the prestigious Imagina Grand Jury Prize and a Best Animation BAFTA. One of the UK's fastest growing animation studios, Axis fuses a personal approach and attention to detail with large-scale production values and infrastructure.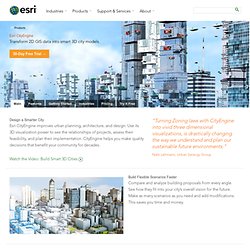 Menu Products Esri CityEngine Transform 2D GIS data into smart 3D city models. 30-Day Free Trial → Main Features Getting Started Industries Pricing Try It Free
Procedural Inc. - 3D Modeling Software for Urban Environments
Mootzoid
Welcome to Digital-Tutors
www.3DVF.com, Le Magazine Online de la 3d Francophone
Eurographics 2014 Du Lun 07 au Ven 11 Avr 2014 [ En France / Ville : Strasbourg ] Conférence annuelle de la European Association for Computer Graphics. ... Plus d'infos..
TDT3D - Independent Computer Graphics community 2D and 3D : portfolio, gallery, e-learning, tutorials and forums 3D
Cgtuts+ | CG and 3D tutorials from beginner to advanced.
Aetuts+
VIDEO COPILOT | After Effects Tutorials, Plug-ins and Stock Footage for Post Production Professionals
Mattrunks - Tutoriaux Vid?os sur After Effects, Photoshop et Mocha pour le motion design, les vfx et la cr?ation vid?o num?rique
Preset d'effet de peinture psychédélique avec Particular Bonjour à tous ! Je m'appelle Sara Bennett, aussi connue sous le pseudo Shabello, motion designer freelance basée à Manchester en Angleterre.
After Effects Scripts + After Effects Plugins
The next version of After Effects has been announced, with some terrific new features and enhancements. In this short tutorial I focus on Key Cleaner & Advanced Spill Suppressor, Curves enhancements and the exciting and welcome new compositing options for effects. Inspired by the movie "Frozen", in this tutorial I demonstrate how I combined Artbeats footage with only the default Adobe After Effects tools, to create a realistic frosty window effect. Download Project File (CS6) This After Effects Experiment is all about fire. There are plenty of ways to create realistic fire in After Effects.
After Effects and Cinema 4D Training
Home - Side Effects Software Inc.
Side Effects Software Inc.
The Foundry
Autodesk Softimage
Maya 3D Animation, Visual Effects, and Compositing Software
3ds Max - 3D Modeling, Animation, and Rendering Software
3D Total - The cg artists home page - 2D and 3D graphics resource site //
maltaannon.com | Free Adobe After Effects and Production Studio Video Tutorials
NewTek Europe (english)
3Dconnexion : Start
vfx news
VisualFXtuts.com | VFX, Motion Graphics, HDSLR News and Tutorials
VFX Soupe