Sites
Creative UI Design by Cosmin Capitanu | Abduzeedo Design Inspiration
UI Design: 30 Creative User Interface Design Inspiration
UI design is brief for "user interface design". An interface is what the user has to move with so as to control, or steer in a sense. UI designs can have a lot of to do with the design of the interface further as the feel of the interface. UI designers organize the external and internal design of the system such as the button or the display menu consistent with the requirements of the user who will act with the interface.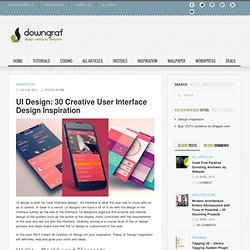 Les participants quartier par quartier* INSTITUTIONS CITE DE LA MODE ET DU DESIGN – 34, quai d'Austerlitz. 75013 ESPACES D'EXCEPTION AU SERVICE DU DESIGN La toute nouvelle Cité de la Mode et du Design : un outil exceptionnel au service de la promotion et de la commercialisation des œuvres des créateurs, éditeurs et marques créatives. La Cité de la Mode et du Design ouvre à la location 1500m² de surfaces de vente : - Stands de 15 à 285 m² pré-aménagés avec mobilier de vente Durées de location : 1, 3 ou 6 mois. Service du Bureau de Presse inclus. Boutique en ligne dans la market place de la Cité de la Mode et du Design incluse. - Boutiques de 150 à 200m², coques équipées. - Autres activités : surfaces évènementielles jusqu'à 3400m², restaurants, club, expositions… LA CITE DE LA MODE ET DU DESIGN accueillera : NOW!
Paris design week - 12-18 septembre 2011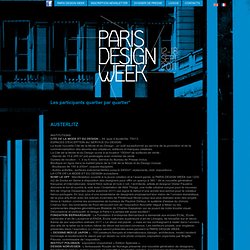 Garrett Art Lair
Generally this piece was inspired by the...conversation with Sovereign. Yes, yes in order to create this fan art I had to return to the first part of ME :)Basically the goal was to create the teaser looking wallpaper where I tried to make Shepard more...human. So looking at his face you can see anger, helplessness, confusion, fear. Whatever he looks at and whatever lies before him is unknown and that is what generates all those emotions he has and eagers the viewer the see it in actual game.I wanted to put him in a situation where there are no easy choices and he doesn't have ready answers. In my vision Shepard is about to suffer for humanity (but not by dying as that would be too easy). Actually I think it would be cool to have an ending in which there are no decorations, no solemn speeches, no victory celebration(s).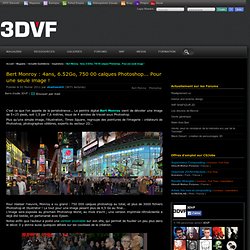 www.3DVF.com: Bert Monroy : 4ans, 6.52Go, 750 00 calques Photoshop... Pour une seule image !.
C'est ce que l'on appelle de la persévérance... Le peintre digital Bert Monroy vient de dévoiler une image de 5×25 pieds, soit 1,5 par 7,6 mètres, issue de 4 années de travail sous Photoshop. Plus qu'une simple image, l'illustration, Times Square, regroupe des pointures de l'imagerie : créateurs de Photoshop, photographes célèbres, experts du secteur 2D... Pour réaliser l'oeuvre, Monroy a vu grand : 750 000 calques photoshop au total, et plus de 3000 fichiers Photoshop et Illustrator !
PSD to Wordpress. Wordpress Themes. Design to Wordpress.
WTC Wacom Technology Home Page
(Photo Effects - Tutorials) I know that the PSDFAN community loves photo manipulation. However, I recognise that it can be a tricky skill to learn. Today's tutorial breaks down some key photo manipulation techniques, such as blending, colouring, texture/brush application and many more!