Musique
Free Sound Effects! These are Glitch Sounds in mp3 format.
contact: noise@laptopnoise.com This website and its contents are copyright © 2009 Michael Oster, all rights reserved. F7 Sound and Vision 17732 Nathan's Drive Tampa, FL 33647 Free Glitch Sound Effects! These are some glitchy "extras" that I made, so I figured that you could benefit from them. What do they sound like?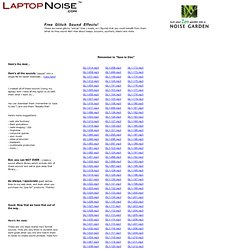 Music Licensing | Music Community | Music Marketplace | License Music Online
Triple Scoop Music : Award-winning music licensing for photographers, videographers and creative professionals!
Music & Sound FX by Digital Juice
Royalty Free Music, Sound Effects - UniqueTracks Inc.
Audiosocket Audiosocket is a music, media and technology company that delivers today's hot, up and coming talent to the marketplace. We have 33,000 songs in our catalog that come from more than 1900 emerging bands, composers and record labels from around the world. We're a next-generation content provider that thrives at the intersection of music and technology. Audiosocket has developed an innovative music search and licensing technology that we call "MaaS™" - Music as a Service.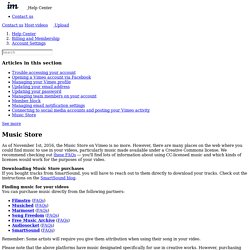 Music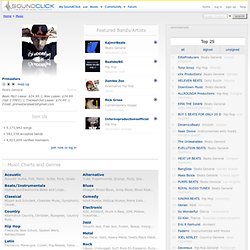 Acoustic Guitar, Folk, Piano, Guitar, Rock, Vocals HipHop and Electronica Beats and Loops... Mozart and Schubert, Chamber Music, Symphonic, Choral... Alternative Country, Christian, Bluegrass, Country Rock... Freestyle, New School, Spoken Word, Battles/Disses Flamenco, Merengue, Cuban, Pop/Balada, Salsa...