Musique
Free Sound Effects! These are Glitch Sounds in mp3 format.
contact: noise@laptopnoise.com This website and its contents are copyright © 2009 Michael Oster, all rights reserved. F7 Sound and Vision 17732 Nathan's Drive Tampa, FL 33647 Free Glitch Sound Effects! These are some glitchy "extras" that I made, so I figured that you could benefit from them. What do they sound like?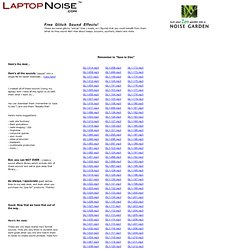 Music Licensing | Music Community | Music Marketplace | License Music Online
Triple Scoop Music : Award-winning music licensing for photographers, videographers and creative professionals!
RoyaltyFreeMusic.com offers over 10,000 high-quality, royalty-free stock music tracks. With a wide range of genres and musical styles, our library covers everything from classical music to hip hop to country music and beyond. We are the source for production-quality background music, production music, filme music, music for video production, on hold music, bumper music for television and more. Browse our album collections to explore the broad compilation of musical genres and styles we offer or use search to find the perfect tracks for all your project needs.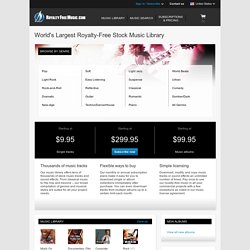 Music & Sound FX by Digital Juice
Royalty Free Music, Sound Effects - UniqueTracks Inc.
Audiosocket Audiosocket is a music, media and technology company that delivers today's hot, up and coming talent to the marketplace. We have 33,000 songs in our catalog that come from more than 1900 emerging bands, composers and record labels from around the world. We're a next-generation content provider that thrives at the intersection of music and technology. Audiosocket has developed an innovative music search and licensing technology that we call "MaaS™" - Music as a Service.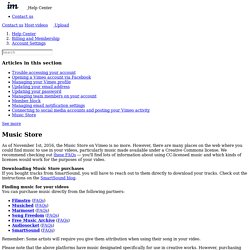 Music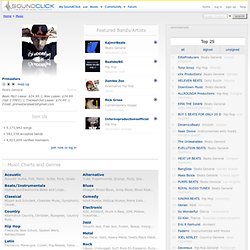 Acoustic Guitar, Folk, Piano, Guitar, Rock, Vocals HipHop and Electronica Beats and Loops... Mozart and Schubert, Chamber Music, Symphonic, Choral... Alternative Country, Christian, Bluegrass, Country Rock... Freestyle, New School, Spoken Word, Battles/Disses Flamenco, Merengue, Cuban, Pop/Balada, Salsa...
» VIEW ALL FEATURED POSTS Featured Items AS220 on 01/08/2014 at 04:45AM Malportado Kids - Mi Concha (EP)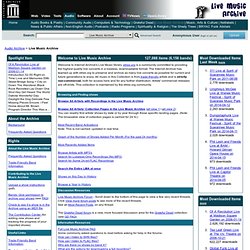 Welcome to Internet Archive's Live Music library. etree.org is a community committed to providing the highest quality live concerts in a lossless, downloadable format. The Internet Archive has teamed up with etree.org to preserve and archive as many live concerts as possible for current and future generations to enjoy. All music in this Collection is from trade-friendly artists and is strictly non-commercial, both for access here and for any further distribution. Artists' commercial releases are off-limits. This collection is maintained by the etree.org community.
Opsound Lives! Apologies for our recent outage. We've been dealing with some technical and maintenance issues. If you notice further bugs or problems, please contact us at opsound[at]opsound[dot]org. We have a new mailing list to help keep you informed. You can also follow Opsound on Twitter and Facebook.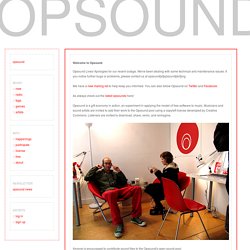 This site is a resource for independent and non-profit filmmakers, film students, and anyone in need of free music for their independent, non-profit film, video, or short. Moby has made a selection of over 150 tracks from his huge catalog of music available to licence for free, via a simple online application system. To begin just create a new account, browse the catalog and fill in your application for the tracks you would like to use. You should receive a response to your application within 24 hours.