Entrepreneurship
Soyez agiles, mettez des process! | I'm CTO bitch!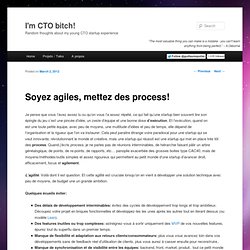 Je pense que vous l'avez assez lu ou qu'on vous l'a assez répété, ce qui fait qu'une startup bien souvent tire son épingle du jeu c'est une pincée d'idée, un zeste d'équipe et une bonne dose d'exécution.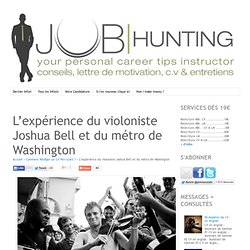 L'expérience du violoniste Joshua Bell et du métro de Washington
Le matin du 12 Janvier 2007, le Washington Post réalisa une expérience inédite dans le hall d'une station de métro à Washington.
Palmyra Atoll National Wildlife Refuge (Photo: Jim Maragos/U.S. Fish and Wildlife Service)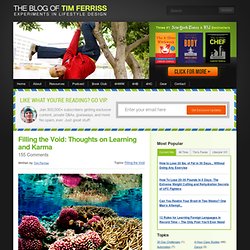 Filling the Void: Thoughts on Learning and Karma
Being an indie software developer, developing products and running the business, takes lots of time. I work during normal working hours and then often have a "second shift", when the family, or at least the kids, fall asleep. Still, I have enough planned stuff to do, when I'm near my Mac, to fill months of work.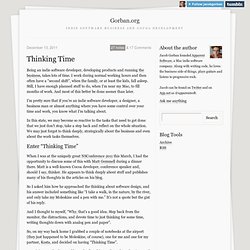 Thinking Time
Why I only work with startups
As a freelancer with a tinge of an online presence I often get to be picky about whom I work with. In a sense this ties into my post about the mindset of the current generation- I'm not picky because I get so many offers, I'm picky because I like to enjoy my work.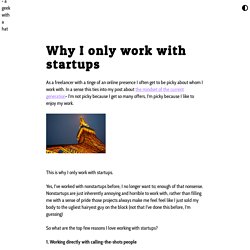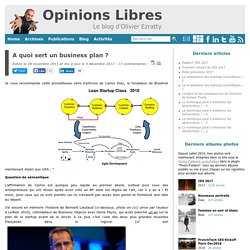 Je vous recommande cette prometteuse série d'articles de Carlos Diaz, le fondateur de BlueKiwi maintenant établi aux USA : "Passez les start-ups au détecteur de mensonges" qui évoque le pipo des business plans idylliques, le dur labeur de l'entrepreneur et enfin, l'importance du marketing pour attirer des utilisateurs. Mais c'est sur un post précédent de Carlos, datant du début 2011, « Les vrais entrepreneurs ne font pas de business plan » que je voudrais revenir.
A quoi sert un business plan ?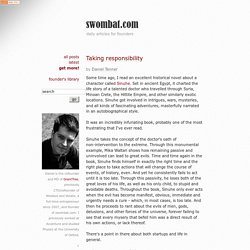 Some time ago, I read an excellent historical novel about a character called Sinuhe.
Taking responsibility
The Hacker Way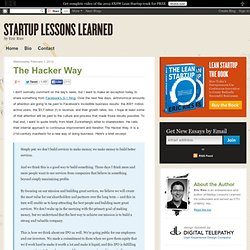 I don't normally comment on the day's news, but I want to make an exception today to share something from Facebook's S-1 filing.
If there was one course I could add to every engineering education, it wouldn't involve compilers or gates or time complexity. It would be Realities Of Your Industry 101, because we don't teach them and this results in lots of unnecessary pain and suffering. This post aspires to be README.txt for your career as a young engineer.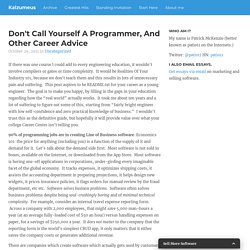 Quelques Business Models du Web analysés
Index of /analyses