Entrepreneurship
Soyez agiles, mettez des process! | I'm CTO bitch!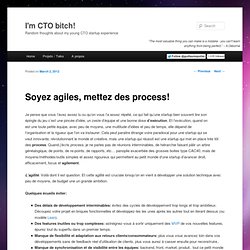 Je pense que vous l'avez assez lu ou qu'on vous l'a assez répété, ce qui fait qu'une startup bien souvent tire son épingle du jeu c'est une pincée d'idée, un zeste d'équipe et une bonne dose d'exécution. Et l'exécution, quand on est une toute petite équipe, avec peu de moyens, une multitude d'idées et peu de temps, elle dépend de l'organisation et la rigueur que l'on va instaurer. Cela peut paraitre étrange voire paradoxal pour une startup qui se veut innovante, révolutionnant le monde et créative, mais une startup qui réussit est une startup qui met en place très tôt des process. Quand j'écris process, je ne parles pas de réunions interminables, de hiérarchie faisant pâlir un arbre généalogique, de points, de re-points, de rapports, etc… panoplie exacerbée des grosses boites type CAC40, mais de moyens/méthodes/outils simples et assez rigoureux qui permettent au petit monde d'une startup d'avancer droit, efficacement, focus et agilement. L'agilité.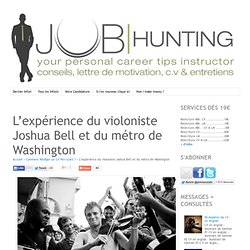 L'expérience du violoniste Joshua Bell et du métro de Washington
Le matin du 12 Janvier 2007, le Washington Post réalisa une expérience inédite dans le hall d'une station de métro à Washington. A la station l'Enfant Plaza, un violoniste installé en haut de l'escalator s'apprêtait à jouer six morceaux de musique classique pendant 43 minutes. Personne ne le savait, mais cet homme qui pouvait aisément passer pour un musicien de rue était en réalité Joshua Bell, un violoniste virtuose parmi les plus brillants au monde, sur le point de jouer six pièces classiques parmi les plus élégantes qui aient jamais été écrites, sur un Stradivarius Gibson fabriqué en 1713, d'une valeur de 3,5 millions de dollars. Combien de personnes se rendant à leur travail dans ce matin froid de janvier allaient s'arrêter et remarquer le talent du maestro Joshua Bell ? A la veille de l'expérience, différents experts furent consultés pour répondre à cette question.
Palmyra Atoll National Wildlife Refuge (Photo: Jim Maragos/U.S. Fish and Wildlife Service) What man actually needs is not a tensionless state but rather the striving and struggling for a worthwhile goal, a freely chosen task. -Viktor E. Frankl, Holocaust survivor, author of Man's Search for Meaning I believe that life exists to be enjoyed, and that the most important thing is to feel good about yourself.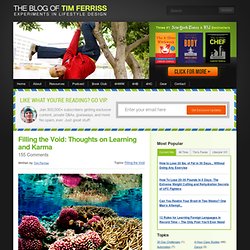 Filling the Void: Thoughts on Learning and Karma
Being an indie software developer, developing products and running the business, takes lots of time. I work during normal working hours and then often have a "second shift", when the family, or at least the kids, fall asleep. Still, I have enough planned stuff to do, when I'm near my Mac, to fill months of work.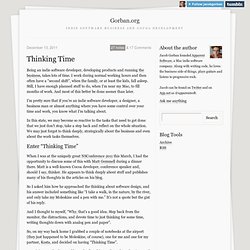 Thinking Time
Why I only work with startups
As a freelancer with a tinge of an online presence I often get to be picky about whom I work with. In a sense this ties into my post about the mindset of the current generation- I'm not picky because I get so many offers, I'm picky because I like to enjoy my work. Image by konishiroku_ via Flickr This is why I only work with startups. Yes, I've worked with nonstartups before, I no longer want to; enough of that nonsense. Nonstartups are just inherently annoying and horrible to work with, rather than filling me with a sense of pride those projects always make me feel feel like I just sold my body to the ugliest hairyest guy on the block (not that I've done this before, I'm guessing)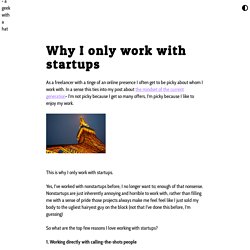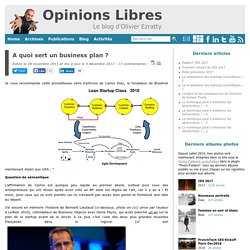 Je vous recommande cette prometteuse série d'articles de Carlos Diaz, le fondateur de BlueKiwi maintenant établi aux USA : "Passez les start-ups au détecteur de mensonges" qui évoque le pipo des business plans idylliques, le dur labeur de l'entrepreneur et enfin, l'importance du marketing pour attirer des utilisateurs. Mais c'est sur un post précédent de Carlos, datant du début 2011, « Les vrais entrepreneurs ne font pas de business plan » que je voudrais revenir. Ce, d'autant plus que la question est récurrente. Je sors d'une longue discussion avec un étudiant qui me la posait en surfant sur la vague du "pas besoin de business plan" pour créer une startup. Elle est notamment alimentée par les courants du "lean startup" et autre "customer development". S'ils favorisent la notion d'expérimentation rapide du produit auprès des clients pour en valider la structure, ils ne sont pas pour autant antinomiques de la notion de business plan.
A quoi sert un business plan ?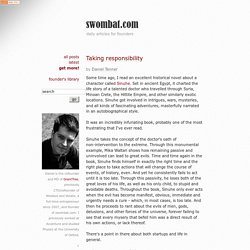 Some time ago, I read an excellent historical novel about a character called Sinuhe. Set in ancient Egypt, it charted the life story of a talented doctor who travelled through Syria, Minoan Crete, the Hittite Empire, and other similarly exotic locations. Sinuhe got involved in intrigues, wars, mysteries, and all kinds of fascinating adventures, masterfully narrated in an autobiographical style. It was an incredibly infuriating book, probably one of the most frustrating that I've ever read.
Taking responsibility
The Hacker Way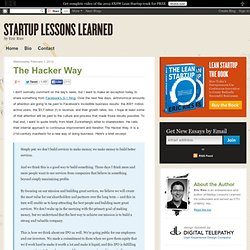 I don't normally comment on the day's news, but I want to make an exception today to share something from Facebook's S-1 filing. Over the next few days, astronomical amounts of attention are going to be paid to Facebook's incredible business results: the 800+ million active users, the $3.7 billion (!) in revenue, and their growth rates, too. I hope at least some of that attention will be paid to the culture and process that made those results possible.
If there was one course I could add to every engineering education, it wouldn't involve compilers or gates or time complexity. It would be Realities Of Your Industry 101, because we don't teach them and this results in lots of unnecessary pain and suffering. This post aspires to be README.txt for your career as a young engineer.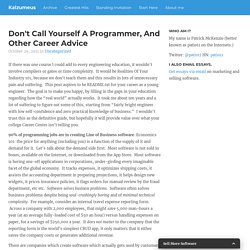 Quelques Business Models du Web analysés
Index of /analyses Name Last modified Size Description