The Outsiders
The Outsiders - LitChart. Author Bio Full Name: Susan Eloise Hinton Pen Name: S.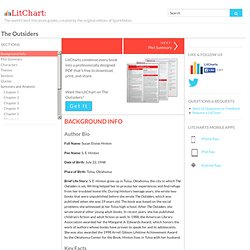 E. Hinton. The Outsiders - activities. Overview: The Outsiders, by S.E.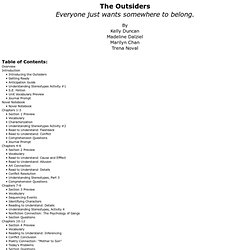 Hinton, is a coming of age story centered around the life of Ponyboy Curtis, his brother Darryl and Sodapop, and their group of buddies, the greasers. Ponyboy, the narrator, becomes a very different person at the end of the novel as the events of his life change him in positive and negative ways. This unit of study will look at The Outsiders as well as supporting poetry and non-fiction text. HSLL.T2.SJ.Outsiders. eThemes - links to ideas. Global rating average: 0.0 out of 50.00.00.00.00.0 These websites are about "The Outsiders" by S.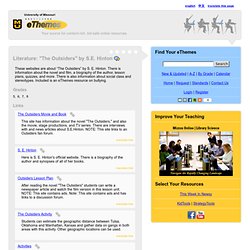 E. The+Outsiders+study+guide. Novel+Unit. Outsiders_chapter_review. The Outsiders Lesson Plans. Introductory Lecture S.E.
Hinton was still in high school when she wrote The Outsiders, first published in 1967. An immediate sensation, the novel is now considered the best-selling young adult novel of all time. Its realistic portrayal of teenage life—drawn from Hinton's experience at a high school in Tulsa, Oklahoma—stood in marked contrast to the light, shallow young adult fiction of the day. Audiences responded, and The Outsiders changed the genre. MichaelaTheOutsiders. Outsiders_LP. HSINZ.T2.TG.Outsiders. The outsiders - novel study. 08Sabrina-Block-Outsiders. Using Web 2.0 Tools to Teach The Outsider - Teaching English in the Digital Age. Teaching The Outsiders - Some Novel Ideas. It was a tough day in language arts class today.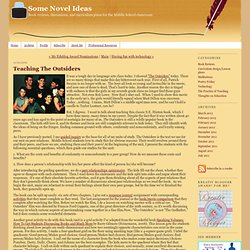 I showed "The Outsiders" today. There are so many things that make this day bittersweet each year. S. E. Hinton. |Biography and Background| |The Outsiders| |Tex| Biography and Background S.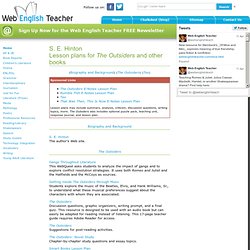 E. HintonThe author's Web site. Outsiders+UP. Web quest.
---