The Outsiders
Author Bio Full Name: Susan Eloise Hinton Pen Name: S. E. Hinton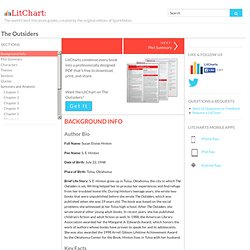 The Outsiders - LitChart
The Outsiders - activities
Overview: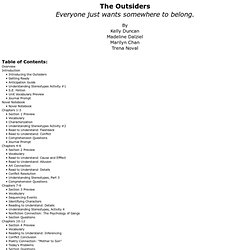 eThemes - links to ideas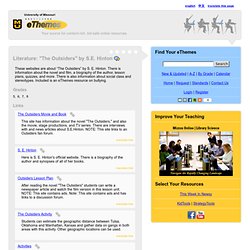 Global rating average: 0.0 out of 50.00.00.00.00.0 These websites are about "The Outsiders" by S. E.
The+Outsiders+study+guide
Novel+Unit
outsiders_chapter_review
The Outsiders Lesson Plans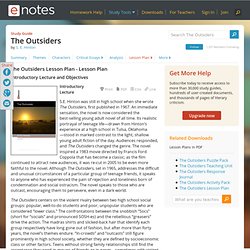 Introductory Lecture S.E. Hinton was still in high school when she wrote The Outsiders, first published in 1967. An immediate sensation, the novel is now considered the best-selling young adult novel of all time. Its realistic portrayal of teenage life—drawn from Hinton's experience at a high school in Tulsa, Oklahoma—stood in marked contrast to the light, shallow young adult fiction of the day. Audiences responded, and The Outsiders changed the genre.
MichaelaTheOutsiders
Outsiders_LP
the outsiders - novel study
08Sabrina-Block-Outsiders
Using Web 2.0 Tools to Teach The Outsider - Teaching English in the Digital Age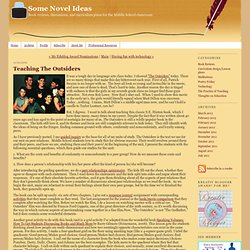 Teaching The Outsiders - Some Novel Ideas
It was a tough day in language arts class today. I showed "The Outsiders" today. There are so many things that make this day bittersweet each year.
|Biography and Background| |The Outsiders| |Tex|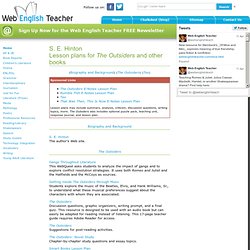 S. E. Hinton
Outsiders+UP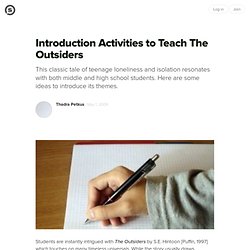 Introduction Activities to Teach The Outsiders: Teaching the Classic Young Adult Novel by S.E. Hinton
Exploring Themes in The Outsiders|Stock Xchng 875404 Students are instantly intrigued with The Outsiders by S.E. Hintoon [Puffin, 1997] which touches on many timeless universals.
Web quest