Search
RefSeek - Academic Search Engine. Shakespeare Searched. Ecosia. 100 Search Engines For Academic Research. Back in 2010, we shared with you 100 awesome search engines and research resources in our post: 100 Time-Saving Search Engines for Serious Scholars.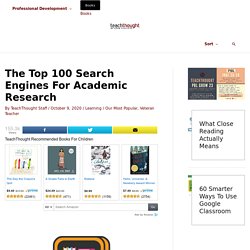 It's been an incredible resource, but now, it's time for an update. Some services have moved on, others have been created, and we've found some new discoveries, too. Many of our original 100 are still going strong, but we've updated where necessary and added some of our new favorites, too. Check out our new, up-to-date collection to discover the very best search engine for finding the academic results you're looking for. General. Search Google, Bing, and More at the Same Time. Most people are Google users.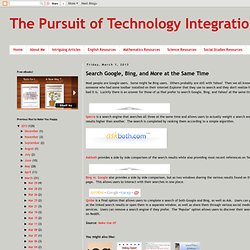 Some might be Bing users. Others probably are still with Yahoo! Then we all know someone who had some toolbar installed on their Internet Explorer that they use to search and they don't realize how bad it is. Luckily there is an answer for those of us that prefer to search Google, Bing, and Yahoo! Search Google results by reading level. Dogpile Web Search. Ixquick Search Engine. The Peer to Peer Search Engine: Home. Goodsearch - Web search, coupons, dining & deals for 100,000+ causes!
Symbolab - Symbolab Science & Math Search Engine. Goofram - Search Google and Wolfram Alpha at the same time! Moat Ad Search. The best writer's resources on the web - Writer's Knowledge Base. Yometa Visual Search Engine, Search the Web Faster. Scoop Web - News, Information and Media Content on Topics. DuckDuckGo. Lucene - Apache Solr. SolrTM is the popular, blazing fast open source enterprise search platform from the Apache LuceneTM project.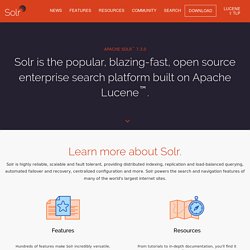 Its major features include powerful full-text search, hit highlighting, faceted search, near real-time indexing, dynamic clustering, database integration, rich document (e.g., Word, PDF) handling, and geospatial search. Solr is highly reliable, scalable and fault tolerant, providing distributed indexing, replication and load-balanced querying, automated failover and recovery, centralized configuration and more. Search Files from Internet, Educational & Library Resources and more with findthatfile.com. Www.verbase.com. Conferences, Conventions, Expos, Trade Shows & Professional Events | Conference Hound.
TinEye Reverse Image Search. Pixolu - find what you imagine. 100 Powerful Search Engines You May Not Know About. Scirus - for scientific information. Compfight / A Flickr Search Tool. Neotake: Your ebook search engine. Sweet Search. Flashcard Search. HQ Books - TopHQBooks.com. Gooru. Oolone.com visual search engine. Open your eyes to the web.
Spam free search. InstaGrok | A new way to learn. Websites Like - Alternatives to your favorite websites. Twurdy - Search for Readable Results. 2lingual. Icon Search Engine | Iconfinder.
Wolfram|Alpha: Computational Knowledge Engine. Tag Galaxy. Mashpedia: Multi-Source Encyclopedia. Spezify. A Google a Day. RSS Feed Search Engine. Photo Pin : Add Photos to Your Blog Posts. The Best Search Engines For ESL/EFL Learners.
It's time for the annual update of my "The Best…" search engines list.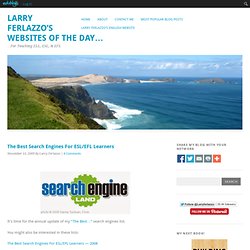 You might also be interested in these lists: The Best Search Engines For ESL/EFL Learners — 2008 The Best Search Engines For ESL/EFL Learners — 2007 Not "The Best…," But "A List" Of Search Engines For Social Media Obviously, from the title of the list you can determine that the prime criteria I use is the search engine's accessibility to English Language Learners. Edu Resources List. Searching for Open Educational Resources, but not sure where to start looking?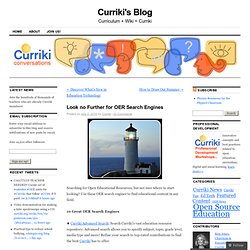 Use these OER search engines to find educational content in any field. 10 Great OER Search Engines. Free stock photo search engine & Cool photography community - Veezzle. Ark - Search for people. Blekko | spam-free search.
---