Reading
Research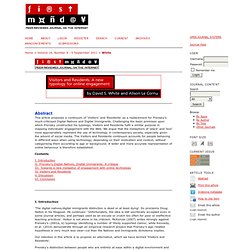 This article proposes a continuum of 'Visitors' and 'Residents' as a replacement for Prensky's much‐criticised Digital Natives and Digital Immigrants. Challenging the basic premises upon which Prensky constructed his typology, Visitors and Residents fulfil a similar purpose in mapping individuals' engagement with the Web.
Students and digital literacy
This Critical Issue was coauthored by Ann Holum, Ph.D., and Jan Gahala, M.A. Holum's doctoral work on the use of interactive media to improve children's story-understanding skills sparked her ongoing interest in integrating technologies in K-12 literacy settings; she currently is an independent educational consultant. Gahala is a technical specialist in NCREL's Communications department.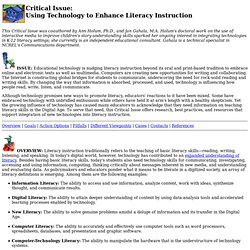 Digital // Literate | On teaching, reading, writing, and technology
Digital natives & immigrants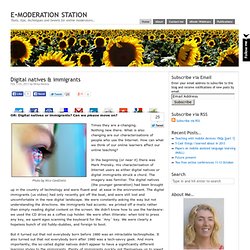 OR: Digital natives or immigrants?
Digital Literacy
Whether we like it or not, we live in a very unequal and stratified world. We live in societies in which inequality is ignored in education, science, and in the social media.
Digital divide and social media: Connectivity doesn't end the digital divide, skills do. | Guest Blog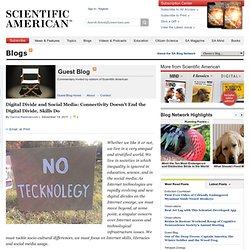 Digital Literacy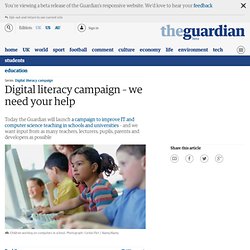 Digital literacy campaign – we need your help | Education
Starting this afternoon and running all this week, the Guardian will be launching a new campaign to improve the teaching of computer science and information technology in schools and universities – and we need your help. Tomorrow, Wednesday and Thursday we will be running live Q&As with teachers, lecturers and experts from technology companies such as Google and Microsoft. The first Q&A will take place tomorrow from 12-2pm featuring Steve Beswick of Microsoft and Martin Harvey of e-skills UK – click here from tomorrow morning to read it and take part. We want teachers, students, lecturers, developers and IT professionals to give their views on the teaching of IT and computer science. What is going wrong – and what can we do to improve the situation?
information fluency model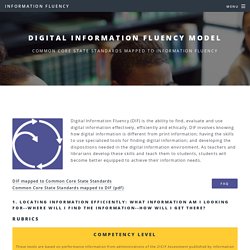 Common Core State Standards Mapped to Information Fluency Digital Information Fluency (DIF) is the ability to find, evaluate and use digital information effectively, efficiently and ethically.
The digital domain is a space for conversations based on shared values Within any university, faculties and departments tend to operate as silos. While students pursuing various degrees will develop specialist skills, they may also know how to apply them only in a certain way.
Universities must rethink their approach to student digital literacy | Higher Education Network | Guardian Professional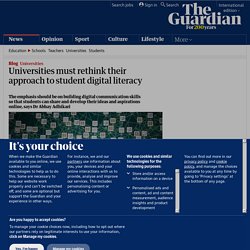 What digital literacies?
Our digital natives are immigrating | Best Practices News | eSchoolNews.com
By Karl Ochsner, Ed.D. Read more by eSchool News Contributor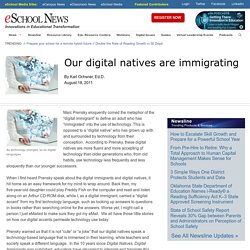 Open University research explodes myth of 'digital native'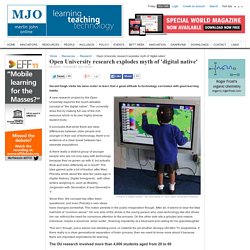 Gerald Haigh visits his alma mater to learn that a good attitude to technology correlates with good learning habits
Digital Literacy: Are the new technologies changing the way we read and write? Albin Wallace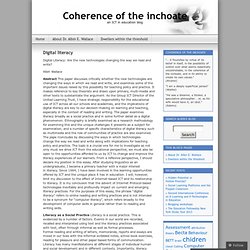 Digital literacy « Coherence of the inchoate