RANDOM
These are tools that I have yet to organize. One day they will be pulled from this pile into something more useful.
Numerators and Denominators. Fourinthemorning. Symbols.com. ThisIsLike.Com - The Associative Knowledge Network. StillTasty: Your Ultimate Shelf Life Guide - Save Money, Eat Better, Help The Environment. Speech Accent Archive. CollateBox - Collect, Organize & Share parts of spreadsheets. Focus@will. Information Visualization: Word Clouds, Phrase Nets, Tree Maps | Virtual Tool Cupboard | e-lab. Digital Creation: Information Visualization: Word Clouds, Phrase Nets, Tree Maps A visualization is a way of quickly and clearly expressing complex information.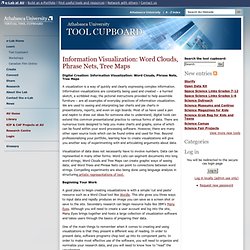 Information visualizations are constantly being used and created – a hurried sketch, a scribbled map, the pictorial instructions provided to help assemble furniture – are all examples of everyday practices of information visualization. We are used to seeing and interpreting bar charts and pie charts in presentations, reports, and even on sign boards. Marginnote. oTranscribe. Weird Converter - Translate Babies to Blue Whales to Polar Bears. Restaurant Nutrition | Chubbygrub. Connect-A-Sketch - Upload and connect your sketches to create clickable prototypes. Worldometers - real time world statistics. Jigsaw Planet - Online Jigsaw Puzzle Games.
Screenhero | Collaborative Screen Sharing. Project Noah. Google Quizes - how to. Ifttt. Chatbotmaker.com | Make a Chatbot. Drugsdb.com - Drug Information & Side Effects Database. Primary Source Analysis Tool | Teachers. TiNYARM. Index. Skills.oecd home page. Omnibiography.com - The largest directory of biographies on the Web. 4 Personal Websites for the Media-Savvy Worker. This post originally appeared on the American Express OPEN Forum, where Mashable regularly contributes articles about leveraging social media and technology in small business.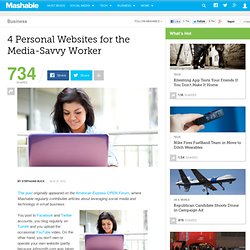 You post to Facebook and Twitter accounts, you blog regularly on Tumblr and you upload the occasional YouTube video. On the other hand, you don't own or operate your own website (partly because johnsmith.com was taken 15 years ago). Plus, why worry about one more thing? Checkmarkable. World Wonders Project. Take Me Back To. Wanted Poster Generator - Make your own Old-West-style Wanted Poster (and use it as an MSN display image)! Zootool – Visual Bookmarking. Where Does My Tweet Go? Cam 1 - Yaoman & Shenbing - Pandas. Three Ways to Mark-up Webpages and Share Them. There are a lot of excellent tools on the web for clipping, annotating, and sharing bookmarks with your friends and colleagues.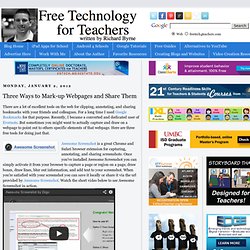 For a long time I used Google Bookmarks for that purpose. Recently, I became a converted and dedicated user of Evernote. But sometimes you might want to actually capture and draw on a webpage to point out to others specific elements of that webpage. Project management software, online collaboration: Basecamp. Project Management Software & Planning | Free Online Collaboration Software.
Work Better Together Unlock your team's potential by giving them the freedom to collaborate when and how they want—using Wiki, Forums and Chat.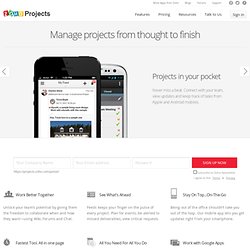 See What's Ahead. Clay Yourself! | A Hotels.com Production. Dynamic images. A Cleaner Internet - Browser Extensions and Add-ons for Amazon, YouTube and more. Burn Note. Global economy, world economy | TheGlobalEconomy.com. Scrumy. Snapguide. DoodleBuzz: Typographic News Explorer. EduClipper - Coming Soon. World Digital Library Home.
Skip to page content World Digital Library Browse 8000 BCE – 2014 CE: View all 10,193 Recently Added or Updated Items April 8, 2014.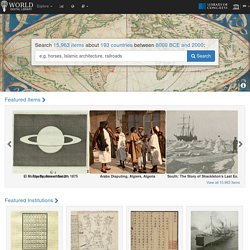 Celly - Awesome Stories. Promethean Planet - Interactive Teacher Community, Interactive Whiteboard Lessons and Resources, Online Lesson Plans, Teaching Resources. Stats about all US cities - real estate, relocation info, house prices, home value estimator, recent sales, cost of living, crime, race, income, photos, education, maps, weather, houses, schools, neighborhoods, and more.
Podcasts - A History of the World in 100 Objects. DHi: Digital Humanities Initiative. Legal Language Explorer. ThinkBinder. Geteach.com. UsefulCharts.com | Cool Charts & Timelines. America: A Narrative History, 8e: W. W. Norton StudySpace. US History Tours powered by Google Earth.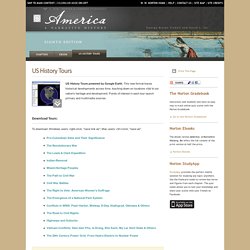 This new format traces historical developments across time, touching down on locations vital to our nation's heritage and development. Points of interest in each tour launch primary and multimedia sources. Download Tours: To download: Windows users: right-click, "save link as"; Mac users: ctrl+click, "save as". If you haven't done it already, download Google Earth™ and install it on your computer.
CopyTaste.Com. The Art Of Storytelling » Home. Subtitle movie. Scribd. BigHugeLabs: Do fun stuff with your photos. Five Ways to Visually Explore Wikipedia. Wikipedia is one of the first places that students often go to get some background information on a topic they're researching.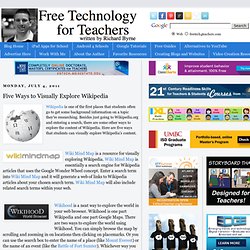 Besides just going to Wikipedia.org and entering a search, there are some other ways to explore the content of Wikipedia. Here are five ways that students can visually explore Wikipedia's content. Wiki Mind Map is a resource for visually exploring Wikipedia. Wiki Mind Map is essentially a search engine for Wikipedia articles that uses the Google Wonder Wheel concept. BBC - Dimensions.
Collaborative lists, collect and organize information: Knowcase. All Our Ideas - A Suggestion Box for the Digital Age. It's a memory thing - Tales of Things. Qwiki. AnswerGarden - Plant a Question, Grow Answers. A Free Web & Mobile App for Reading Comfortably. Interactive Showcase. GeoTrio - make tours. aMap - have an argument with friends! Argument mapping, critical thinking and all thing's argumentative!
Fotopedia. Mission: Impossible - Mask Maker. Atmosphir - Free design tool and platformer videogame. Awesome Stories. Scotland - Pinball.
Zoom.it. Read It Later: One List Everywhere You Are. Instapaper: Save interesting web pages for reading later. Comment on, edit, and fill PDF files, Word documents, images and more | Crocodoc. Create Tutorials in One Click on Tildee ! My World. Remember Everything | Evernote Corporation. Email Me Form™ - HTML Forms, Web Forms, PHP Forms. Digimi / Home Page. LazyMeter. Privnote - Send notes that will self-destruct after being read.
Scratch | Home | imagine, program, share.
---