Lists
The Best Sites For Learning About The World's Different Cultures. I've compiled several "The Best…" lists that sites where you can learn about the geography, data, languages, and holidays of different countries around the world.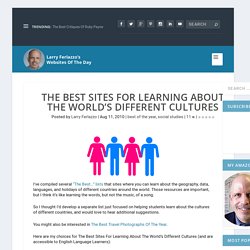 Those resources are important, but I think it's like learning the words, but not the music, of a song. So I thought I'd develop a separate list just focused on helping students learn about the cultures of different countries, and would love to hear additional suggestions. You might also be interested in The Best Travel Photographs Of The Year. Here are my choices for The Best Sites For Learning About The World's Different Cultures (and are accessible to English Language Learners): Culture Crossing is a unique resource for information about different countries. The Best Places To Learn Web 2.0 Basics. When it comes to technology, I'm not the sharpest knife in the drawer (not to mention being sort of a Luddite).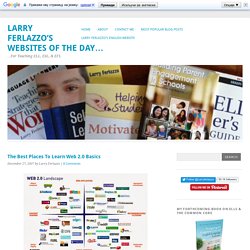 I need things very, very simple. I thought it would be helpful to a list of the sites that I've found most helpful and accessible in explaining how to use key Web 2.0 tools like blogs, wikis, Flickr, social bookmarking, RSS readers, etc. You can also find links to the sites I list here, and many more, on the Teachers' Page on my website. There are three sites that I think stand above all the others. Digital Humanities Resources, Part 1: Organizations and Coding. Back in 2011 (you know, last month), I stated that I wanted to become a digital humanist (if that's what it can be called).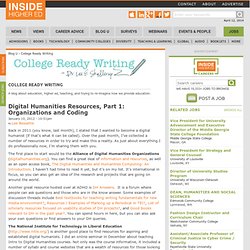 Over the past month, I've collected a number of resources in order to try and make this a reality. As just about everything I do professionally now, I'm sharing them with you. The first place to start would be the Alliance of Digital Humanities Organizations (digitalhumanities.org). You can find a great deal of information and resources, as well as an open access book, The Digital Humanities and Humanities Computing: An Introduction. I haven't had time to read it yet, but it's on my list. Buildinga community of readers - ideas. HyperTEXTS: Teaching English in the Digtial Age [licensed for non-commercial use only] / FrontPage. Strategy List: 35 Dimensions of Critical Thought. S-1 Thinking Independently Principle: Critical thinking is independent thinking, thinking for oneself.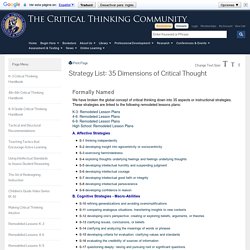 Many of our beliefs are acquired at an early age, when we have a strong tendency to form beliefs for irrational reasons (because we want to believe, because we are praised or rewarded for believing). Critical thinkers use critical skills and insights to reveal and reject beliefs that are irrational. In forming new beliefs, critical thinkers do not passively accept the beliefs of others; rather, they try to figure things out for themselves, reject unjustified authorities, and recognize the contributions of genuine authorities.
They thoughtfully form principles of thought and action; they do not mindlessly accept those presented to them. 8 Ways to Create Online Test | Training & E-Learning Zone for Quizzes. Online test brings a lot of benefits to assessment: time-saving, flexibility and economical.
For test-takers, they can take the online test at their own preferred time – great flexibility. For trainers/teachers, it spares the time to mark the test because the test is graded automatically – big time-saving. For organizations, it saves a lot of cost to employ instructor designers and print millions of test papers – more economical. As the times progress and society advances, online test will become more and more prevalent in the future assessment work.
English Resources - list of online tools. List of online sites and tools. The Best Resources On Teaching & Learning Critical Thinking In The Classroom. Teaching and learning critical thinking in the classroom will be the topic of my next Education Week Teacher column (contribute your ideas there, please), so I wanted to develop a "The Best…" list with supporting materials.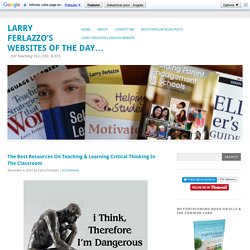 I put out a call on Twitter and Google Plus for people to make suggestions, but unfortunately didn't do a great job of keeping track who made the suggestions. I apologize if I did not credit you for your suggestion. I'll keep much better track the next time I put out a similar request. I hope readers will contribute additional suggestions. The Best Sites That Students Can Use Independently And Let Teachers Check On Progress. (You might also be interested in The Best MATH Sites That Students Can Use Independently And Let Teachers Check On Progress) I know "The Best…" list has a very awkward title, but I couldn't think of a better one.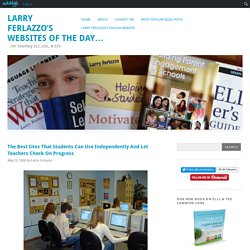 In our Family Literacy Project we provide home computers and Internet access to immigrant families. Eighty percent of household members spend at least one hour each day (many spend considerably more time) on our website. Three of these seven hours each week need to be spent on one of several websites that act as sort of "virtual classrooms" — students and their family members enter them with a password and we can check online to see how much time they have spent on them. I thought readers might find it useful to see which ones we've determined to be the best for kind of program. The Best Ways To Use Photos In Lessons | Larry Ferlazzo's Websites of the Day... Edutopia has published Using Photos With English Language Learners, an excerpt from the recent book on teaching ELL's that Katie Hull Sypnieski and I have written.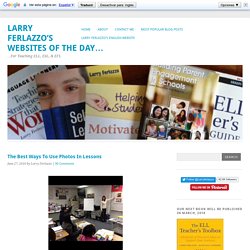 Check out my New York Times post for English Language Learners is on protest movements and using historical photos for language development. It includes a student interactive There are obviously plenty of ways to use photos effectively with English Language Learners and other students. I'm going to share some ideas here, and hope that others will chime in with comments.
---