Lesson plans and media
Get flash to fully experience Pearltrees
The Story Map interactive includes a set of graphic organizers designed to assist teachers and students in prewriting and postreading activities. The organizers are intended to focus on the key elements of character, setting, conflict, and resolution development. Students can develop multiple characters, for example, in preparation for writing their own fiction, or they may reflect on and further develop characters from stories they have read.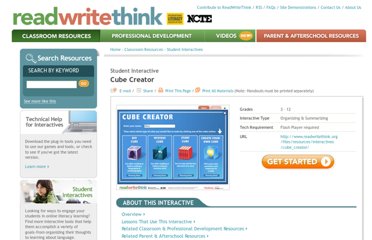 Summarizing information is an important postreading and prewriting activity that helps students synthesize what they have learned. The interactive Cube Creator offers four options: Bio Cube: This option allows students to develop an outline of a person whose biography or autobiography they have just read; it can also be used before students write their own autobiography. Specific prompts ask students to describe a person's significance, background, and personality. Mystery Cube: Use this option to help your students sort out the clues in their favorite mysteries or develop outlines for their own stories.
Book trailers are a great way to inspire students and engage reluctant readers. What are book trailers and how can you include them in your class room? Book trailers first emerged in the publishing industry in the early 2000s. Put simply, book trailers are form of advertisement for a book; a sales pitch which uses similar techniques to a movie trailer.