Internet search techniques
Word Order Matters (1MM #8) Febuary 22, 2013
I'm often asked for recommendations on how to help students use Google more effectively. This morning I sat down and thought about the recommendations that I make most frequently when I am asked. I wrote up my list and put it into PDF form for you to download and print if you like. A few things about the PDF. The list is not detailed (I wanted to keep it to one page) so you may have to show your students how to do some of the things on it.
10 Google Search Tips All Students Can Use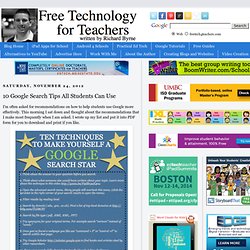 Google is usually one of the first places students turn to when tasked with an assignment. Whether it's for research, real-time results, or just a little digital exploration … it's important they know how to properly Google. Lucky for teachers (and students, of course), Google has a handy set of lesson plans that are just waiting to be unleashed upon the leaders of tomorrow. While I understand there's a LOT more to research than just Googling, it's important to note that this is where nearly all students start their research. Therefore, it's a critical skill if they're going to start down the right paths. Below are 15 lesson plans courtesy of Google designed to make students better online researchers.
A search engine is essentially a database that points to Web sites and Internet resources.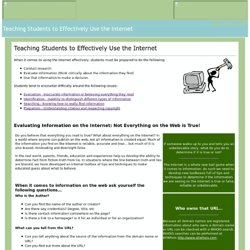 Google search is a powerful tool...sometimes more powerful than you realize!
7 Google Search Techniques You Don't Know Exist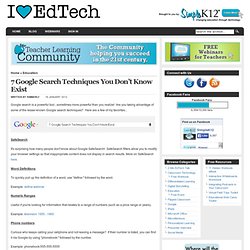 Ten Steps to Better Web Research