Free sounds
» VIEW ALL FEATURED POSTS Featured Items AS220 on 01/08/2014 at 04:45AM Malportado Kids - Mi Concha (EP) On a day that will forever be known in infamy as "Malportaday," the bi-lingual duo of Victoria Ruiz and Joey Defrancesco, otherwise known as Malportado Kids are releasing their first mixtape today.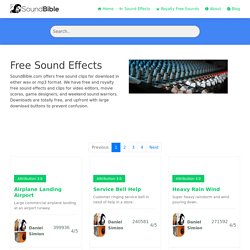 SoundBible.com A few popular free sound effects; fight sounds, car sounds, dog bark, city sounds, gross sounds, bird sounds, scream sounds, whale sounds, ocean sounds, jungle sounds, dog sounds, dj sounds, fart sounds, thunder sounds, animal sounds, human sounds, party sounds,machine sounds, nature sounds, heartbeat sound, gun sounds, wind sounds, storm sounds, funny sounds, red alert sounds, scream sounds, cartoon sounds, laugh sounds, xp sounds, vista sounds, computer sounds, horror sounds, scary sounds, cat sounds, dog sounds,sound bites, pivot sounds, bell sound, beach sounds, war sounds, crowd sounds, game show sounds, sports sounds, military sounds, work sounds, kid sounds, cool sounds, cow sounds, powerpoint sounds, hospital sounds, explosion sounds, see more... SoundBible.com offers free sound clips for download in either wav or mp3 format. We offer free and royalty free sound effects and clips for video editors, movie scores, game designers, and weekend sound warriors.
Who says you can't get something for nothing? Royaltyfreemusic.com offers a variety of FREE high-quality royalty-free items, including royalty-free stock footage, royalty-free sound effects, royalty-free clip art, royalty-free images, royalty-free photos, and of course, royalty-free stock music. Our free Royalty Free Music section provides you with the resources you need to complete a variety of educational, personal, and non-profit projects. Need to put together a school presentation by tomorrow?