Expository
Teaching expository writing and reading requires single-mindedness.
Teaching Expository Writing Takes Longer than Losing 20 Pounds
Here is an excellent expository writing plan that models body paragraphs
Title – Teaching Students to Write Expository Pieces Using a Writing Plan By – Jamie Danford Primary Subject – Language Arts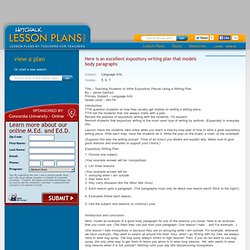 When people talk about an expository paragraph, they are really talking about the kind of paragraph most often found in the body of expository nonfiction . Such a paragraph could stand alone—the so-called paragraph essay —or it could be one of several body paragraphs in longer nonfiction work. I tend to use the term body paragraph because body is a shorter word than expository and makes more sense to students.
Expository Paragraph Is Marked by Distinctive, Teachable Pattern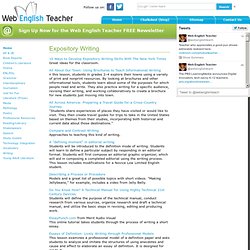 Expository Writing
10 Ways to Develop Expository Writing Skills With The New York Times Great ideas for the classroom.
Teaching students to write essays that explain is a breeze once students learn about the different expository genres.
susan-hyde.suite101
Expository Writing