Expository
Teaching Expository Writing Takes Longer than Losing 20 Pounds. Here is an excellent expository writing plan that models body paragraphs. Title – Teaching Students to Write Expository Pieces Using a Writing Plan By – Jamie Danford Primary Subject – Language Arts Grade Level – 5th-7th Introduction: TTW question students on how they usually get started on writing a writing piece.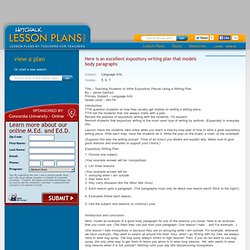 TTW tell the students that she always starts with a plan. Expository Paragraph Is Marked by Distinctive, Teachable Pattern. Expository Writing. 10 Ways to Develop Expository Writing Skills With The New York TimesGreat ideas for the classroom.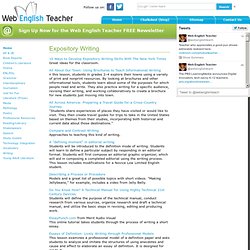 All About Our Town: Using Brochures to Teach Informational Writingn this lesson, students in grades 2–4 explore their towns using a variety of print and nonprint resources. By looking at brochures and other informational tools, students learn about some of the purposes for which people read and write. They also practice writing for a specific audience, revising their writing, and working collaboratively to create a brochure for new students just moving into town. Susan-hyde.suite101.
Teaching students to write essays that explain is a breeze once students learn about the different expository genres.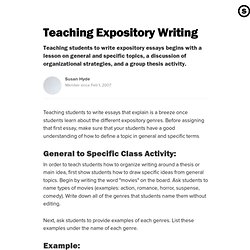 Before assigning that first essay, make sure that your students have a good understanding of how to define a topic in general and specific terms General to Specific Class Activity: In order to teach students how to organize writing around a thesis or main idea, first show students how to draw specific ideas from general topics. Expository Writing.
---