Digital Literacy
Hoax Analysis, and Latest Hoax Messages on internet.
The Technology Integration Matrix (TIM) illustrates how teachers can use technology to enhance learning for K-12 students. The TIM incorporates five interdependent characteristics of meaningful learning environments: active, constructive, goal directed (i.e., reflective), authentic, and collaborative (Jonassen, Howland, Moore, & Marra, 2003). The TIM associates five levels of technology integration (i.e., entry, adoption, adaptation, infusion, and transformation) with each of the five characteristics of meaningful learning environments. Together, the five levels of technology integration and the five characteristics of meaningful learning environments create a matrix of 25 cells as illustrated below. Please let us know what you think of the new TIM.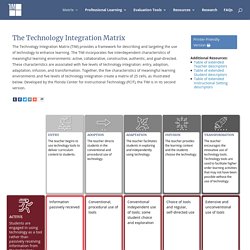 Teacher Resources
Towards Maturity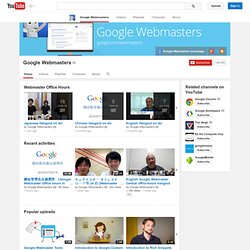 Loading... About Google Webmasters This is the official YouTube channel for the Google Webmasters site, your one-stop shop for webmaster resources that will help you with your crawling and indexing questions, introduce you to offerings that can enhance and increase traffic to your site, and connect you with your visitors.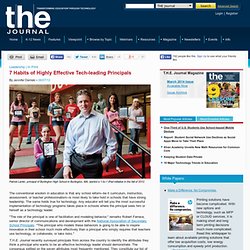 Leadership | In Print 7 Habits of Highly Effective Tech-leading Principals By Jennifer Demski 06/07/12
This page collates resources for conducting a baseline review of digital literacy at an institutional level, as carried out by the 12 institutional projects and 10 professional associations of the JISC Developing Digital Literacies (DDL) programme. These materials are freely available to other institutions and professional bodies for repurposing and reuse.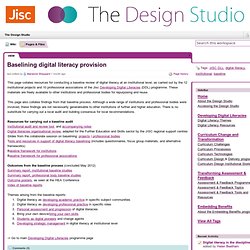 Baselining digital literacy provision
Towards Digital Fluency
Classroom and Teacher Toolkit
Preparing for a digital future
You Don't Have to Be A Technology Whiz But You Do Need to Be Fearless
News Flash: If you will be attending this year's ISTE Conference , please join our Tuesday afternoon Digital ID ~ Common Sense Media session: Digital Citizenship: A Crosswalk from Common Core to Core Curriculum . News Flash #2 : "Upstanders, Not Bystanders" projects - We invite you and your students to celebrate and showcase in multiple ways the stories and courage of upstanders. Visit our Stepping Up page for details.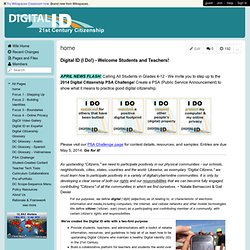 digital-id.wikispaces
White
This article proposes a continuum of 'Visitors' and 'Residents' as a replacement for Prensky's much‐criticised Digital Natives and Digital Immigrants. Challenging the basic premises upon which Prensky constructed his typology, Visitors and Residents fulfil a similar purpose in mapping individuals' engagement with the Web. We argue that the metaphors of 'place' and 'tool' most appropriately represent the use of technology in contemporary society, especially given the advent of social media. The Visitors and Residents continuum accounts for people behaving in different ways when using technology, depending on their motivation and context, without categorising them according to age or background. A wider and more accurate representation of online behaviour is therefore established.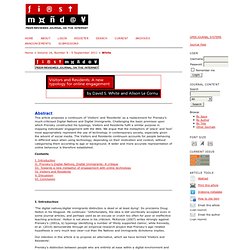 My colleague, Gill Kirkup , asks this question of digital scholarship, and it is a frequent refrain of Alan Cann's . It's a good question, and one I usually try to have an answer for. I don't think I am guilty of Gill's charge of hoping for the "internet equivalent of the tooth fairy". In fact, one of my complaints about the current academic publishing model is that it's a poor economic one. Now, one can make many arguments about open access that don't address the economics, for example around it being a public good, or a more effective way of working for instance, many of which are compelling in their own right, but in this post let's just focus on the money bit.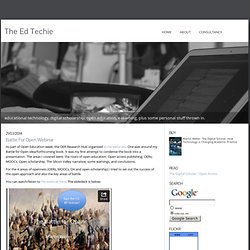 digital scholarship
LLiDA Wiki: Main/Key Concepts
Computer Literacy:The Fourth Core Skill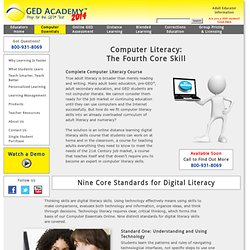 Standard Seven: Evaluating Information Students apply critical thinking skills to evaluate the relevance, reliability, and quality of information. Perhaps one of the most challenging problems (and greatest attributes) of new technology is the ability for anyone, anywhere to contribute content. It is essential for students learn digital literacy skills to be able to evaluate the information that they find. Standard Eight: Creating Digital Content Students learn to use technology to create digital content in multiple formats.
It's older, more experienced teachers – not younger, so-called digital natives – who are experimenting more with new technology in the classroom, a new report suggests.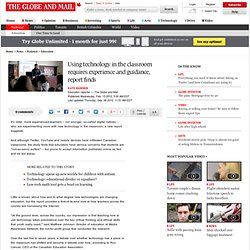 Using technology in the classroom requires experience and guidance, report finds
If anyone ever asks you what social media is.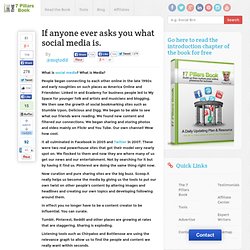 Posted on April 09, 2012 by @mqtodd What is Social Media? What is Media? People began connecting to each other online in the late 1990s and early noughties on such places as America Online and Friendster. Linked In and Ecademy for business people led to My Space for younger folk and artists and musicians and blogging. We then saw the growth of social bookmarking sites such as Stumble Upon, Delicious and Digg.
Digital Technology's impact on writing
image credit: PugnoM on Flickr Copyright is a pretty a hot topic in the ELT world at the moment, and many people are discussing it and blogging about it. The law that applies to using lesson materials or blog posts written by other people is complicated, and teachers often find the various issues surrounding copyright confusing. This post sets out to explain some of the main aspects of the law relating to copyright and fair use as it applies to uploading, sharing and remixing materials for educational use, and seeks to provide guidelines for good practice in acknowledging, referencing and attributing online sources. What is copyright? Copyright gives people the legal right to decide how original work that they have created can be used once it has been published.
Copyright, Plagiarism, and Digital Literacy (by Sue Lyon-Jones
TEDx Warwick: The Essential Elements of Digital Literacies
Digital literacy across the curriculum
tel.ac.uk
TELcomm
The Journal of Interactive Technology and Pedagogy —
Technology is a tool that can be used to help teachers facilitate learning experiences that address the diverse learning needs of all students and help them develop 21st Century Skills. At it's most basic level, digital tools can be used to help students find, understand and use information. When combined with student-driven learning experiences fueled by Essential Questions offering flexible learning paths, it can be the ticket to success. Here is a closer look at three components of effectively using technology as a tool for digital differentiation. Note: The interactive graphics you see below have been updated. They can be found in a newer post on this blog .
Are We Teaching To The Modern Definition of Literacy?
Global Digital Citizen—The Role of the Teacher
Developing digital literacy skills
Internet search techniques