Digital Literacy
So how are we doing on the push to teach "digital literacy" across the K12 school spectrum? From my perspective as a school-based technology coach and history teacher, I'd say not as well as we might wish – in part because our traditional approach to curriculum and instruction wants to sort everything into its place. Digital literacy is defined as "the ability to effectively and critically navigate, evaluate, and create information using a range of digital technologies." Many educational and business professional cite is as a critical 21st century skill. Even so, many schools have struggled to adapt it into their curriculum.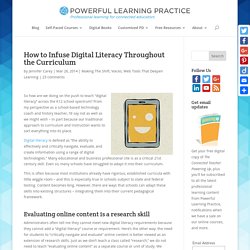 #Socialnomics 2014 by Erik Qualman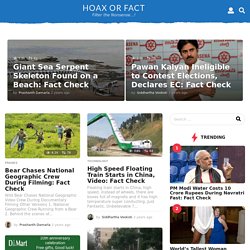 Hoax Analysis, and Latest Hoax Messages on internet.
Health April 04, 2014 521 Story: Energy Drinks Red Bull and Monster have bull sperm in them. Other Versions 1. Red Bull Energy Drink contains sperm from a bull. 2.
The Technology Integration Matrix (TIM) illustrates how teachers can use technology to enhance learning for K-12 students. The TIM incorporates five interdependent characteristics of meaningful learning environments: active, constructive, goal directed (i.e., reflective), authentic, and collaborative (Jonassen, Howland, Moore, & Marra, 2003). The TIM associates five levels of technology integration (i.e., entry, adoption, adaptation, infusion, and transformation) with each of the five characteristics of meaningful learning environments. Together, the five levels of technology integration and the five characteristics of meaningful learning environments create a matrix of 25 cells as illustrated below. We appreciate your feedback.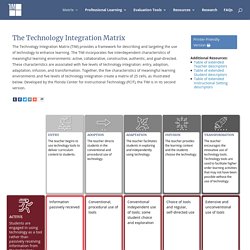 Teacher Resources
Digital Literacy for Personalized Learning
5 Dimensions Of Critical Digital Literacy: A Framework
Towards Maturity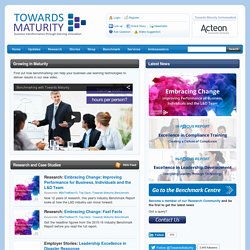 "We have worked with Towards Maturity for many years. Through its benchmark research, Towards Maturity contributes significantly to the understanding of learning technologies in the workplace. As e.learning age celebrates its 10th birthday we're pleased we are set to continue and develop our relationship for the benefit of the e-learning profession. The benchmark study reinforces many of the key issues we cover in our media and in our E-Learning Awards."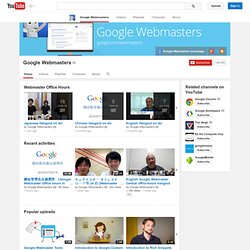 Loading... About Google Webmasters This is the official YouTube channel for the Google Webmasters site, your one-stop shop for webmaster resources that will help you with your crawling and indexing questions, introduce you to offerings that can enhance and increase traffic to your site, and connect you with your visitors.
Russell's plenary talk at the University of Barcelona Russell's recent plenary at the University of Barcelona is available to view. It is about the feedback idea that he began working on in 2006.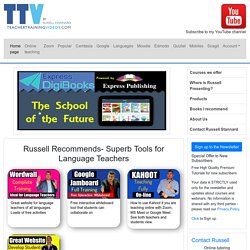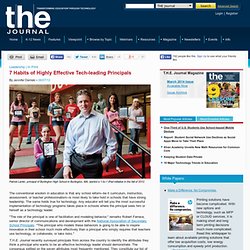 Leadership | In Print 7 Habits of Highly Effective Tech-leading Principals By Jennifer Demski06/07/12
This page collates resources for conducting a baseline review of digital literacy at an institutional level, as carried out by the 12 institutional projects and 10 professional associations of the Jisc Developing Digital Literacies (DDL) programme. These materials are freely available to other institutions and professional bodies for repurposing and reuse. This page also collates findings from that baseline process. Although a wide range of institutions and professional bodies were involved, these findings are not necessarily generalisable to other institutions of further and higher education. There is no substitute for carrying out a local audit and building consensus for local recommendations. Resources for carrying out a baseline audit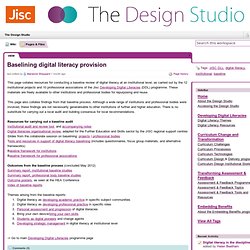 Baselining digital literacy provision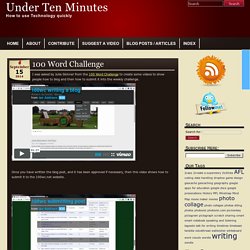 Zondle have released additonal activities and resources to help support the Spelling, Punctuation and Grammar tests. This video gives a quick run-through. Also available on Vimeo. This is a video showing you how to "hack" a website using Hackasaurus - www.hackasaurus.org/en-US/ The hardest bit is changing the image, but you cvan easily use any image on Google Images.
Towards Digital Fluency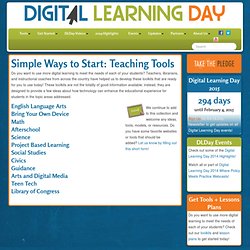 Do you want to use more digital learning to meet the needs of each of your students? Teachers, librarians, and instructional coaches from across the country have helped us to develop these toolkits that are ready for you to use today! These toolkits are not the totality of good information available; instead, they are designed to provide a few ideas about how technology can enhance the educational experience for students in the topic areas addressed. Digital Learning Day 2015
Classroom and Teacher Toolkit
Digital Personality Test - NCSU CED METRC
You Don't Have to Be A Technology Whiz But You Do Need to Be Fearless
digital-id.wikispaces
Bloggers, or anyone who maintains an online profile, have an ambiguous relationship with visitor stats and data. On the one hand we like to dismiss them as meaningless, but then secretly feel chuffed when we can outscore someone. I've tried to promote them as one way of measuring impact, but with the caveat that context is important. For instance, if you're a blogger in a relatively obscure area, such as Barry Town football club, then your range is limited and unlikely to compare in absolute numbers with, say, a blog reviewing Apple products. I recently passed 300,000 views on this blog, over about 700 posts - that's not as exciting as it might sound as I've been going since about 2006. My friend Liam says he gets about 200K a year on his mobile tech blog.
digital scholarship
White
This article proposes a continuum of 'Visitors' and 'Residents' as a replacement for Prensky's much‐criticised Digital Natives and Digital Immigrants. Challenging the basic premises upon which Prensky constructed his typology, Visitors and Residents fulfil a similar purpose in mapping individuals' engagement with the Web. We argue that the metaphors of 'place' and 'tool' most appropriately represent the use of technology in contemporary society, especially given the advent of social media. The Visitors and Residents continuum accounts for people behaving in different ways when using technology, depending on their motivation and context, without categorising them according to age or background. A wider and more accurate representation of online behaviour is therefore established.
Computer Literacy:The Fourth Core Skill
Standard Seven: Evaluating Information Students apply critical thinking skills to evaluate the relevance, reliability, and quality of information. Perhaps one of the most challenging problems (and greatest attributes) of new technology is the ability for anyone, anywhere to contribute content. It is essential for students learn digital literacy skills to be able to evaluate the information that they find. Standard Eight: Creating Digital Content Students learn to use technology to create digital content in multiple formats.
It's older, more experienced teachers – not younger, so-called digital natives – who are experimenting more with new technology in the classroom, a new report suggests. And although Twitter, YouTube and mobile devices have infiltrated Canadian classrooms, the study finds that educators have serious concerns that students are "not-so-savvy surfers" – too prone to accept information published online as fact and be led astray. Little is known about how and to what degree new technologies are changing education, but the report provides a first-of-its-kind look at how teachers across the country are harnessing the Internet. "At the ground level, across the country, our impression is that teaching how to use technology takes precedence over the key critical thinking and ethical skills that youth really need," said Matthew Johnson, director of education at Media Awareness Network, the not-for-profit group that conducted the research.
Using technology in the classroom requires experience and guidance, report finds
Digital Technology's impact on writing
Copyright, Plagiarism, and Digital Literacy (by Sue Lyon-Jones
TEDx Warwick: The Essential Elements of Digital Literacies
If anyone ever asks you what social media is.
Digital literacy across the curriculum
tel.ac.uk
TELcomm
The Journal of Interactive Technology and Pedagogy —
Developing digital literacy skills
Internet search techniques