Comics
Design Comics :: Characters and Scenes for Storyboarding & Design. KidsSpace - Toronto Public Library - Tell-a-Story StoryBuilder. Tell-a-Story StoryBuilder Get more Tell-a-Story.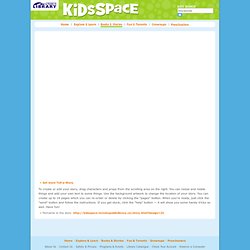 To create or edit your story, drag characters and props from the scrolling area on the right. :: PIMPAMPUM :: Bubblr! .:. Comicbrush. Comic Creating Community. Comic Master. Domo Animate - Create Slideshows, eMessages and Animations.
MAKE BELIEFS COMIX! Online Educational Comic Generator for Kids of All Ages. Bitstrips. ToonDoo. ComicLife. "4 Stars and Editors Choice."
MacUser Dec. 2013 "Awesome!... It's intuitive and it has a wider selection of title treatments and templates - love the retro look! " Pixton.
---