Ressourceshumaines
Tom Salta, Composer | Producer
New Work: Gato Our identity for Gato, the new restaurant from chef Bobby Flay, seen through the restaurant's windows on Lafayette Street. This spring legendary chef Bobby Flay makes his long-awaited return to the New York dining scene with Gato, his first restaurant to open in the city in nine years. Gato serves a Mediterranean menu inspired by the flavors of Spain, Italy, France and Greece. For the restaurant's identity, Flay turned to Pentagram's Michael Bierut and team, who previously designed the graphics for Flay's brasserie Bar Americain and popular fast-casual chain Bobby's Burger Palace. The Gato graphics complement the restaurant's bold cuisine and industrial-chic NoHo setting with strong typography and a factory aesthetic.
New at Pentagram | Pentagram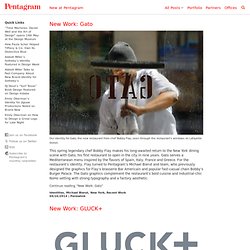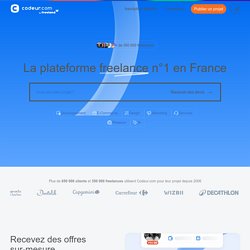 Écrire des articles concernant youtube downloader 1. Un article au sujet de YouTube Downloader et les tutoriels de télécharger des vidéos YouTube, vous avez besoin d'écrire des article plus détaillés, comme un sujet spécial. 2. Je veux calculer le prix par mot, en général, 3€/10... Contenu, rédactionAdministrationProgicielsOptimisation SEO
Find freelancers at the world's most-trusted online workplace. Elance is where businesses go to find, hire, collaborate with and pay leading freelancers from more than 180 countries. With a community of over 3 million freelancers and 1 million businesses, on Elance it's easy to hire a top freelancer. Find a developer, freelance designers or other talented freelancers with the most in-demand skills. More than a marketplace for freelance web developers, there's a world of talented people now freelancing on Elance.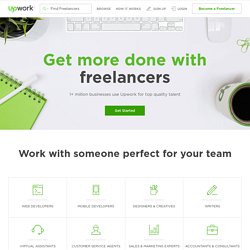 Wordpress Freelance Programmers, Designers, Themes, Plugins, Mods, Templates
Find WordPress Freelancers, Designers, Templates & Hosting NewsPress can be classified as some kind of mashup between a personal blog and a more content-heavy magazine-style layout. The sophistication of the layout can thus offer immeasurable value to ambitious bloggers that would like to display their content in a professional way. Unique Features Emphasised...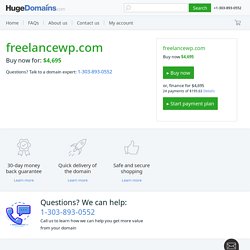 FreelanceWP | Jobs and Resources for WordPress Designers & Developers
AMS : Catalogue
chef de projet Réalisateur-Rédacteur-Auteur Concepteur en communication visuelle Designer medias, graphiste 2d chef de projet indépendant chef de projet freelance sur chefs-de-projets.enligne-fr.com
http://www.akousmatiqstudio.com
UbisoftQuebecAAAteam.com