Job
You will work in International Production, specifically in the "Games for Everyone" division overseeing development of a portfolio of mainstream audience projects on all home console formats, handheld, iOS, and web. You will work closely with 12-15 internal production studios providing them with clear guidelines for development and parameters for success at all stages of development; from inception through release. The position is based Montreuil, with frequent travel to studios throughout the world. The position covers many disciplines, and as such you will have responsibilities in several areas: With regards to Production, you will: Support the production teams in preparing and presenting to Management the various development stages of game projects.
Line Producer at Ubisoft in Paris Area, France - Job
BubbleBee Speech Therapy Centre - Singapore
The Speech-Language and Hearing Association Singapore (SHAS) is the professional association for Speech and Language Therapists in Singapore. Speech and Language Therapists are allied health professionals who work with people who have difficulty with communication and/or swallowing. Speech and Language Therapists (SLTs) work with a broad range of clients - from babies with feeding problems, to children having trouble learning to talk, right through to elderly people recovering from strokes or living with progressive diseases.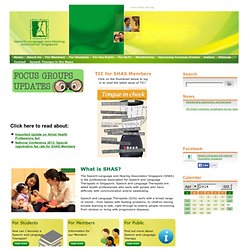 Speech-Language and Hearing Association Singapore
Cap Digital » Think Digital
Altaïd Job
Articles Populaires Découvrez les boutiques Montrer ma boutique Lin-temporelle Création d'​accessoires de mode(porte-monnaie,étui à lunettes, trousses...) principalement en lin et coton Coup de Projecteur DaWanda – Des articles fait-main en série limitée réalisés par des créateurs et du matériel pour création