Jobs en Suisse
Jobs Of The Future: Where They Are, How To Get ... Changing Job Search Behavior and What It Means for Employers | 2014-08-08 | ePublishing. Finding the right talent has become a game of chance for some organizations.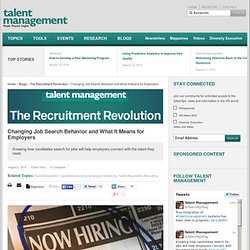 All too often, employers simply post their open positions to any or all job boards and hope that the right candidates will apply. But as anyone involved in talent acquisition knows, this strategy will ultimately result in hundreds of applicants, few of whom actually have the skills needed for the position. How to nail your next job (before you even appl... International Job Search: 5 Steps to Finding Work Abroad.
As the current economic climate shifts, now may be the perfect time to look into jobs abroad.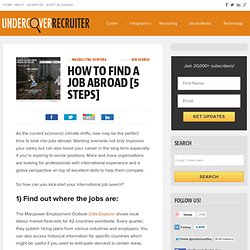 Working overseas not only improves your salary but can also boost your career in the long term especially if you're aspiring to senior positions. More and more organisations are looking for professionals with international experience and a global perspective on top of excellent skills to help them compete. So how can you kick-start your international job search? Perceived as Overqualified—What Now? Some job seekers, especially those who've been in transition for an extended time, start undervaluing their worth, and as a result, they might begin applying for positions below the levels they had in past.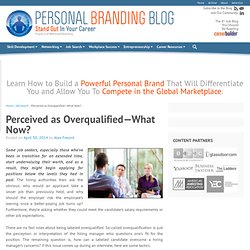 The hiring authorities then ask the obvious: why would an applicant take a lesser job than previously held, and why should the employer risk the employee's leaving once a better-paying job turns up? Furthermore, they're asking whether they could meet the candidate's salary requirements or other job expectations. Les 30 meilleurs employeurs romands 2014 - Entreprises. Les 600 millions de CV d'une start-up suisse - Entreprises. How To Change Jobs With Little To No Experience.
It's not easy to transition into another industry, but the process isn't complicated.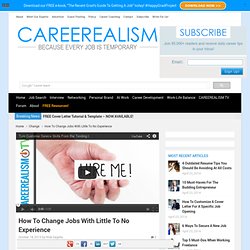 If you're wondering how to change jobs with little to no experience, then read on. When you're applying for a job in a new industry, putting information from another job that is unrelated is going to raise a red flag for any potential employer. They're going to ask why you were in the other job for so long instead of switching to this industry earlier. If you're younger, it's easier to pull off, but the question may still come up. The 5 Secrets to Job Search Success. 1.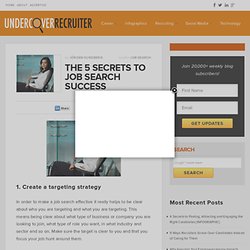 Create a targeting strategy In order to make a job search effective it really helps to be clear about who you are targeting and what you are targeting. Executive Job Search: You Don't Know What You Don't Know. Before first speaking to prospective c-suite clients, I email them a few questions to answer, to help me determine whether we'll be a good fit to work together on personal branding and content development for their job search.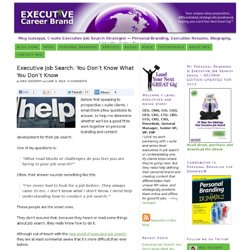 One of my questions is: "What road blocks or challenges do you feel you are facing in your job search?" 3 Ways You Can Improve Your Twitter Job Search. Using Twitter is not only a good way to find employment opportunities, but it's also a good way to network with colleagues and build a better online presence.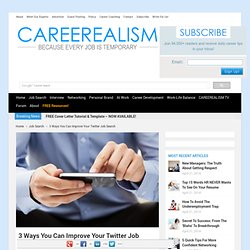 Since Twitter has a total of 500 million registered users recorded and counting as of March 2012, it would be in your best interest to make sure you're using it in all of the right ways to improve your job search. Because of Twitter's 140 character limitation, it's sometimes tough to say what you need to say and get your tweets noticed by other Twitter users.
But if you want to get noticed while simultaneously finding jobs that are in your industry, you have to think blue. What do I mean by that? Pathbrite Is Bringing Professional Stories To Life. LinkedIn or a printed resume gives a simple, bloodless recitation of names, dates, and places.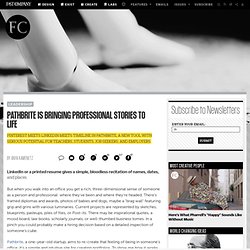 But when you walk into an office you get a rich, three-dimensional sense of someone as a person and professional: where they've been and where they're headed. There's framed diplomas and awards, photos of babies and dogs, maybe a "brag wall" featuring grip and grins with various luminaries. 6 Reasons You Should Say 'Yes' To Any Job Interview. You applied for a job and were just called in for a job interview.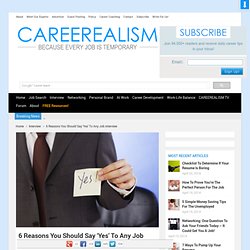 The only problem? You're having second thoughts about the position. Maybe the pay is low or the job function isn't quite what you're looking for. Or maybe the company culture is a bit dry for your taste. Comment trouver un job grâce au réseaux sociaux. On sait tous que ce que l'on poste sur les réseaux sociaux peut nous coûter un job.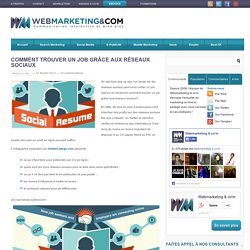 Sait-on en revanche comment trouver un job grâce aux réseaux sociaux? En effet, de plus en plus d'employeurs vont chercher des profils sur des réseaux sociaux tels que LinkedIn ou Twitter et viennent vérifier la cohérence des informations. Il est ainsi de moins en moins important de disposer d'un CV papier Word ou Pdf, un simple lien vers un profil en ligne pouvant suffire. L'infographie proposée par OnlineCollege.com présente :
The Top 10 Words To Not Have on Your LinkedIn Profile. Pin It! It's almost the end of 2012 (where has all the time gone?) – so the Top 10 lists of the year will be rolling in soon! LinkedIn have again compiled a list of the top 10 overused buzzwords on their profiles, and when compared to last year's report - it shows some interesting results. At the end of 2011, LinkedIn was home to 135 million members. Now, this number has reached over 187 million worldwide (with over 10 million in the UK alone) and still, the number one buzzword used on profiles globally is 'creative'. Topjobs.ch - Grösstes Stellenangebot für Fachspezialisten & Führungskräfte. ALPHA.CH | Top Job, offene Jobs, Kaderstellen, Führungspositionen und Karriere.
Elite Jobs Switzerland, Management and Professional Recruiting. Emploi,Job, offres d'emploi et annonces en suisse.Jobs en ligne. Emploi et job en Suisse à Genève, Lausanne, Vaud, Neuchâtel, Fribourg, Jura et Valais sur Jobup. Jobs.ch - The leading Swiss jobportal with the largest selection of jobs.
---