American
Jonathan Haidt Explains Our Contentious Culture. BILL MOYERS: Welcome.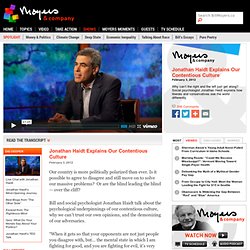 People I meet on the left, on the right and in the middle agree on one thing: our country is in a mess, and our politics are not making it better. The problems seem insurmountable, three times last year congress came close to shutting down the government. In August, we almost defaulted on our more than $14 trillion debt, which could skyrocket even further if the Bush tax cuts are continued and spending is untouched at year's end. Bill Clinton Extended Interview Pt. 1 - The Daily Show with Jon Stewart - 09/16/10. Bill Clinton Extended Interview Pt. 2 - The Daily Show with Jon Stewart - 09/16/10.
Convener in Chief. The Crisis of Credit Visualized. Why Do Americans Keep Getting Suckered By Right-Wing Lies? November 21, 2010 | Like this article?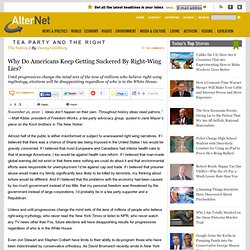 Join our email list: Stay up to date with the latest headlines via email. Ideas don't happen on their own. Jon Stewart on The Rachel Maddow Show | Comedy Central Insider | Funny, TV and Comedy Blog. America Is a Joke. Read a Writers' Room Transcript That Shows How Daily Show Segments Get Made. Every weeknight, Jon Stewart gets behind the desk of The Daily Show and tells jokes.
Cutting, hysterical, relevant jokes that Stewart and his staff have spent hours working over, and then rewriting up until the last minute before air. While reporting the cover story on Stewart and The Daily Show for this week's magazine, Chris Smith sat in the post-run-through rewrite room for the show's August 12 episode, listening in while Stewart and staffers tightened, massaged, and riffed on a segment of "Indecision 2010" about the primary defeat of Karen Handel, a gubernatorial candidate in Georgia.
---