Social
Get flash to fully experience Pearltrees
One of the most powerful and disruptive aspects of the web is its ability to facilitate low effort, large scale sharing.
February 15, 2011 | 4 Comments Life is good for the traveller who knows where they are going. There are dozens of great and useful sites online where you can see everything from reviews of hotels to side by side comparisons of airfares from one destination to another.
Jun Loayza is the President of SocialMediaMarketing.com , a company focused on building social media campaigns for companies.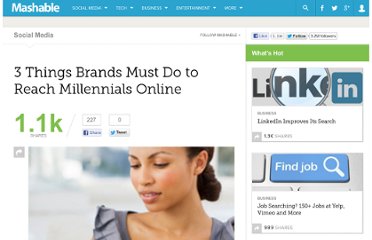 Nick Parish is the North American Editor of Contagious , a London-based intelligence resource for the global marketing community focusing on non-traditional media and emerging technologies. Whereas yesterday's concept of convenience was all about value and location (e.g. the 24-hour 7-Eleven store), today's convenience is about getting what you want, when you want it, whatever that may be.
In the beginning there was curation, and it was good.
The argument that social media fosters feel-good clicking rather than actual change began long before Malcolm Gladwell brought it up in the New Yorker — long enough to generate its own derogatory term. " Slacktivism ," as defined by Urban Dictionary , is "the act of participating in obviously pointless activities as an expedient alternative to actually expending effort to fix a problem." If you only measure donations, social media is no champion. The national chapter of the Red Cross, for instance, has 208,500 "likes" on Facebook, more than 200,000 followers on Twitter, and a thriving blog.