Companies Worth Looking At
Firespotter Labs is happy to announce the launch of its game-changing audio conferencing service, ÜberConference. A free audio conferencing service with a visual interface, ÜberConference solves the most common problems faced in teleconferencing including making a conference easy to join, knowing who is participating, knowing who is speaking, and making advanced features easy to use. ÜberConference brings a whole new visual dimension to audio conference calls. ÜberConference is audio conferencing done right. Recent Press: $15M Series B from A16Z and GV | ÜberConference Wins TC DisruptAll Things Digital | VentureBeat | Lifehacker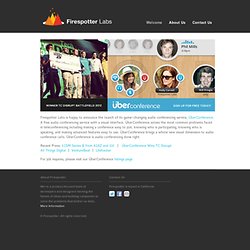 Firespotter › Welcome
Made by Many's user insights practice helps us to identify new ways to serve and support people with the digital products and services we create and take to market for our clients. One of our key goals as a business is to make digital product innovation more human centred, and user insights are a critical part of the process – continuously throughout the whole product lifecycle. Tim, Tom and Andrew have already talked about our recent launch of School in the Cloud for 2013 TED prize-winner Sugata Mitra, so I won't go over the background again – this post is a practical guide to the different research methods we used to guide us in the re-design of the 'Granny Cloud'.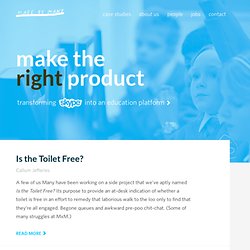 PARTY
The Cannes Lions Innovation category honors technology that facilitates creativity. This year, our open source software, Cinder, won the first ever Cannes Lion Innovation Grand Prix. Cinder is a community-developed, free and open source library for professional quality, creative coding in C++. The platform is regularly used by design and technology companies, agencies, academic institutions and independent artists worldwide to create physical installations, mobile apps, music visualizers and screensavers. Contact us to learn about how Cinder can help your brand.

It's Gonna Be Awesome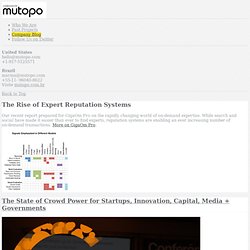 Mutopo Re:Working Conference will explore how social technologies are changing work on February 24 2012 in New York City. Following are some thoughts on the main themes, highlighting the work of many organizations who will discuss their experiences at the conference. At the table next to me, three people huddle excitedly around an unseen iPad screen. A little further away, a gentleman nods vigorously to the invisible person on the other end of his call. And here I sit, trying to organize my thoughts as I gaze at those working around me.
mutopo