Companies Worth Looking At
Firespotter › Welcome. We make new stuff out of the internet. PARTY. It's Gonna Be Awesome. Big Spaceship | A Digital Creative Agency. Home | Hyper Island. Empowering creatives | jovoto | homepage. Mutopo. Mutopo Re:Working Conference will explore how social technologies are changing work on February 24 2012 in New York City.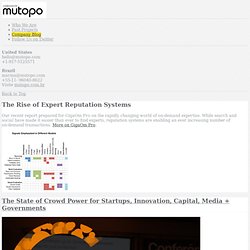 Following are some thoughts on the main themes, highlighting the work of many organizations who will discuss their experiences at the conference. At the table next to me, three people huddle excitedly around an unseen iPad screen. A little further away, a gentleman nods vigorously to the invisible person on the other end of his call. And here I sit, trying to organize my thoughts as I gaze at those working around me.
---