Travail verre
L'auteur Claude Paillard commence comme beaucoup dans les années 50, par la télécommande de modèles réduits. La mécanique étant l'un de ses violons d'Ingres favoris, il met un point d'honneur à construire le moteur qui équipera le bateau. En 1959 il devient F2FO et passe l'examen sur un émetteur-récepteur AM 5 bandes de sa fabrication. Le DXCC est vite bouclé bien que le trafic ne soit pas sa "tasse de thé" et ne serve la plupart du temps qu'à valider une réalisation personnelle.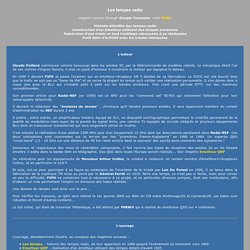 Claude Paillard
Glasperlen @ - www.perlentreff.de- Community, Kunsthandwerk, Per
This site is an attempt to document some of the physics experiments and science projects which I have conducted in my laboratory at home. These experiments include high vacuum, glass blowing, X-rays, optics and electrostatics. There is also a live interactive single photon Young's slits experiment that you can remote-control and plot your own results. Disclaimer: This site describes science experiments which are dangerous. If you attempt to reproduce any of these experiments, the author accepts no responsibility for the consequences. The author accepts no responsibility or liability for loss, damage or injury resulting from errors, omissions or the use or misuse of any information contained in these pages.
Teralab - Amateur Physics Experiments.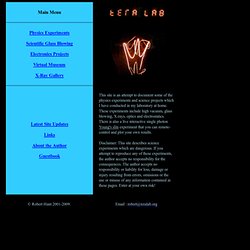 The Volcanoby Winston Doull Introduction to the Volcano I designed the Volcano in May of 1997 to overcome certain disadvantages of conventional bead making procedures.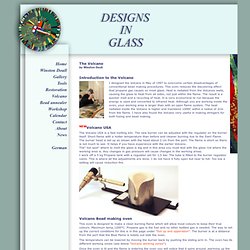 Designs In Glass
Scientific Glassblowing Basics