Technique
equilateral triangle dissected by equilateral triangles
Mrs. Perkins's Quilt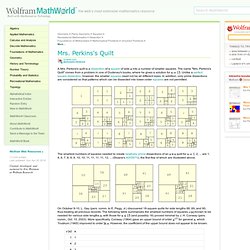 A Mrs.
Squared Squares; Perfect Simples, Perfect Compounds and Imperfect Simples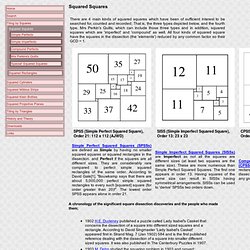 There are 4 main kinds of squared squares which have been of sufficient interest to be searched for, counted and recorded; That is, the three types depicted below, and the fourth type, Mrs Perkin's Quilts, which can include those three types and in addition, squared squares which are 'imperfect' and 'compound' as well. All four kinds of squared square have the squares in the dissection (the 'elements') reduced by any common factor so their GCD = 1. A chronology of the significant square dissection discoveries and the people who made them;
how to make a magically appearing square
How round is your circle?
Giving half an ellipse constant width
Solid Objects Representing "Impossible Objects"
NEW!
Zoetrope
A modern replica of a Victorian zoetrope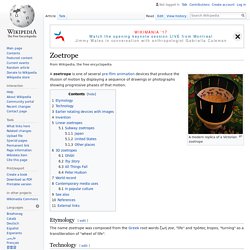 Rolling discs
The Mendocino motor is a solar-powered magnetically levitated electric motor.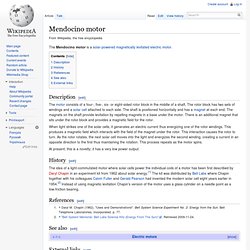 Mendocino motor
anagyre
Résultats Google Recherche d'images correspondant à http://upload.wikimedia.org/wikipedia/commons/f/f7/Missing_square.gif
A square or rectangle is said to be 'squared' into n squares if it is tiled into n squares of sizes s1,s2,s3,..sn. A rectangle can be squared if its sides are commensurable (in rational proportion, both being integral mutiples of the same quantity) The sizes of the squares si are shown as integers and the number of squares n is called the order.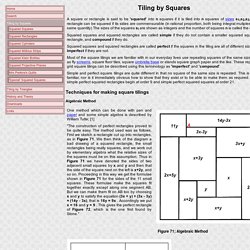 Tiling by Squares
Kokichi Sugihara's English Homepage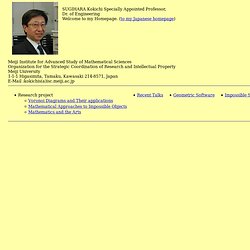 SUGIHARA Kokichi Specially Appointed Professor, Dr. of Engineering
Dissections - Construction de Dudeney
Dissections de polygones La construction de Herny Ernest Dudeney (1857 - 1930) [Transformations en croix ou étoiles] [Transformations de quadrilatères] [Transformations "fun"]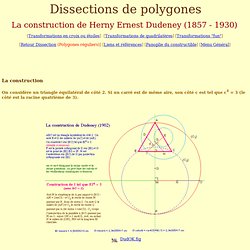 Constructions Régle - Compas - Conique
Le découpage de Dudeney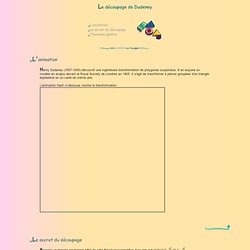 Remarque Quand on transforme le triangle, on obtient un quadrilatère convexe (les angles plats sur les côtés sont conservés par rotation de 180°) ; ce quadrilatère a par construction 4 angles droits.