Electronique
Bases - Alimentations sans transfo
Electronique > Bases > Alimentations > Alimentations secteur sans transformateur Dernière mise à jour : 22/01/2012 Présentation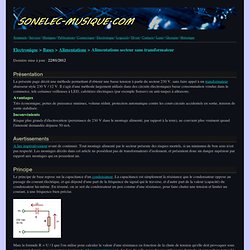 Le tore ferrite et en poudre de fer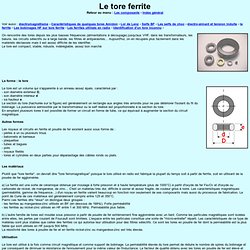 Le tore ferriteRetour au menu : Les composants - Index général Voir aussi : électromagnétisme - Caractéristiques de quelques tores Amidon - Loi de Lenz - Selfs BF - Les selfs de choc - électro-aimant et tension induite - le ferrite - Les bobinages HF sur tore ferrite - Les ferrites utilisés en radio - Identification d'un tore inconnu - On rencontre des tores depuis les plus basses fréquences (alimentations à découpage) jusqu'aux VHF, dans les transformateurs, les baluns, les circuits sélectifs ou à large bande, les filtres et antiparasites... Aujourd'hui, on en récupère plus facilement dans les matériels déclassés mais il est assez difficile de les identifier. Le tore est compact, stable, robuste, indéréglable, assez bon marché La forme : le tore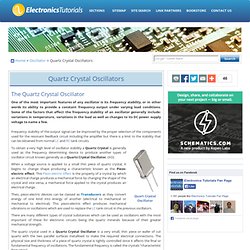 Quartz Crystal Oscillator
The Quartz Crystal Oscillator One of the most important features of any oscillator is its frequency stability, or in other words its ability to provide a constant frequency output under varying load conditions. Some of the factors that affect the frequency stability of an oscillator generally include: variations in temperature, variations in the load as well as changes to its DC power supply voltage to name a few. Frequency stability of the output signal can be improved by the proper selection of the components used for the resonant feedback circuit including the amplifier but there is a limit to the stability that can be obtained from normal LC and RC tank circuits.
Petr Simandl - Zářivkový starter
Die Funktion des Stromkreises. Im Moment des Einschaltens werden die auf power supply befestigten Kondensator aufgeladen. Die Spannung des C6 Kondensators ist niedrig, deshalb wird die Spannung auf dem 3-ten Fuss des IC1 hoch und der Fet T4 wird geöffnet. In der Hinausleitung des T4 Drains wird die Spannung approximativ 0V, deshalb wird das Dioda D7 geschlossen und wegen der Dioden D3 und D4 sind die Feten T1 und T2 im geschlossenen Zustand. Der C6 Kondensator wird durch die P1, R7, R6 Widerstnde geladen.
Skori Weblapja - Mini Tesla tekercs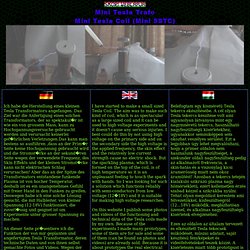 Crealev creates eye-catching products utilizing own patented magnetic levitation (maglev) technology. Our products can be divided in three main categories; levitation modules, display products and our floating lamps. We provide floating products and services to businesses, distributors, ad-agencies, end-users and consumers. Curious what we have to offer?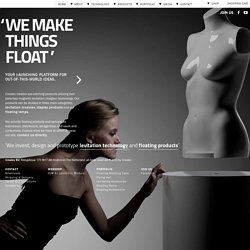 Magnetic Levitation Technology » CLM-0.5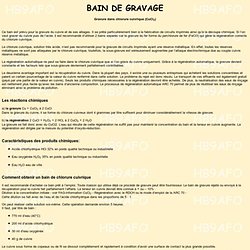 BAIN DE GRAVAGE
Gravure dans chlorure cuivrique (CuCl2) Ce bain est prévu pour la gravure du cuivre et de ses alliages. Il se prête particulièrement bien à la fabrication de circuits imprimés ainsi qu'à la découpe chimique.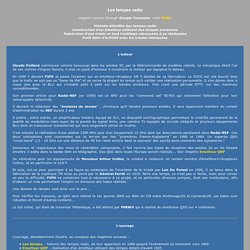 L'auteur Claude Paillard commence comme beaucoup dans les années 50, par la télécommande de modèles réduits. La mécanique étant l'un de ses violons d'Ingres favoris, il met un point d'honneur à construire le moteur qui équipera le bateau. En 1959 il devient F2FO et passe l'examen sur un émetteur-récepteur AM 5 bandes de sa fabrication.
Claude Paillard
Make a Joule thief.
In the November 1999 issue of EPE (Everyday Practical Electronics), a small and intriguing circuit was published in the Ingenuity Unlimited section by Z. Kaparnik. It was a very small implementation of a typical transformer feedback single transistor invertor. The transformer was a standard ferrite bead with two windings wound on it and the circuit was using the high voltage pulse generated when the transistor turns off to light an LED from a single 1.5V battery.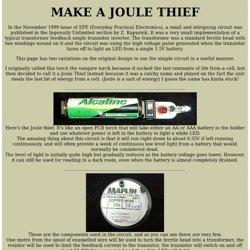 Need some cheap ozone? Here's an experimental ozone generator based on readily available parts that you can build cheaply to clean up the air in your surroundings or get rid of strong odours. I think the latter will appeal to the people who grow exotic herbs in their homes, or live in damp climates where mould is a problem. This project generally works well, but it's output depends on the components used. It's also very much a bare-bones experimental device so you build it entirely at your own risk. This project generates ozone using corona discharge.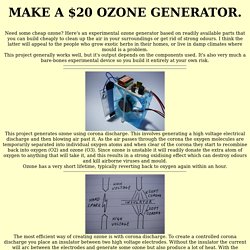 Make a $20 ozone generator.
Menu Introduction Compact fluorescent lamps have some benefits in comparison with classic light bulbs.
Compact fluorescent lamp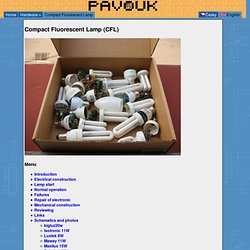 Lampes Fluo
QCM Electricité
Site de présentation et d'échange sur l'enseignement du Génie électrique électrotechnique & électronique en lycée technologique et Professionnel, sous la direction de Jean-Philippe BICHAUD IEN STI, Louis GIRAUD IA IPR et Guy LOCCI IEN STI, propose des ressources pédagogiques visant à faciliter l'évolution des pratiques d'enseignement au quotidien et à accompagner les réformes en cours. En plus des informations et documents accessibles à tous, un espace réservés à un public ciblé, permet un travail collaboratif entre enseignants Les documents que vous trouverez dans la rubrique ressources sont élaborés par les enseignants de l'Académie, soucieux de vouloir mutualiser leurs travaux. Nous souhaitons vous encourager et vous accompagner tout au long de cette année scolaire dans l'exercice de votre fonction de professeur Génie électrique .
Cours d'électrotechnique
Electronique > Théorie > Triac Dernière mise à jour : 16/03/2014 Présentation Le triac est également appelé Thyristor bidirectionnel ou Redresseur contrôlé.
TRIAC
Le russe POPOV invente l'antenne, élément essentiel pour la transmission sur de longues distances de signaux de TSF. Le 24 mars 1896 il réussit la première transmission et réception d'ondes hertziennes entre divers bâtiments de l'université de SAINT PETERSBOURG avec des antennes d'émission et de réception verticales pour améliorer la réception. De nombreux scientifiques ont mené des études expérimentales et théoriques sur les antennes.
Radio eclateur
High Frequency Induction Heating
Introduction Induction heating is a non-contact heating process. It uses high frequency electricity to heat materials that are electrically conductive. Since it is non-contact, the heating process does not contaminate the material being heated. It is also very efficient since the heat is actually generated inside the workpiece.
NPN Common Emitter Amplifiers
ampli op
réalisation des bobines pour circuits oscillants
Voltage multiplier
Les multiplicateurs de tension
Doubleur de LATOUR, Doubleur de SCHENKEL
1 000 000 VOLTS