Arduino
With a little hacking, data can be read from a wii nunchuck directly into an Arduino, using TWI (aka I2C). The nunchuck contains a 3 axis accelerometer, joystick and buttons for only $19.95. The same accelerometer in kit form, cost $34.95 at Sparkfun. Plus the nunchuck is already wired up in a nice clean case! So the wii nunchuck should fit nicely into anyones robotic project. The nunchuck uses a proprietary connector.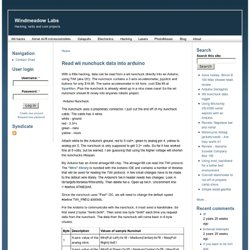 Read wii nunchuck data into arduino | Windmeadow Labs
As the show leaves town February 6th, 2013 This was the final year of the Carnival of Risk. In keeping with our modus operandi we will be changing themes after three years of the circus and sideshow. It was a very fun Halloween Eve and Halloween Night. We had a lot of fun and a lot of great scares.
The Haunt at Hellizondo
Bionic Arduino is a set of four 3-hour classes in November 2007 hosted by Machine Project and taught by Tod E. Kurt. It is an introduction to microcontroller programming and interfacing with the real world using the Arduino physical computing platform. It focuses on building new physical senses and making motion with the building blocks of robotics, using Arduino as a platform.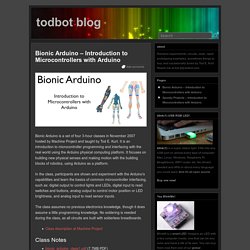 Electronic circuits diagrams schematics hobby projects diy projects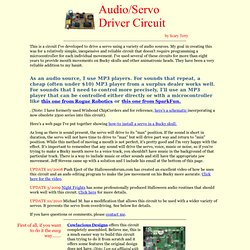 Circuit Description From the output of your audio source, the center conductor goes to "Audio In", the outer shield goes to ground. The signal is amplified by U1a whose gain is controlled by R3. You should be able to use audio sources from a line level to a "reasonable" speaker level source and adjust the gain using R3.
audio-servo