Symphony
Get flash to fully experience Pearltrees
Je propose également des formations en petits groupes sur 2 à 3 jours.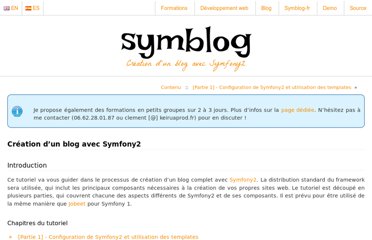 This document describes the syntax and semantics of the template engine and will be most useful as reference to those creating Twig templates.
class Request Request represents an HTTP request.
La nouvelle version du célèbre framework PHP Symfony, Symfony2 , apporte des changements pour le moins importants: changement de l'arborescence des fichiers, prise en charge des namespaces introduits par PHP5.3, moteur de template Twig etc. Dans ce tutoriel, nous verrons comment l'utilisation d'Eclipse et du plugin Symfony2 Eclipse nous permettra d'accélérer nos développements avec le framework.
Dans ce premier chapitre du tutoriel Watch My Desk version Symfony2 , nous allons voir comment mettre en place le framework Symfony 2 sur son serveur: Introduction, pré-requis à installer sur son serveur, et mise en place des sources du projet. Introduction