Research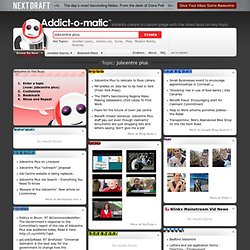 The day's most fascinating News, From the desk of Dave Pell Give Your Inbox Some Awesome
jobcentre plus
BR Video: Public give their views on behavioural targeting - Bra
Nikki Sandison, brandrepublic.com, 18 March 2009, 09:00AM LONDON - The majority of people interviewed in the latest Brand Republic video were keen for online advertising to be made more relevant to them and most were willing to have their browsing history monitored so long as no personal details were stored -- watch it now. To continue enjoying this article, please sign in below. You can register for free, giving you limited further access to news, or subscribe now for full access to all our content.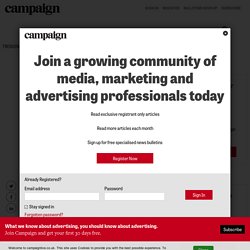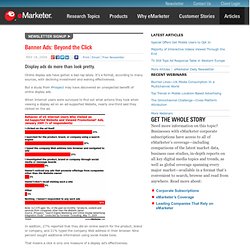 Banner Ads: Beyond the Click
Display ads do more than look pretty. Online display ads have gotten a bad rap lately. It's a format, according to many sources, with declining investment and waning effectiveness. But a study from iProspect may have discovered an unexpected benefit of online display ads. When Internet users were surveyed to find out what actions they took when viewing a display ad on an ad-supported Website, nearly one-third said they clicked on the ad. In addition, 27% reported that they did an online search for the product, brand or company, and 21% typed the company Web address in their browser.
StumbleVideo - Did You Know 4.0
StumbleVideo - Social Media Revolution
This series is supported by Grasshopper, the Virtual Phone System designed for entrepreneurs.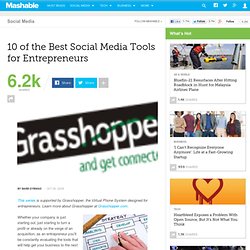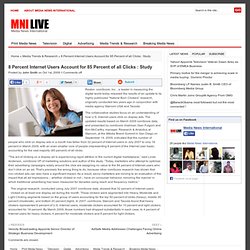 Reston :comScore, Inc. , a leader in measuring the digital world today released the results of an update to its highly publicized "Natural Born Clickers" research, originally conducted two years ago in conjunction with media agency Starcom USA and Tacoda.
8 Percent Internet Users Account for 85 Percent of all Clicks :
Losing To The Social Web: Visualized 
A brands website has been the single biggest "online" focus for 99% of businesses over the last 10 years apart from banner campaigns and microsites here and there, but with the evolution of social media growing at unheard of rates (Twitter is up over 3500% alone this year, while Facebook increased over 700% to finally overtake MySpace and then turned them to dust!)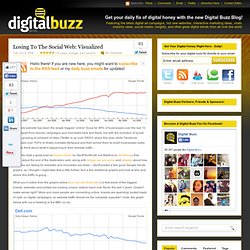 What's your opinion about…? Needless to be asked, consumers have already expressed themselves in blogs and social networks. reviews, ratings, recommendations…they have shared their feelings about yours or other brands: someone loves iPod, others feel "abc" mp3 player sucks. Nowadays, online opinions can make or break a product in the market place. Sentiment analysis field is emerging.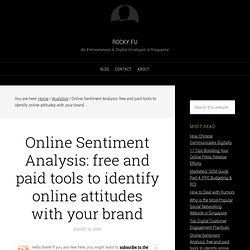 Online Sentiment Analysis: free and paid tools to identify onlin
DoubleClick is the ad technology foundation to create, transact, and manage digital advertising for the world's buyers, creators and sellers. Learn about the Brand Activate initiative, an ongoing Google effort to make online measurement much more aligned and actionable for today's brand marketers.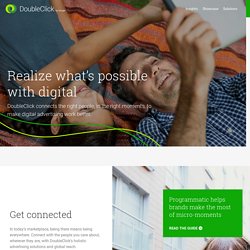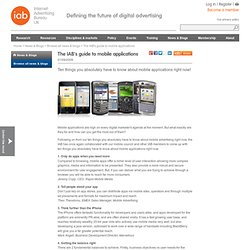 Mobile applications are high on every digital marketer's agenda at the moment. But what exactly are they for and how can you get the most out of them? Following on from our ten things you absolutely have to know about mobile advertising right now, the IAB has once again collaborated with our mobile council and other IAB members to come up with ten things you absolutely have to know about mobile applications right now.
The IAB's guide to mobile applications
Post Digital Marketing 2009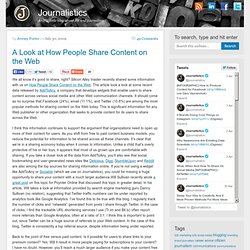 How People Share Content on the Web
We all know it's good to share, right?
Lastminute.com is developing mobile applications to help users find local services In these troubled economic times, it is easy to say that focusing on IT innovation is critical, but it is often difficult to achieve. For online leisure retailer Lastminute.com, however, innovation remains central to its competitiveness as it seeks to take advantage of the growing appetite for mobile phone-based services. Since forming an innovation group two years ago, the company's strategy changed from handling higher-risk and experimental projects with limited user-group testing into quickly developing applications and fully launching to the public. Mobile applications represent about 70 per cent of the work carried out by the division, while other projects concentrate on creating unified search methods across the site's range of products.
Leaving innovation to Lastminute - 05 Feb 2009 - Computing
Lastminute.com launches iPhone app directing users to local bars
Lastminute.com is to launch an iPhone app which overlays the user's location with information about local bars and restaurants. The free app, called nru, will be available from the App Store following approval by Apple. It shows people where the closest bars and restaurants are by overlaying their geographical position on the iPhone's screen. It draws on both the iPhone 3GS's compass and GPS.
Mobile is littered with false dawns, from mobile TV to MMS and video-calling. None has really delivered on its promise, but industry execs are quietly touting mobile augmented reality as a potential killer app. This week new media age revealed bookings service Lastminute.com will be the latest to launch a mobile augmented reality (AR) service which displays the nearest restaurants and bars on the iPhone's screen by using its compass and GPS capability.
Augmented reality could be mobile's killer app | Opinion |
Is Social Taking over Google? - Articles - Baekdal.com
Every person who creates content on the internet wants to know 2 things about their visitors; how many are there (traffic) and where do they come from (referrers). And the way this works is currently changing at an incredible rate.
What Time Is Primetime Online?