Music 2
Tutorials. Fm. Theory. Sounds. MobileMe iDisk - Finished Geek180 Tracks. Welcome. Product Overview — EchoSign Web — EchoSign. From document preparation and sending to signing, tracking and filing, EchoSign offers robust, easy-to-use online signature features that work for you.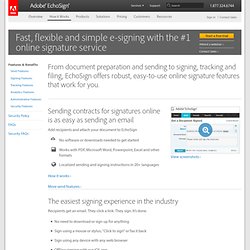 Sending contracts for signatures online is as easy as sending an email Add recipients and attach your document to EchoSign No software or downloads needed to get startedWorks with PDF, Microsoft Word, Powerpoint, Excel and other formatsLocalized sending and signing instructions in 20+ languages. ((( m i x d e l u x ))) Media Convert - free and on line - convert and split sound, ring. Soundbanks - Xenos Soundworks. Rohan_Six - Tracks. Flux:: sound and picture development. RA Forum: Free Quality deep tech house downloads. Welcome To The Belle Époque. 2.0. Songs by Intellekt (Abhi), Citizen of ACIDplanet.com. Who's afraid of Claude VonStroke? The first thing you notice about Barclay Crenshaw, AKA Claude VonStroke, is his laugh.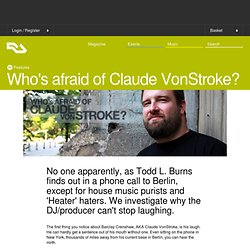 He can hardly get a sentence out of his mouth without one. Even sitting on the phone in New York, thousands of miles away from his current base in Berlin, you can hear the mirth. And why not? Bandcamp. Julianneumann - Tracks. Nlo8o79. Mputer Music. Untitled. Bridget Gray on MySpace Music - Free Streaming MP3s, Pictures &a. Aiolo - Tracks. Tones: Generate a Composition. Top 10 Binaural Recordings / Auditory Illusions | Jaxov. Previously we shared a small article about what binaural recordings also known as auditory sound illusions which explained what is binaural recording with a well known example virtual barbershop.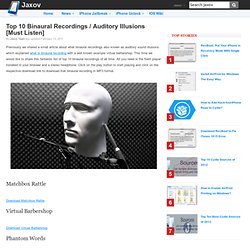 This time we would like to share this fantastic list of top 10 binaural recordings of all time. All you need is the flash player installed in your broswer and a stereo headphone. Click on the play button to start playing and click on the respective download link to download that binaural recording in MP3 format. Matchbox Rattle. Hunt4Tunes - 100% Free Audio & Music Downloads. Udosson - Tracks. Cate Le Bon on MySpace Music - Free Streaming MP3s, Pictures &am. Social Media Music Guide – Internet Marketing Resources for Musi. Ghost Bear Remixes - Beatport. StumbleVideo - Bill Withers - Aint No Sunshine (1971) - On Stage. Dj medieval.
Contract_for_Bully_Hunter__Tom_diSapia_Remix_.pdf (application/p. FM_clubmix_dsktp.jpg (JPEG Image, 1024×673 pixels) MySpace. Powered by vBulletin. DiSapia | Artists | Release Promo MP3 Downloads. Hospital Records - Production - Syncopix. Loopmasters and Hospital Records are proud to present Drum & Bass Vol 5 from the well respected duo of Paul Greenhalgh and Paul Smith aka Total Science.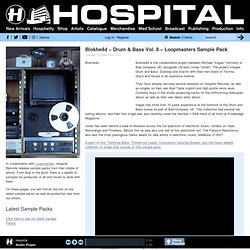 Having recorded for labels such as Good Looking, Basement, Metalheadz, Digital, Reinforced and True Playaz amongst many others, Total Science are a current act that have seen the story of Drum and Bass unfold around them, and they have contributed to its many chapters. Their tunes are constantly supported around the world by the biggest name DJs and attract vocal support from the likes of Hype, Fabio, Goldie and Zane Lowe. Total Science have focused their full attention on creating a huge collection of inspirational samples, sounds and beats for the modern DnB, Dubstep and Breaks producer who is looking for the future sound of Drum and Bass.
The Three Princes of Serendip. The Three Princes of Serendip is the English version of the Peregrinaggio di tre giovani figliuoli del re di Serendippo published by Michele Tramezzino in Venice in 1557.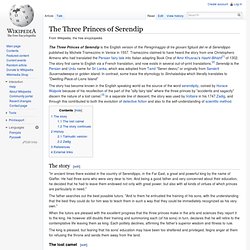 Tramezzino claimed to have heard the story from one Christophero Armeno who had translated the Persian fairy tale into Italian adapting Book One of Amir Khusrau's Hasht-Bihisht[1] of 1302. The story first came to English via a French translation, and now exists in several out-of-print translations.[2] Serendip is the Persian and Urdu name for Sri Lanka, which was adopted from Tamil "Seren deevu" or originally from Sanskrit Suvarnadweepa or golden island. In contrast, some trace the etymology to Simhaladvipa which literally translates to "Dwelling-Place-of-Lions Island"
Rhodes piano. The Rhodes piano (also known as the Fender Rhodes piano or simply Fender Rhodes or Rhodes) is an electric piano invented by Harold Rhodes, which became particularly popular throughout the 1970s.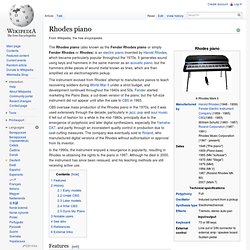 It generates sound using keys and hammers in the same manner as an acoustic piano, but the hammers strike pieces of wound metal known as tines, which are then amplified via an electromagnetic pickup. The instrument evolved from Rhodes' attempt to manufacture pianos to teach recovering soldiers during World War II under a strict budget, and development continued throughout the 1940s and 50s. Fender started marketing the Piano Bass, a cut-down version of the piano, but the full-size instrument did not appear until after the sale to CBS in 1965. CBS oversaw mass production of the Rhodes piano in the 1970s, and it was used extensively through the decade, particularly in jazz, pop and soul music.
FREE VST! Download free VST plugin!
---