Mac
Free Alternatives to Expensive Mac Os Applications | Software an
Ross Barkman's Home Page
If you're a Mac user and a social media addict, what's better than social apps for the Mac? Free social apps for the Mac, of course! In this post we'll take a look at 10 gratis programs for connecting to your social world via OS X. From file sharing to instant messaging, from Twitter to social television, there is very likely something on this list for you.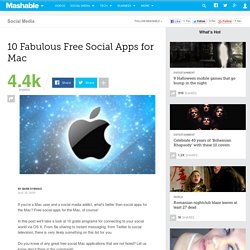 10 Fabulous Free Mac Social Apps
telekinesis - Google Code
Hacks - Music Hack Day
Titanium Software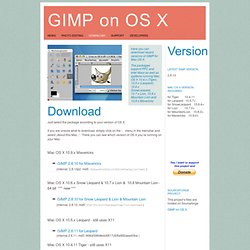 Download
GIMP on OS X Just select the package according to your version of OS X. If you are unsure what to download, simply click on the  menu in the menubar and select "About this Mac...".
If you've just got yourself a new Mac and totally clueless what to install, this article is for you. If you are looking for alternatives for some applications you are currently using in your Mac, the following list might come in handy too. This week, we'd like to showcase you a list of useful yet free applications you can install for your Mac.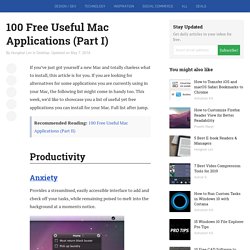 iSofa
Posted 03/04/2009 at 5:01am | by Mac|Life Staff You probably didn't know you could change these options, but you can. Apple tried its best to give us the most useful set of icons in various iPhone menus, but there are also more ways to customize them than you might think. In the case of the icons that appear at the bottom of the screen when you tap iPod from the Home screen, you can change the default icons (Playlists, Artists, Songs, Videos) if you want to. Tap More, then tap Edit.
50 Things Every Mac Geek Should Know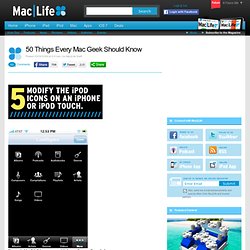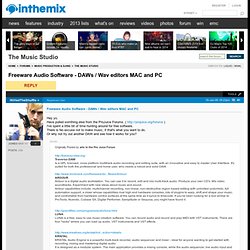 on the same topic (pulled off another forum) ================================================== ====== A Free & Complete, Portable Software Studio ================================================== ====== The selected software balances excellent functionality, great sound quality and accessible graphics user interfaces.
Freeware Audio Software - DAWs / Wav editors MAC and PC - inthem
Advertisements Most of the time, Windows users are reluctant to switch to a Mac. One amongst many reasons is that they found it hard to search for free softwares/applications for the Mac. Some of them have already switched to a Mac, but they're still running Windows OS on a Mac.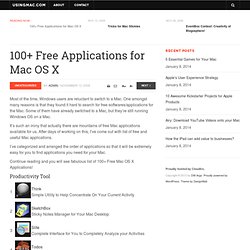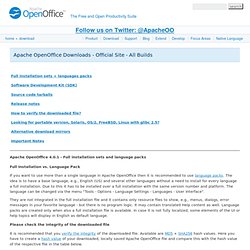 download: OpenOffice.org Download
Apache OpenOffice - Tested and released full installation sets Apache OpenOffice - Tested and released language packs Apache OpenOffice - Software Development Kit (SDK), source code, release notes and MD5, SHA256 checksums Important Notes: A language pack is not a release for its own and has to be installed over a stable release with the same version number and platform. It contains resource files for a specific language and platform to show, e.g., menus, dialogs, error messages in your language.
Top 10 (free) apps I can't live without | Blog | Geenius
This is a big page. It was designed to be, so that you could print it out and read it in bed at your leisure. I've personally used all of these applications and will testify to every single one's usefulness and usability. (Almost all, if not all, of the applications below are Universal Binaries, so they'll run at full speed goodness on your shiny new Intel Mac.) Free Stuff
Algorithm.com.au - Software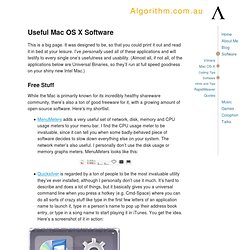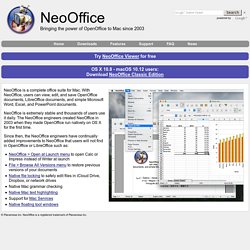 NeoOffice is a full-featured set of office applications for Mac OS X . Created in 2003 when there was no Mac OS X version of OpenOffice available, Patrick Luby and Ed Peterlin have devoted their decades of Mac software engineering experience to create an office suite that is adapted to the unique needs of Mac users. While OpenOffice and LibreOffice now have their own Mac OS X versions, Patrick and Ed continually add improvements to NeoOffice that our Mac OS X users will not find in OpenOffice or LibreOffice such as: