Steampunk Tutorials
Welcome to YouTube! The location filter shows you popular videos from the selected country or region on lists like Most Viewed and in search results.To change your location filter, please use the links in the footer at the bottom of the page. Click "OK" to accept this setting, or click "Cancel" to set your location filter to "Worldwide".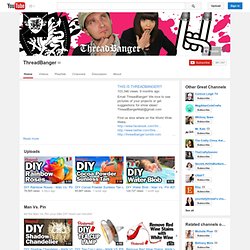 My Steampunk Wardrobe
INSPIRATION Tutorial with Susan Lenart Kazmer
Jewelry Making 101: Easy Steampunk Designs with Brass Stampings By B'sue Boutiques
Steampunk: Crafts, DIY Costumes, Jewelry & Steampunk Goggles - Craftster.org
Steampunk Polymer Clay Charms Part II
Steampunk rings tutorial by Jen Hilton of JLHjewelry.com
steam punk jewelry tutorial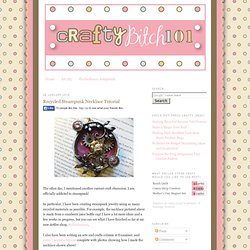 CraftyBitch 101: Recycled Steampunk Necklace Tutorial
The other day, I mentioned another current craft obsession. I am officially addicted to steampunk! In particular, I have been creating steampunk jewelry using as many recycled materials as possible. For example, the necklace pictured above is made from a cranberry juice bottle cap! I have a lot more ideas and a few works in progress, but you can see what I have finished so far at my new Artfire shop, Refashionista. I also have been writing an arts and crafts column at Examiner, and today I posted a tutorial complete with photos showing how I made the necklace shown above!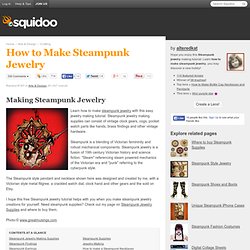 Wikipedia defines Steampunk as "a subgenre of fantasy and speculative fiction that came into prominence in the 1980s and early 1990s.
How to Make Steampunk Jewelry Tutorials
Steampunk jewelry celebrates the vintage technology look. These pieces remind us of the literary worlds of Jules Verne. The fashion and accessories for this style is continually growing in popularity. So here are more steampunk jewelry tutorials to inspire. Andrea Morici designed this wonderful Full Steam Ahead necklace tutorial using many gears, clock parts and vintage brass elements for Beadaholique. Naturally, there is a splendid matching earring tutorial by the same designer.