Other Art Tutorials
Dragon Fetus, Dragon Fairy. Domino Jewelry for Scrapbookers, Its easy, watch and see! Lizards, Fairy Butts, and other stuff I've made. I Am Not Crazy. How to Make Paper Beads and Jewelry Tutorials. Paper Jewelry Part 3 of 3Traditional roll paper beads The most popular way of making paper beads is by rolling a long triangle strip of paper.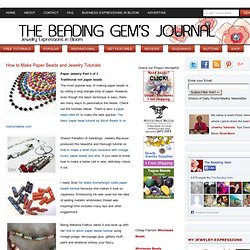 However, even though the basic technique is easy, there are many ways to personalize the beads. Check out the tutorials below. There is also a paper bead roller kit to make the task quicker. How to Make Spoon and Fork Jewelry Tutorials. Recycling spoons and forks for jewelry is a long standing craft dating back centuries.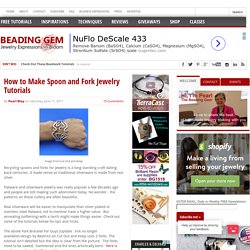 It made sense as traditional silverware is made from real silver. Flatware and silverware jewelry was really popular a few decades ago and people are still making such adornment today. No wonder - the patterns on these cutlery are often beautiful. Real silverware will be easier to manipulate than silver-plated or stainless steel flatware, not to mention have a higher value. Beginners Metal Disk Ring. Description: In this tutorial you will learn how to make a beginner's metal disk ring.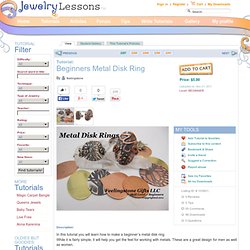 While it is fairly simple, it will help you get the feel for working with metals. Ornamental Party Rings | ClayLessons.com. Description: This lesson shows how to create large stylish rings to show off at parties, concerts, dinners or other functions.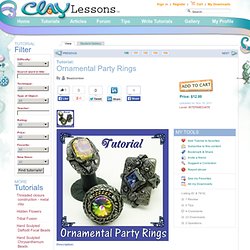 Create 3 versions with no molds and no special tools or materials required. Shadow Box Photo Display for Photographers - StumbleUpon. Need help turning your post-vacation keepsake clutter into a divine display?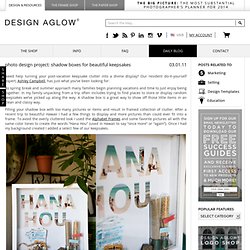 Our resident do-it-yourself expert, Ashley Campbell, has just what you've been looking for: As spring break and summer approach many families begin planning vacations and time to just enjoy being together. In my family unpacking from a trip often includes trying to find places to store or display random keepsakes we've picked up along the way. A shadow box is a great way to show off those little items in an clean and classy way. Filling your shadow box with too many pictures or items and result in framed collection of clutter. Teacup Lights - Martha Stewart Good Things - StumbleUpon.
---