Webdesign
HTML5 Animation Tool (Build Interactive CSS3 / HTML5 Animations Without Writing Code)
HTML5 und CSS3 mit Hilfe von Modernizr verwenden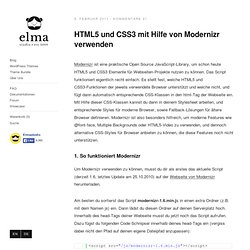 Modernizr ist eine praktische Open Source JavaScript-Library, um schon heute HTML5 und CSS3 Elemente für Webseiten-Projekte nutzen zu können. Das Script funktioniert eigentlich recht einfach. Es stellt fest, welche HTML5 und CSS3-Funktionen der jeweils verwendete Browser unterstützt und welche nicht, und fügt dann automatisch entsprechende CSS-Klassen in den html-Tag der Webseite ein.
Tools | Mozilla Webmaker
Video beyond the box Popcorn Maker makes it easy to enhance, remix and share web video. Use your web browser to combine video and audio with content from the rest of the web — from text, links and maps to pictures and live feeds. Use Popcorn Maker to create your own interactive newscasts, pop-up videos, multimedia reports, fan videos, guided web tours and more. Remix your favorite videos on YouTube or sounds on SoundCloud, add your own comments and links, or drag and drop in content from across the web.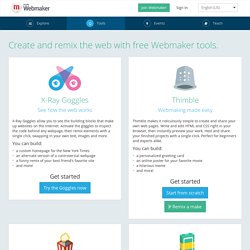 Pocket Full of Canvas
Web Design Tools & Inspiration
Option 1 - Dictionary Lookup Box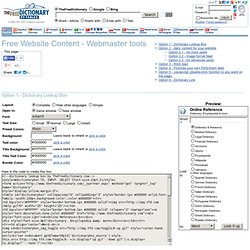 Free Website Content - Webmaster tools
CSS list-style-type property
Fixed positioning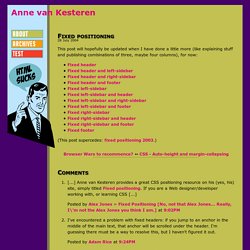 This post will hopefully be updated when I have done a little more (like explaining stuff and publishing combinations of three, maybe four columns), for now: [...] Anne van Kesteren provides a great CSS positioning resource on his (yes, his) site, simply titled Fixed positioning .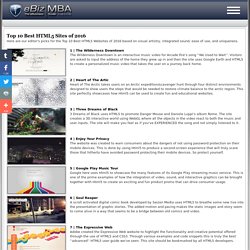 Here are our editor's picks for the Top 10 Best HTML5 Websites of 2013 based on visual artistry, integrated sound, ease of use, and uniqueness.
10 top HTML5 resources | Web design
The web is a wonderful thing, brimming with resources and tutorials for people wanting to learn HTML5. But, sometimes, too much choice can be confusing, so we've picked 10 top online resources that will really help you get to grips with it. 01. HTML5 Rocks