Tutorials
Sound React
3D. Timelapses. Explosions. VIDEO COPILOT | After Effects Tutorials, Plug-ins and Stock Footage for Post Production Professionals. Shine Some Light On The Situation. Creating Additional Graphical Interface Elements. A Beautiful Ripple Using Form's Audio React. In this tutorial we're gonna show you how you can create an abstract audio reactant background with Trapcode Form and we will discover the advantages of Audio React.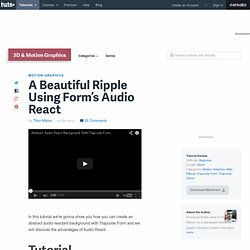 Step 1 I create composition by clicking Menu-> Composition->New Composition. Make it 1280*720 square pixels 1:15 seconds long, name it as 'Maint'. Step 2 Create new solid clicking by Menu->Layer->New->Solid. Create a Sci-Fi Movie Title Sequence. This tutorial covers the creation of a space-like si-fi title sequence from scratch.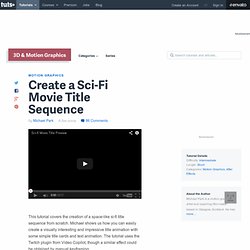 Michael shows us how you can easily create a visually interesting and impressive title animation with some simple title cards and text animation. The tutorial uses the Twitch plugin from Video Copilot, though a similar effect could be obtained by manual keyframing.
---