RESOURCES
FlyingArchitecture — free 3D models, materials, textures and tutorials for Rhinoceros, 3DS Max, C4D and all other programs. Download Free VRay Materials, 3D Models & Tutorials. Untitled Document. 3D Studio-max - Free 3D Studio Models, 3D Studio Materials, Textures. CGRats  -  CG Tutorials and resources.
BLUEPRINTS
FREE MODELS. TEXTURES. Topic: IOR (Index of Refraction) Values. Posted by Jon Reynolds archived on 11.3.2003.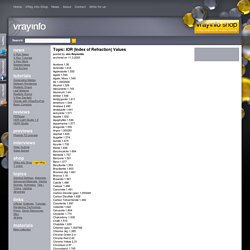 Vray-materials.de - Your ultimate V-Ray material resource.
---