Widgets
Pearltrees for iPad is a Must-Have App. "Tell me when it's an iPad app," I've told the team behind web curation startup Pearltrees over and over again.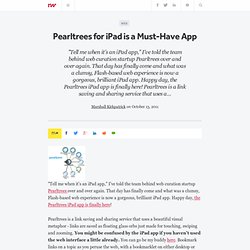 That day has finally come and what was a clumsy, Flash-based web experience is now a gorgeous, brilliant iPad app. Happy day, the Pearltrees iPad app is finally here! Pearltrees is a link saving and sharing service that uses a beautiful visual metaphor - links are saved as floating glass orbs just made for touching, swiping and zooming. Moon Phases :: Calendars. Moon Phases Free Daily Moon Phases Website Module Past & Future Moon Phase Calendars The free moon module shown above is pretty useful.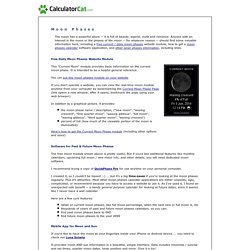 But if you'd like additional features like monthly calendars, upcoming full moon / new moon info, and other details, download a copy of QuickPhase for use anytime on your personal computer. I created it, so I couldn't be biased :-) ... but it's a big time-saver if you're looking at the moon phases regularly. Twitpic - Share photos and videos on Twitter.
Like Box - Facebook developers. Facebook Covers, Timeline Covers, Facebook Banners - myFBCovers.
---