TED
Keith Barry: Brain magic. Ruth Chang: How to make hard choices. Here's a talk that could literally change your life.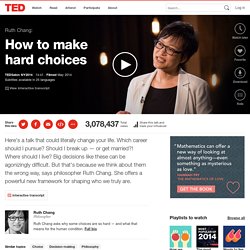 Which career should I pursue? Should I break up — or get married?! Where should I live? Remembering Robin Williams. Robin Williams hijacks the TED2008 stage before the BBC World Debate.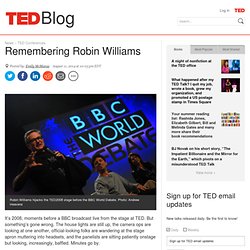 Photo: Andrew Heavens It's 2008, moments before a BBC broadcast live from the stage at TED. But something's gone wrong. The house lights are still up, the camera ops are looking at one another, official-looking folks are wandering at the stage apron muttering into headsets, and the panelists are sitting patiently onstage but looking, increasingly, baffled. Rita Pierson: Every kid needs a champion.
Why Happiness is the New Productivity (The Story of Mindvalley) Sarah Kay: If I should have a daughter ... "If I should have a daughter, instead of Mom, she's gonna call me Point B ...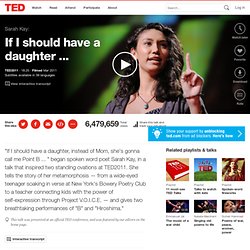 " began spoken word poet Sarah Kay, in a talk that inspired two standing ovations at TED2011. She tells the story of her metamorphosis — from a wide-eyed teenager soaking in verse at New York's Bowery Poetry Club to a teacher connecting kids with the power of self-expression through Project V.O.I.C.E. — and gives two breathtaking performances of "B" and "Hiroshima. " pin This talk was presented at an official TED conference, and was featured by our editors on the home page. Carl Honoré: In praise of slowness. Simon Sinek: Why Leaders Eat Last. Graduation…now what? | Playlist | TED.com. Now playing Clinical psychologist Meg Jay has a bold message for twentysomethings: Contrary to popular belief, your 20s are not a throwaway decade.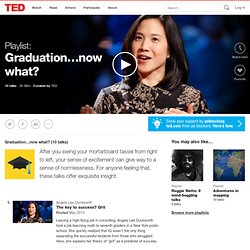 In this provocative talk, Jay says that just because marriage, work and kids are happening later in life, doesn't mean you can't start planning now. TED & TEDx with AIESECers (R. 5 techniques to speak any language: Sid Efromovich at TEDxUpperEastSide. Helen Fisher: Why we love, why we cheat | Talk Video. Yves Morieux: As work gets more complex, 6 rules to simplify. Παρούλ Σεγκάλ: Ωδή στη ζήλια. Alex Wissner-Gross: A new equation for intelligence. Ο Μπέντζαμιν Ζάντερ για τη μουσική και το πάθος.
Μεϊσούν Ζαΐντ: Έχω 99 προβλήματα... η εγκεφαλική παράλυση είναι μόνο ένα απ' αυτά. How to quit your life (and reboot): Priya Parker at TEDxUHasselt. Hackschooling makes me happy: Logan LaPlante at TEDxUniversityofNevada. The Hidden Meanings in Kids' Movies: Colin Stokes at TEDxBeaconStreet. TEDxSanJoseCA - Adam Gazzaley, MD, PhD - Brain: Memory and Multitasking. Popcorning My Way Through: Dey Dos at TEDxUniTn. TEDxRiverCity - Robert Stickgold - Sleep, Memory and Dreams: Fitting the Pieces Together. The First 20 Hours - How to Learn Anything: Josh Kaufman at TEDxCSU. How the oceans can clean themselves: Boyan Slat at TEDxDelft. Russell Foster: Why do we sleep? Ρον Γκούτμαν: Η κρυμμένη δύναμη του χαμόγελου.
Ντέρεκ Σίβερς: Πώς να ξεκινήσετε ένα κίνημα. Pico Iyer: Where is home? A whistleblower you haven't heard. JR's TED Prize wish: Use art to turn the world inside out. Kathryn Schulz: Μην μετανιώνετε για ό,τι έχετε μετανιώσει. Howard Rheingold: The new power of collaboration. Matt Ridley: When ideas have sex.
Daniel Kahneman: The riddle of experience vs. memory. Derek Sivers: How to start a movement. Benjamin Zander on music and passion. Drew Dudley: Everyday leadership. Shawn Achor: The happy secret to better work.
---