Logos
Highest Rated Logos. Blog – 22 Excellent Logo Symbols with Hidden Message for your Inspiration. 40 Best Free Fonts for Logo Designing Web designers | Website Design Wordpress Photoshop Illustrator SEO Video Tutorials Freebies. Logospire - Logo inspiration gallery. Logo. Logo Inspiration | LogoGala. Logogallery.net | Logo Inspiration Gallery. 60 Highly Clever Minimal Logo Designs. Depending on the flavor of your business, your logo may appear big and flashy, bold and colorful or just plain simple and clever.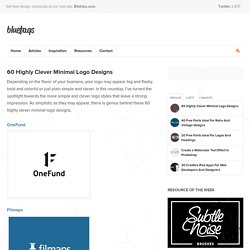 In this roundup, I've turned the spotlight towards the more simple and clever logo styles that leave a strong impression. As simplistic as they may appear, there is genius behind these 60 highly clever minimal logo designs. 30 Minimal Logo Designs that Say More with Less. A logo is the visual cornerstone of one's branding.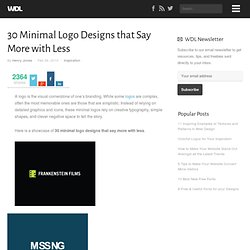 While some logos are complex, often the most memorable ones are those that are simplistic. Instead of relying on detailed graphics and icons, these minimal logos rely on creative typography, simple shapes, and clever negative space to tell the story. Top Best Logo Design Inspiration Galleries. Sponsor- – Need logo design inspiration?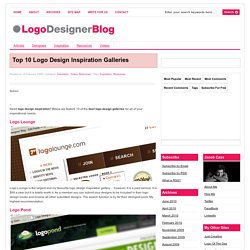 Below we feature 10 of the best logo design galleries for all of your inspirational needs. Logo Lounge Logo Lounge is the largest and my favourite logo design inspiration gallery… however, it is a paid service. It is $99 a year but it is totally worth it. Iconic logo designers. xWare - Corporate Identity on the Behance Network. 50+ Kick Ass Logos for Inspiration. Logo Design Love. Logo Design - Buy a Logo Design for Your Company |  Brandstack. 70 Typography Logos | Kreative Garden. On 10.26.08, In Inspiration, by rambal Typography shows the ability of the designer how far they travel for the different type of font.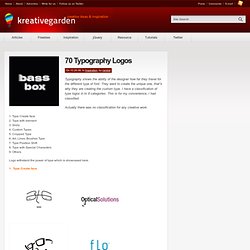 They want to create the unique one, that"s why they are creating the custom type. I have a classification of type logos in to 8 categories. This is for my convenience, I had classified. Actually there was no classification for any creative work. Top Best Logo Design Inspiration Galleries. Logo Design & Branding Trends 2009. If there is one big no-no in graphic design, it is using complex geometrical shapes with a full color spectrum to create a logo.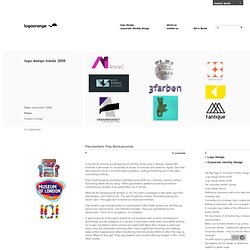 As to whether the capability to fax a logo is good or bad does not matter. This argument could persist through the years but one thing is certain: this complex geometry will be here for awhile. LogoSauce™ - Logo design, inspiration and information. Identity Inspiration -
---